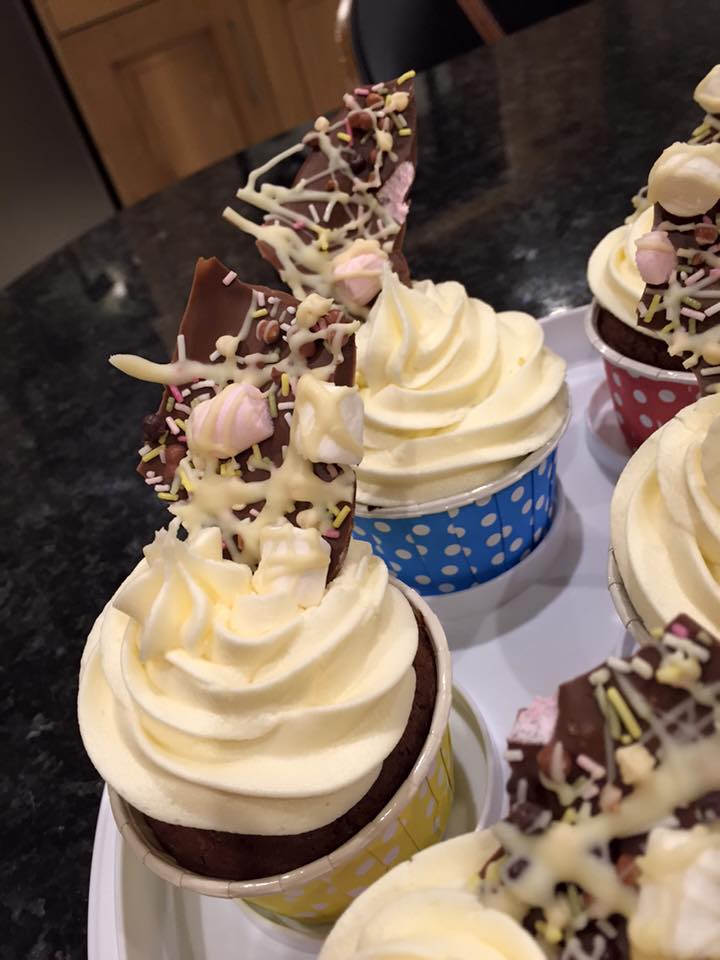 I made these very cute cupcakes to bring with me to a dinner party where there were going to be children so they wouldn't feel left out while the adults had their "grown up" dessert . They went down a treat and the adults had to try them and loved them too! They are not made in the traditional cupcake method so end up having a lovely fudgy texture. The marshmallow frosting is simply gorgeous, very sweet and delicious and you can make the rocky road bark whatever way you like using what you have on hand. I adapted this recipe from Jo Wheatley who won the Great British Bake Off.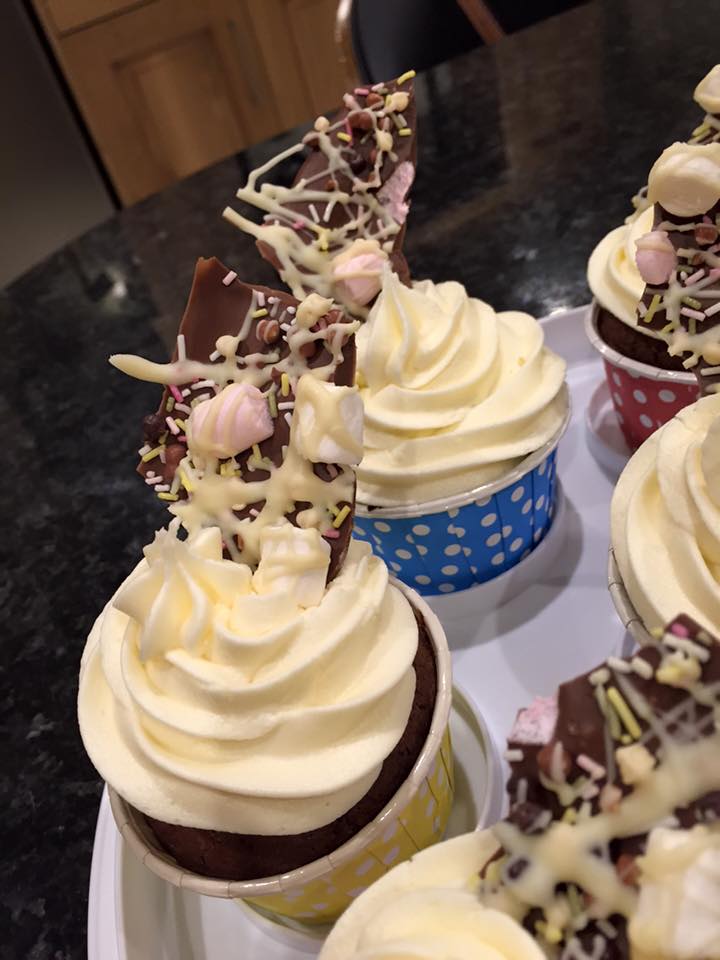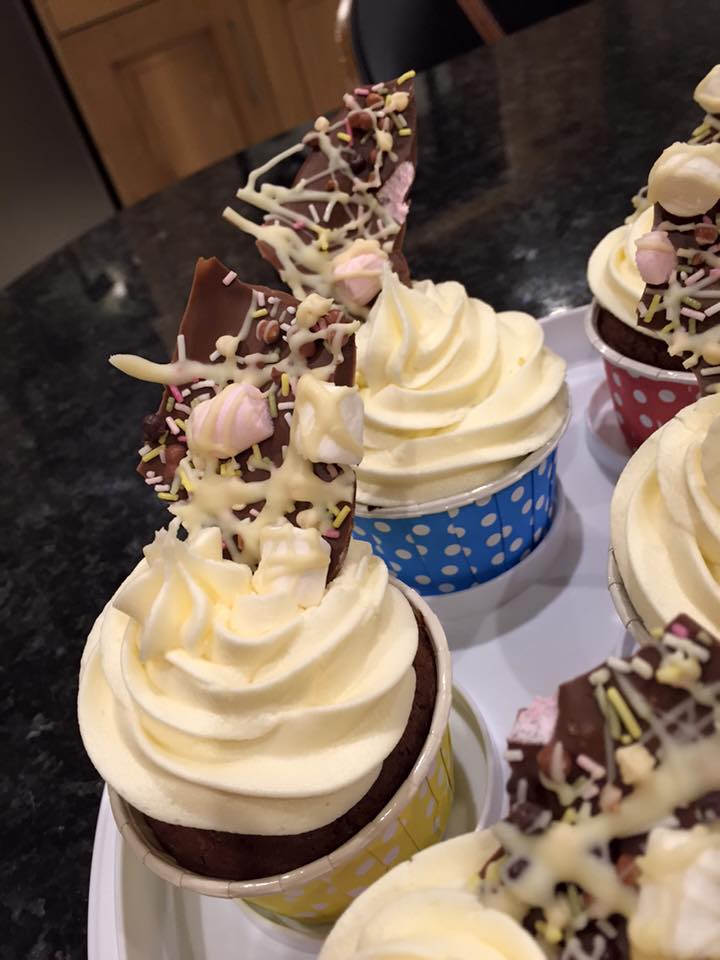 There are 3 stages to making these so my advice is to have the ingredients at the ready so you can smoothly move from one to stage to the next
Ingredients & method for cupcakes:
40g unsalted butter, softened
140g caster sugar
120g self raising flour
1tsp baking powder
100ml full fat milk
1 large egg, beaten
100g dark chocolate, melted
Preheat Oven to 170C. You need a muffin tin lined with 8-10 cases. I got 9 out of my mix.
In a free standing mixer, combine the butter, caster sugar, flour and baking powder and mix until it has a sandy texture. Add 50ml of the milk and whisk again until combined.
Add the remaining milk, the egg and cooled melted chocolate to the batter and mix well.
Divide the mixture evenly between the muffin cases. Fill them about two-thirds. I use a small ice cream scoop to try and get an even spread. Bake for approx. 20-25 mins or until a skewer comes out clean. Cool them on a wire rack.
Ingredients & method for Rocky Road Toppers:
100g milk chocolate
a handful of mini marshmallows
a handful of popcorn (optional)
some hundreds and thousands (optional)
50g white chocolate
Place a baking tray, lined with parchment into the freezer for about 10 mins. Melt the milk chocolate and pour a thin layer on the chilled baking tray. Use a spatula to do this. Scatter over the mini marshmallows and whatever other toppings you want to use. Melt the white chocolate and drizzle it over the rocky road. Pop the tray back in to the freezer to set.
You could use dried cranberries, pieces of chopped up Crunchies or other bars, M&M's or Smarties.
Ingredients & method for the Marshmallow Buttercream:
A little tip here: have everything ready to go as once the marshmallows and cream have melted, they begin to solidify quite quickly.
70g marshmallows
3 tsp double cream
100g unsalted butter, softened
500g icing sugar
3 tbsp. full fat milk
Heat the marshmallows and the cream in a saucepan until melted. Watch it carefully because it suddenly begins to melt after seemingly not doing much. Set aside. Beat the softened butter, icing sugar and milk together in a free standing mixer until smooth. Add the melted marshmallows and beat again until light and fluffy. This takes a good 5 mins so leave it be.
Spoon the buttercream into a piping bag and pipe swirls on each cooled cupcake. Do wait until the cupcakes are completely cool before doing this. Break the rocky road toppers into pieces and press into the buttercream when ready to serve.
Bake with love!
Soraya x