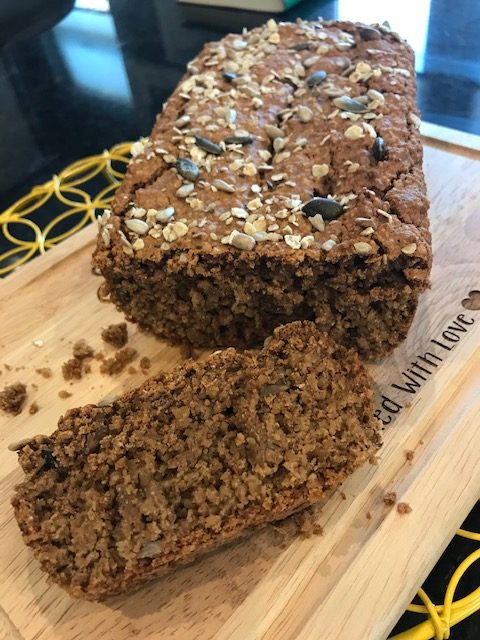 I love a quick and easy bread which also turns out very tasty and the folks at Meridian Foods came up with this yeast free bread recipe which uses their vegan friendly peanut butter and oats. Everything used is vegan and gluten free so it's one for everyone.
You can find their great range of products here Meridian Shop: Natural nut & seed butters – vegan & palm oil free (meridianfoods.co.uk)
I love all their butters as they don't use palm oil and they have no additives, so that's always a winner for me.
It's a bread that benefits from being made a day ahead. It needs to be completely cold before cutting and should be kept in the fridge. If you like peanut butter, this recipe is for you.
After making the bread, I felt it would benefit from adding more oats even though coconut flour is so absorbent, it still resulted in quite a loose bread which definitely needed to be in the fridge overnight to help it become sturdier. It certainly did cut better after some fridge time so I would recommend you do this. I've adapted the quantities to reflect this.
Ingredients:
220g oats (use Gluten Free if needed)
4 tbsp coconut sugar (you can sub this for maple syrup or agave syrup)
1 1/2 tbsp coconut flour
1 heaped tbsp baking powder (gluten free if needed)
1/2 tsp salt
95g smooth peanut butter
300ml coconut milk (almond or oat will also work fine)
Optional: Add 1 tsp vanilla extract and handful of dark chocolate chips for a sweeter bread
Method:
Preheat oven to 170C Fan and line a 2lb loaf tin with parchment.
In a food processor, add the oats and whizz until they resemble flour. Place this oat flour into a large bowl. Next add in the rest of the dry ingredients – the coconut sugar, coconut flour, baking powder and salt and mix together to remove any lumps and disperse evenly.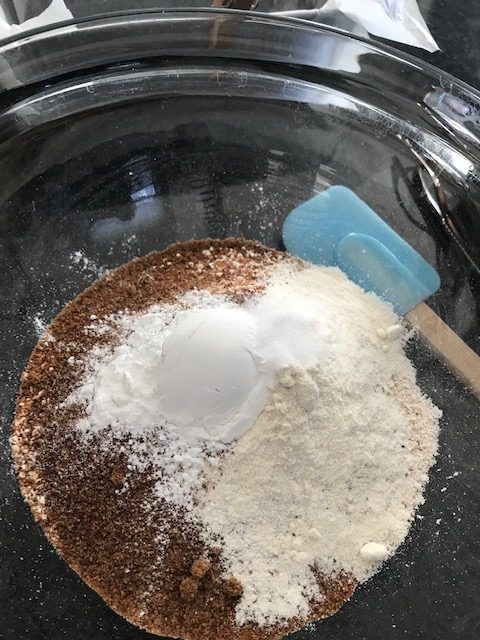 If you don't have a food processor, you can use a blender or your nutri bullet.
Next into the food processor, add the coconut milk and peanut butter and whizz to combine. You might need to mix half way through with a spoon or spatula to make sure no clumps or sediments sit at the bottom of the bowl.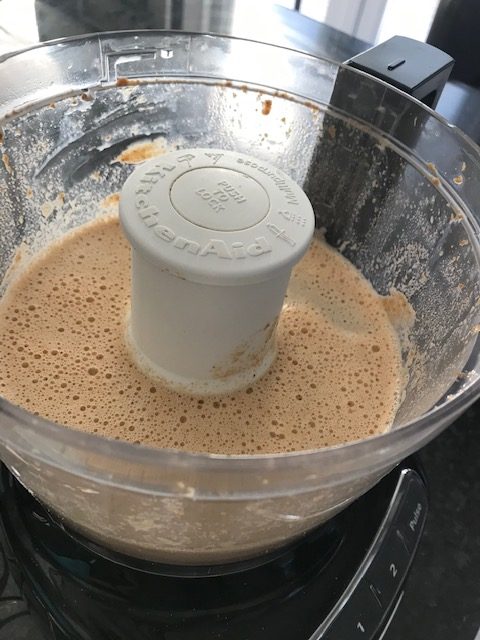 Add this liquid mixture into the dry ingredients and fold together without over working the mixture. If you want to make a sweeter bread, now is the time to add the vanilla and chocolate chips. Just don't over work the batter. Gently does it.
Next transfer the batter to your prepared loaf tin and smooth out with the back of a metal spoon. I like to add a handful of oats to the top plus some mixed seeds for a healthy boost.
Bake in the preheated oven for a minimum of 38/40 minutes. Mine took almost 45 minutes till the skewer came out clean. I placed it in the middle of the oven so there was no risk of the top browning too much.
Remove from the oven when done and leave it in the tin on a wire rack to cool completely. Then remove and wrap tightly and place in the fridge for a couple of hours or preferably overnight. This does benefit the overall result of the bread so it's worth it if you can plan ahead.
I ate this bread naked!!! In other words, I didn't think it needed anything at all. I just added a few slices of banana and enjoyed it!
Bake with love
Soraya x