I made some granola recently and was asked could the granola be turned into bars, like Flapjacks but there are so many ingredients in the granola that they wouldn't hold together in a bar so I adapted the recipe to still be healthy but also be a no bake one. Well you do toast the oats, rice and nuts but that's just to enhance their flavours. I was also asked about making this recipe Vegan so I've adapted a couple of ingredients and the method to make Vegan Energy Balls which are also Gluten Free and Dairy Free.
They are quick and really delicious and I made mine Gluten Free by using the right oats and puffed rice but if you don't need gluten free, then just buy your usual. They are sweet but packed full of good ingredients. I added some organic dark cocoa nibs to them at the end. I didn't use any dried fruits as I felt there was enough sweetness in the recipe. You do have to use honey and not maple syrup as you need the thickness of honey to help the squares bind together.
You can use a smooth, creamy organic peanut butter if you like but you can also substitute for almond or cashew butter. Both work equally well. I used local, organic honey to make these to keep them as healthy as I could and also to help with those in my home who suffer from pollen allergies.
Ingredients:
200g smooth and creamy peanut butter, almond or cashew butter
160g organic honey **
1 tsp vanilla extract (optional)
1 heaped tablespoon organic coconut oil
Heaped 1/2 tsp sea salt
170g oats (Gluten Free if needed)
20g plain puffed rice (Gluten Free if needed)
40g mixed nuts, chopped
For Vegan Energy Balls:
As above but with these changes marked ** above
165g Organic Maple Syrup
160g oats
40g Flax Seeds
Organic Dark Chocolate Cocoa Nibs
Method:
Line an 8 x 8 baking tray with parchment and make sure to have it overhanging for easy removal later. Preheat oven to 160C Fan, 180C, 350F
For Energy Balls, you can use the same baking tray once it's cooled. If you mini paper cases, they look great presented this way.
Place the oats, puffed rice and chopped nuts on a baking tray and spread them out. Place into the preheated oven for 10 minutes. Take out, mix them around and place back into the oven for a further 10 minutes to give them a lovely flavour. Remove and set aside.
For Energy Balls, add the Flax Seeds to the oats, puffed rice and nuts mix and toast together as above.
In a large bowl, stir together the peanut butter, honey, vanilla, melted coconut oil and salt. You will need to use a few muscles to make this smooth so give it a good stir around.
Add the toasted dry ingredients to the peanut butter mixture and keep stirring until it all comes together and all the oats and puffed rice are well covered and everything is dispersed. I added about 3/4 of the dark chocolate chips once everything was almost fully mixed and made sure they were well dispersed around.
Transfer this to the prepared baking tin. Place a piece of parchment on top and press down to flatten out and make sure everything is pushed out evenly and to the corners. Take a good size glass and press down firmly all over the second piece of parchment to compress the mixture. Use the remainder of the chocolate chips and press them in gently all over the top.
For Energy Balls, light oil your palms if you don't have gloves, and roll the mixture into golf ball sized shapes. You can roll these in cocoa powder, desiccated coconut or drizzle a little chocolate over the top. They are also great left bare. Place the balls on the baking tray used to toast the oats and nuts, and place into the fridge to set.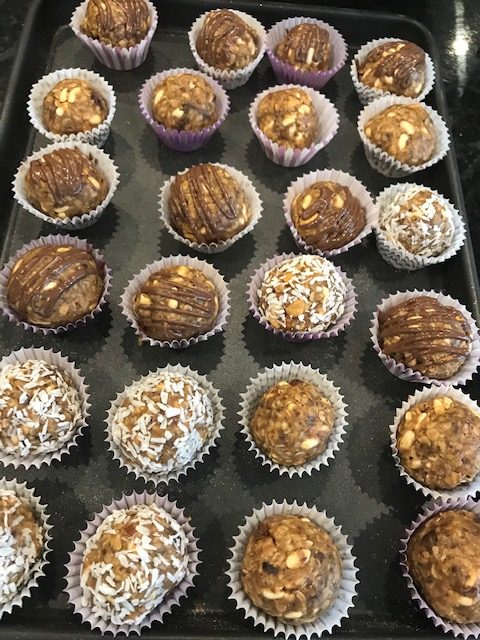 Remove the top parchment piece and place the baking tin in the fridge. Leave for a minimum of 1 hour but preferably 2 hours. Slice into bars or squares. Store the bars in the fridge with a piece of parchment between each one otherwise they will stick. They will last for up to 10 days.
Only a teeny bit of baking, but absolutely delicious, full of good ingredients to give you energy.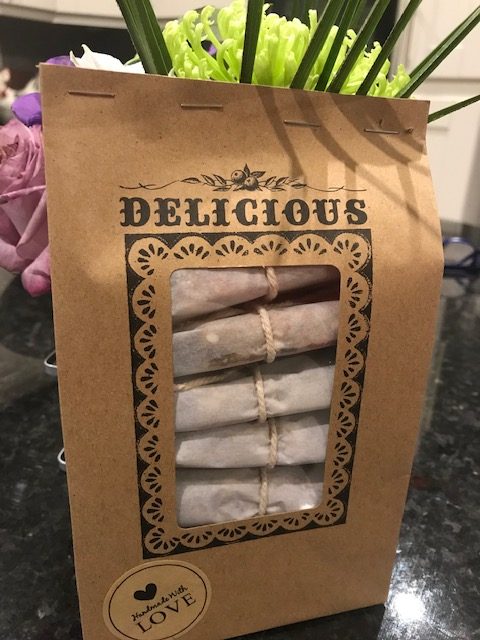 Soraya x