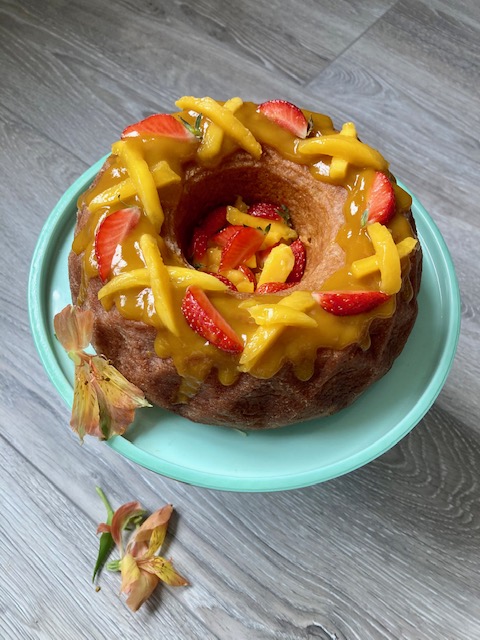 I've made this cake in a bundt tin as it needs so little decoration because it tastes so good that I felt a bundt would help it to look wonderful.
I love bundt tins (you might have guessed from some of my other recipes) as they take any cake and simply raise it up to another level of fancy and showstopping. What's wonderful about bundts?? They do all the work and you take all the credit!
You can make this cake as a regular vegan one if you want to and I'll list the Gluten Free changes needed below in the ingredients. Obviously there's no butter or dairy products in the cake so it's also a great healthy option. I used coconut oil to grease the tin rather than butter and floured it as normal (using GF flour).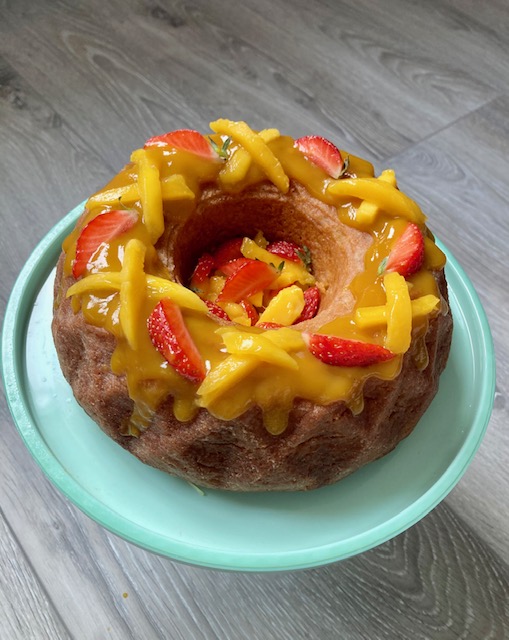 Wanting to give the cake a little bit of star treatment, I did make a mango drizzle for the top and then decorated with fresh mango and strawberry pieces just because it was a birthday cake.
As we live in a country without guaranteed sunshine, the fresh mangoes available to us can be not very ripe, orange and sweet so I bought this great mango pulp from a company called Exotics.ie which is a great standby to have, not only for baking but for making healthy drinks and smoothies. It also works out cheaper!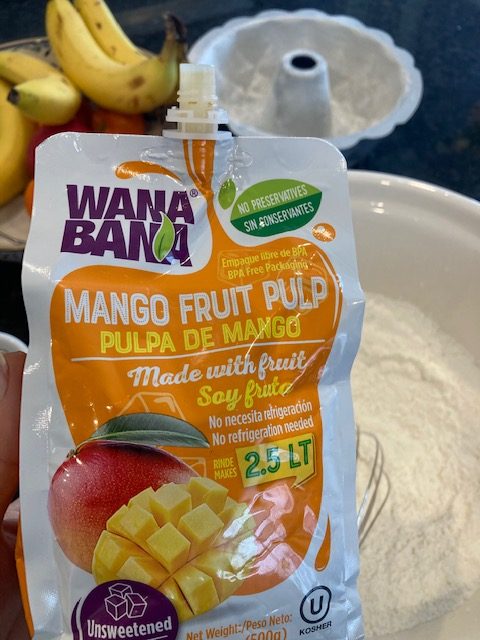 So just before I list the ingredients, I can tell you that this great mango cake turns out light and soft with mango flavour in every bite. Adding the mango drizzle helped to intensify the mango flavour and the cake is so easy to make, everything in one bowl and no special equipment – we love this!!
Ingredients:
220g plain flour (Gluten Free if needed)
140g caster sugar (I used 100g to reduce the quantity)
1 1/2 tbsp baking powder (Gluten Free if needed)
1/2 tsp bicarbonate of soda
1/2 tsp Xanthan Gum (Gluten Free Only)
Pinch of salt
300g mango pulp or tinned mango puree if you can get it
80ml sunflower or vegetable oil (For Gluten Free use 90ml oil)
1 tsp vanilla extract or vanilla bean paste
Method:
Okay so I'm going into a slight lecture mode here! Please, please, I can't stress enough how important it is to prep your bundt tin properly. It takes about 5 minutes and is so worth it when you just turn the tin over at the end of baking and the cake simply drops out. I used coconut oil to thoroughly grease the tin and used my hands to get into all the curves and crevices in the tin or you can use a plant based butter also. Then add some flour and shake it all around the greased tin to get a light coating of flour over the coconut oil.
If you're using another tin (see the end of the recipe for options), you will also need to grease it well and then flour it.
Preheat oven to 170C Fan, 180C and 350F. I used a bundt tin that holds 6 cups. It measures approx 23cm across and the rule with bundt tins is to only fill up 2/3 of the way for a perfect bake.
In a large bowl, add the flour, sugar, baking powder, bicarbonate of soda, xanthan gum if using and salt and use a large whisk to thoroughly whisk all the dry ingredients together to make sure they are well combined and there are no little lumps.
Into these dry ingredients, you can add the mango pulp, oil and vanilla extract.
Again, whisk in the wet ingredients until there are no lumps remaining but don't over beat the batter. Just look at that colour!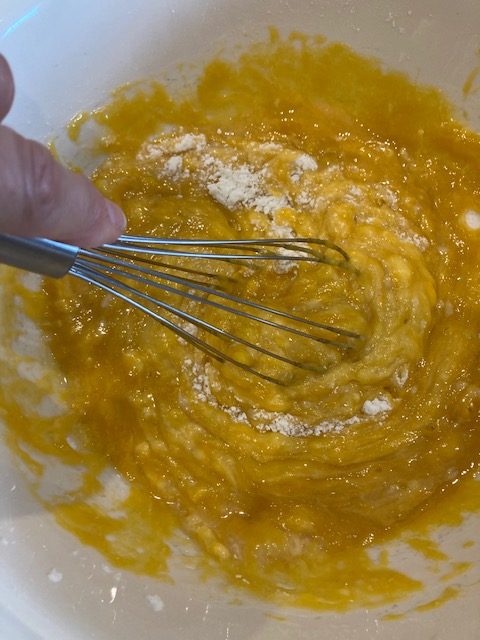 Transfer the batter to the prepared tin and level it out. I find it easier to spoon into each section of the tin, level off and then add the second level of batter and level again.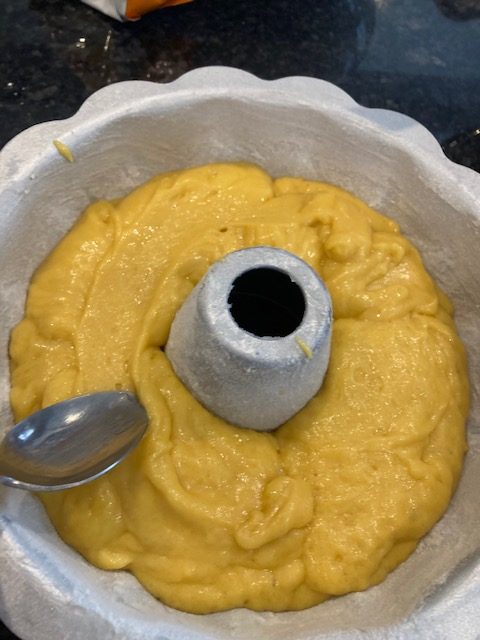 The cake does rise in the oven so don't go over about 2/3 way up the tin.
Bake for 35 / 40 minutes. The cake should be firm to touch and a skewer inserted into the centre will come out clean. I placed mine on the middle shelf of the oven to prevent the top from over browning.
Leave the cake to cool in the tin for about 30 minutes and then carefully turn it out onto a wire rack to cool completely. Sometimes you might have a bit of residue sitting on the cake in spots when you turn it out of the tin; as it's still warm simply get a pastry brush and gently brush around where there are spots of residue and these will disappear.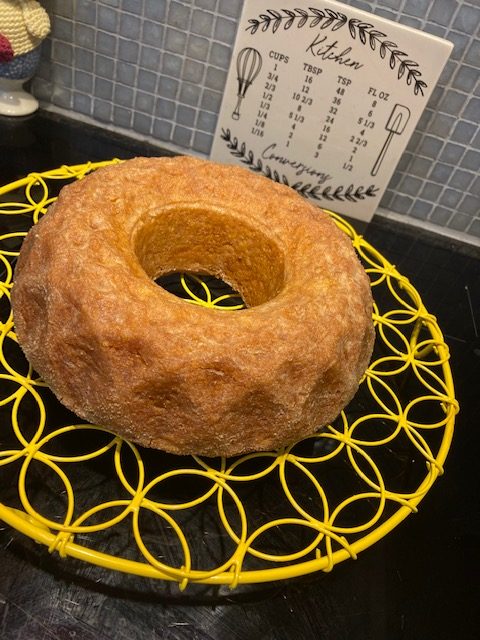 Once completely cooled, you can decorate with a dusting of icing sugar and it looks great and tastes amazing.
As I mentioned, this was made for a birthday so I put approx 100ml of the leftover mango pulp into a small pot and added 1 tbsp icing sugar. I whisked them together and heated it, stirring constantly. Brought it to the boil and removed from the heat, stirring all the time. This thickened it up enough as it cooled so it wouldn't run off the cake when drizzled over the top.
Spoon this cooled mango drizzle over the top of the cake and use the spoon to gently nudge it to move down a little. I cut fresh mango and strawberries into thin slices and used them to decorate the cake.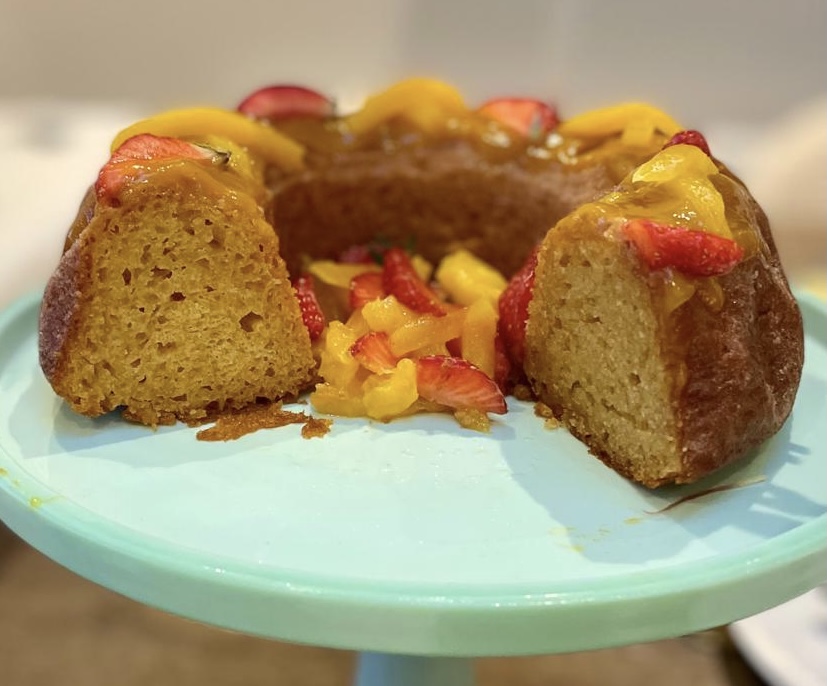 You can make this lovely Mango Cake in a 23cm / 9″ square tin or in a 23cm x 33cm / 9″ x 13″ rectangular tin if you prefer but do keep an eye on the baking time. Check the cake after 25 minutes of baking and keep checking every few minutes so you don't over bake it.
Make it, Bake it, Love it
Soraya x