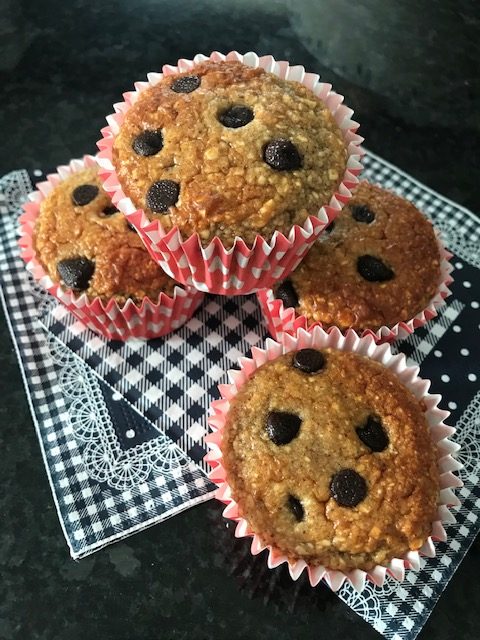 These flourless Chocolate Chip Muffins are high in protein and bursting with delicious chocolate chips. You may not think they're healthy because they're muffins, but they absolutely are healthier than a regular muffin. I use no refined sugars and made them Dairy Free too. They are Vegetarian also and can be made suitable for Vegans by using your favourite egg replacer – 1 tbsp chia / flax seed mixed with 2 tbsp water, mix and leave for 5/10 mins to become a gel like consistency = 1 egg.
You can of course use regular oats, protein powder and chocolate chips if you don't follow a particular diet so everyone can enjoy these delicious, soft muffins. A great grab and go healthy option for everyone!
One more bonus is you need no special equipment to make these muffins. No electric mixer or stand mixer, just a whisk and a large spoon.
I found it best to get the ingredients ready before starting so I could combine everything and get them in the oven. Use a smooth, creamy nut butter such as organic and whole peanut butter, almond, sunflower seed or cashew butter with no additives. If yours seems thick, or the oil has risen to the top, give it a good mix in the jar first before using.
To lift the chocolate flavour even more, use a chocolate flavoured protein powder but vanilla will work well also.
Ingredients:
180g oat flour (whizz whole oats in a blender to get oat flour) – GF if needed
40g chocolate or vanilla protein powder – GF / Vegan as needed
1/4 tsp salt
2 tsp baking powder – GF if needed
1/2 tsp bicarbonate of soda
2 eggs or egg replacer for vegan option
150ml plant based milk (regular milk is okay too)
1 tsp vanilla extract
110g honey or maple syrup, date syrup, agave syrup for vegan option
60g nut butter or seed butter of choice – no added sugar variety
50g Dairy Free dark chocolate chips, Gluten Free or regular chocolate chips
Method:
Preheat oven to 170C (Fan), 180C and line a muffin tin with cases or grease the tin.
In a large bowl, put the flour, protein powder, salt, baking powder and bicarbonate of soda and whisk to combine.
In a medium bowl, add the eggs and vanilla and whisk well to combine everything. Then in a small bowl, add together the honey and nut butter and mix them well together.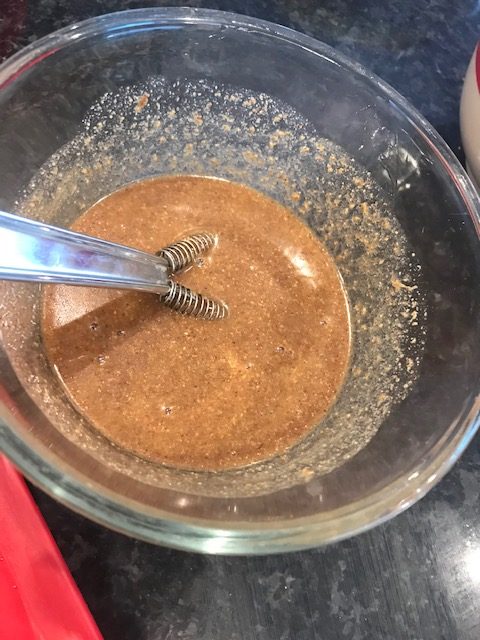 Next you need to add these 3 ingredients together in batches. Add the milk mixture first and then follow with some of the honey and nut mixture and repeat.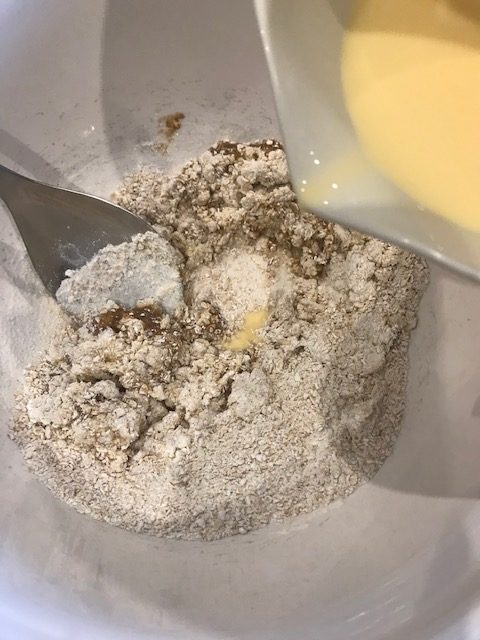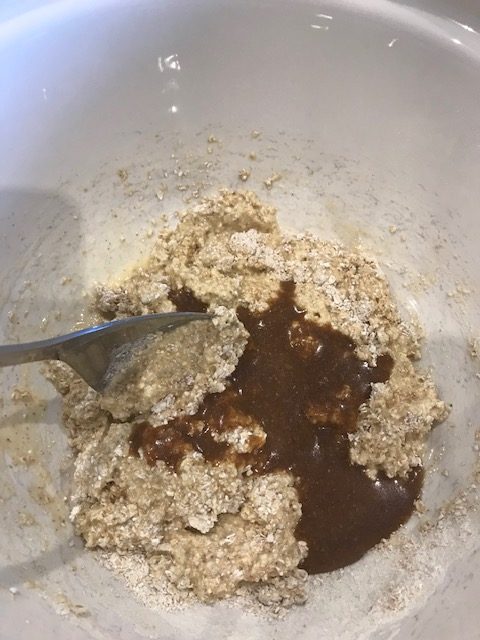 Repeat the process until it resembles cake batter, until it's just blended so be careful not to overmix. Gently fold in the chocolate chips.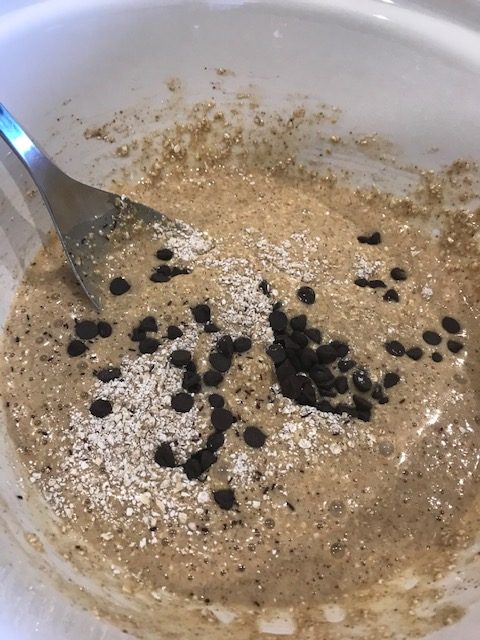 Using an ice cream scoop, divide the batter evenly into the muffin cases and fill about 2/3 of the way up only. For a final finish, add some large chocolate chips on top of each muffin.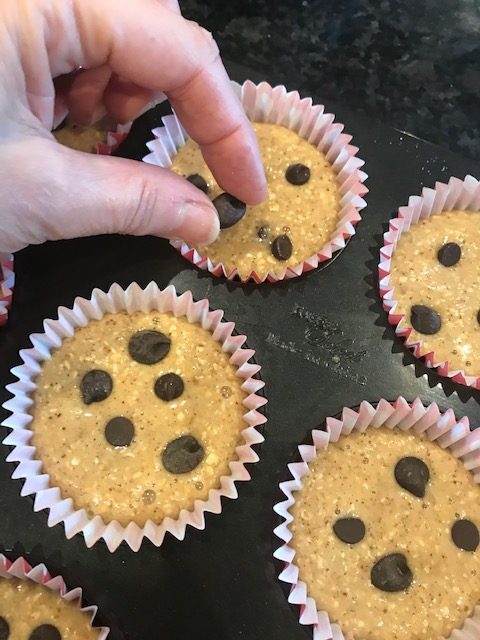 Bake in the preheated oven for 18 – 22 minutes. Check with a wooden skewer inserted into the centre and it should come out clean. Remove from the oven and place on a wire rack to cool. After about 3 minutes, remove the cases from the muffin tin and let them cool on the wire rack. You can of course enjoy these muffins while they are still warm.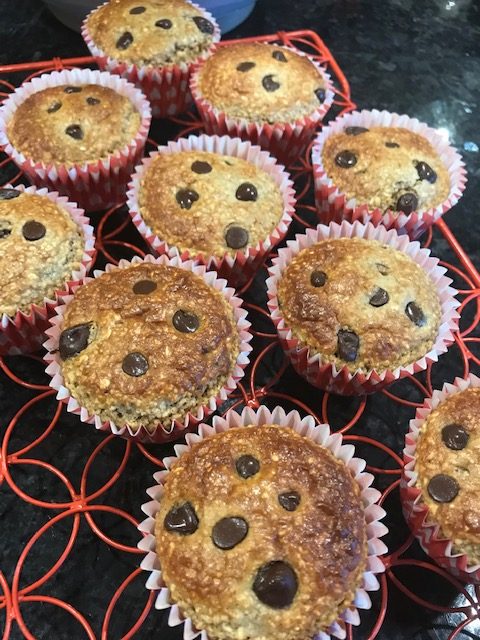 Lovely, delicious muffins full of protein! They are best kept in the fridge for up to a week. Pop them in the microwave if you like before enjoying. They are also freezer friendly and will keep for up to 4 months.
Enjoy, tag cozebakes if you make them and bake with love always!
Soraya x