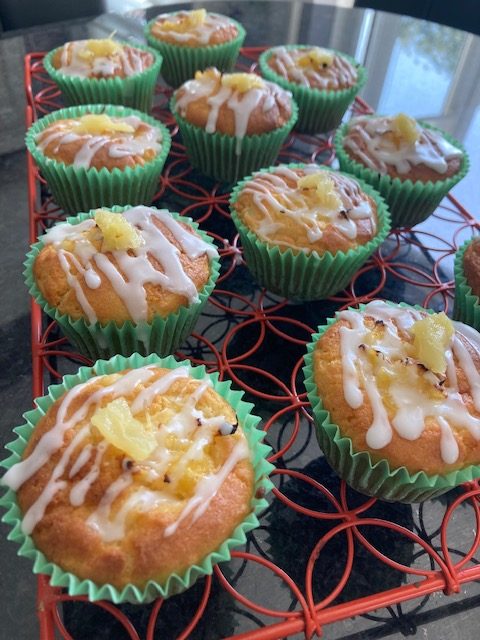 These delicious and fresh tasting muffins make a great grab and go if you miss breakfast and a perfect "something not too sweet" during the day.
The pineapple taste is not at all overwhelming but you get the taste of lovely pieces throughout as you enjoy the muffins. Using tinned pineapple means you can bring sunshine to your kitchen any time of the year!
You can leave the muffins as is but I thought it would be nice to make a little drizzle using some of the reserved pineapple juice and to top the muffins with pieces of pineapple before baking.
I haven't tried this recipe with fresh pineapple though I'm sure it would work well too but you may not have much juice, otherwise, I don't see it causing any problem.
I've given Dairy Free and Vegan options if needed in the ingredients listing.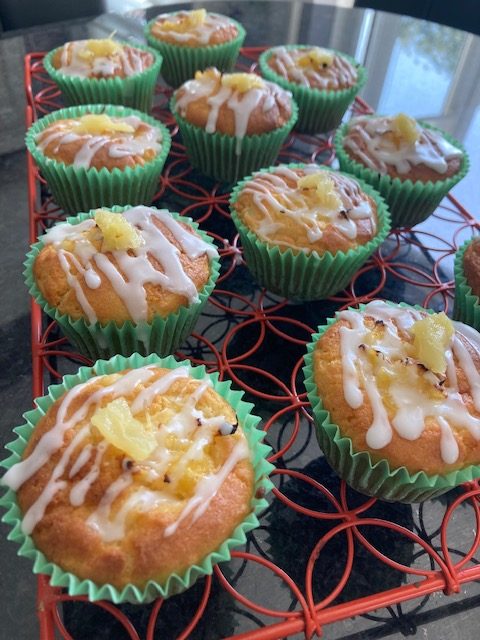 Ingredients:
270g plain flour
80g caster sugar
1 tablespoon baking powder
1/2 tsp salt
1 tin 225g / 250g of crushed pineapple or pineapple pieces
60ml of pineapple juice
180ml milk (you can use a non dairy milk too – coconut milk was great!)
1 large egg (use a flax seed egg if needed)
115g butter, melted (use your plant based butter of choice)
Method:
Preheat oven to 190C / 180C Fan and I would recommend you lightly spray the muffin cases before putting them into your muffin tin. Alternatively, you can grease the muffin tins well if you're not using paper cases.
In a large bowl, sieve the flour, baking powder and salt and then add the caster sugar.
Drain the pineapple pieces well and reserve the juice. Keep 60ml separately. If you're using pineapple pieces, cut them and mash them with a fork so you don't have large pieces which will sink to the bottom. Keep a few pieces aside for finishing.
Next add the pineapple pieces to the dry ingredients.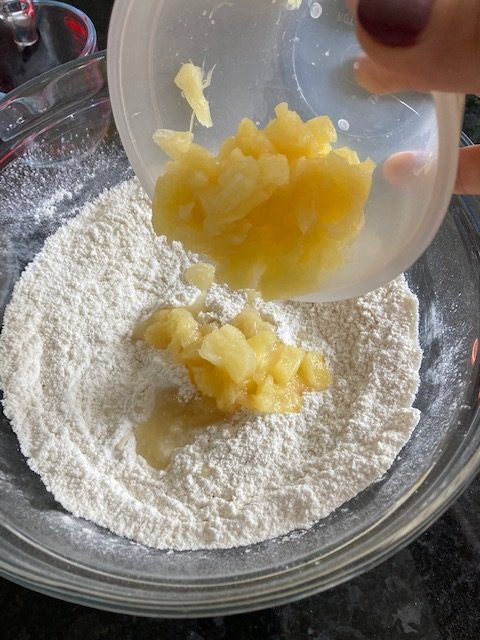 Then add the 60ml of reserved pineapple juice, the milk, egg and melted butter into the bowl and stir just enough to combine. If you over work the mixture, the muffins will be tough.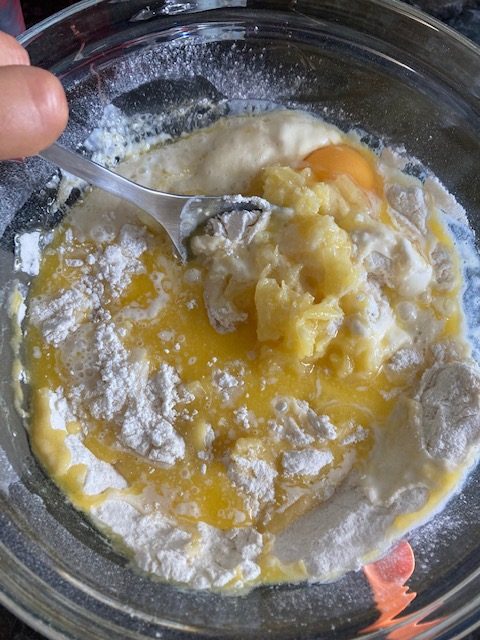 Use an ice cream scoop to divide the batter into the 12 prepared muffin cases so you get an even dispersion and that will result in even baking. Then top the muffins with some of the reserved pieces of pineapple and very gently give them a little push into the batter. Some of the edges will brown a bit in the oven but that just adds to the appeal 🙂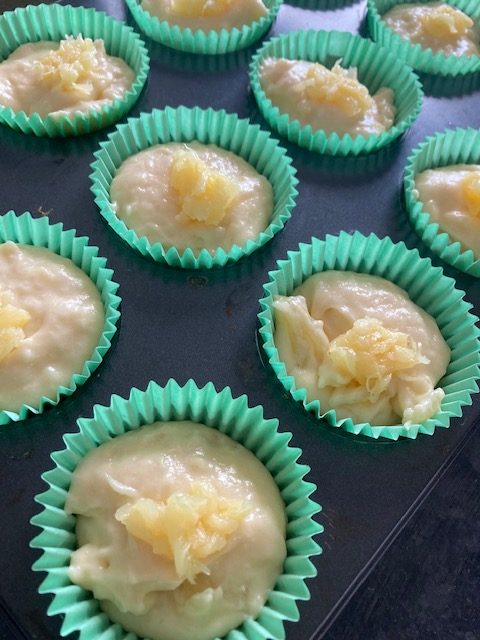 Bake for 25 – 30 minutes and check with a cake tester/toothpick which should come out clean from the centre of the muffin. Remove from the oven and let them sit in the muffin tin for about 5 minutes before moving them to a wire rack to cool.
You can leave them as they are and just enjoy. If you would like to give them a little lift, simply make a light drizzle using sieved icing sugar and add the leftover pineapple juice bit by bit till you get a thick, smooth icing that will slowly flow off the spoon.
Drizzle a little icing in lines over each muffin and let it set before enjoying.
These muffins kept well for a few days in an airtight container. I kept them in the fridge and they stayed fresh for 4/5 days but ideally, use them within 2/3 days. We loved them – they were so light and fresh without being too sweet.
Make them; Bake them; Love them!
Soraya x