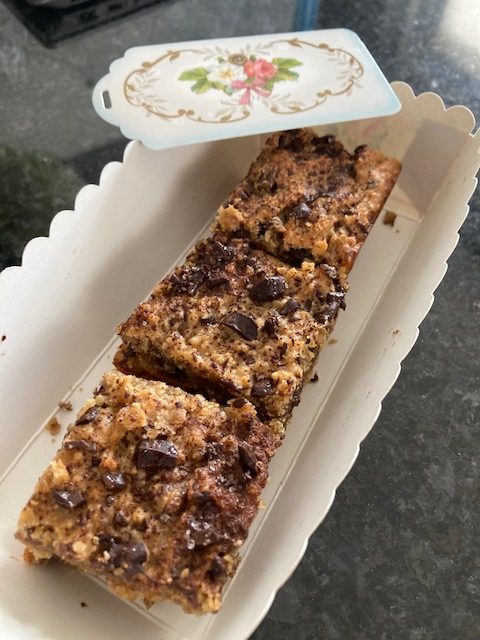 Let's get healthy while still enjoying totally amazing treats! I always feel if you totally deprive yourself, you crave things more. These healthy blondies are so good and have won over some very reluctant tasters. I'll add some notes at the end of the recipe for those who don't need to adhere to particular dietary needs.
They are really easy to make, just dump everything in the food processor and it's done. We love recipes that need minimal effort and give maximum results. I'd really urge you to give this recipe a try. You might think you will taste some of the ingredients and you may not even like them, but actually, these Healthy Blondies are a great surprise!
I added sea salt to the blondies once they came out of the oven to give that great sweet/salty mix and it works really well.
I used a tin of organic, cooked chick peas, popped them in a colander, drained and rinsed them.
Be sure to use whole or natural peanut or nut butter of your choice with nothing else added.
I chopped up some Nomo Dark Chocolate into chunks and used these for chocolate chips. It's Dairy, Gluten, Egg and Nut Free so perfect for dietary requirements.
Let's get to the making these beauties…..
Ingredients:
1 tin chickpeas, drained and rinsed
120g whole peanut butter (or Nut Butter of your choice)
85ml pure maple syrup (or Agave Syrup)
2 tsp vanilla extract
1/2 salt
1/4 tsp GF baking powder
1/4 tsp Bicarbonate of soda
52g vegan, dairy and gluten free chocolate chips
Sea Salt for sprinkling
Method:
Preheat oven to 175C Fan, 185C and use coconut oil to grease a 20cm square baking tin
In a food processor, add all the above ingredients except for the chocolate chips and blitz until the batter is smooth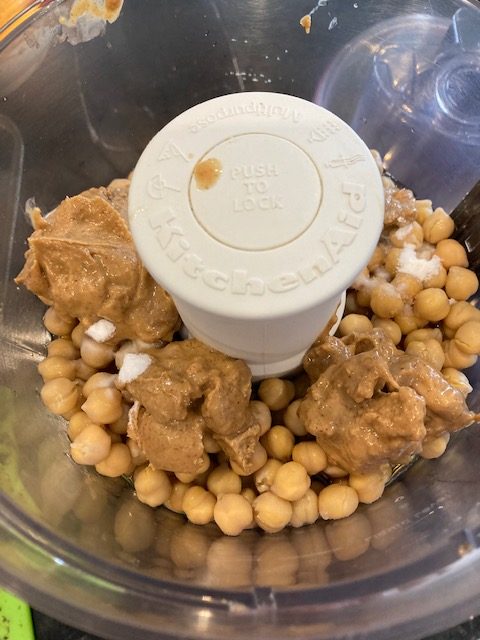 Once the batter is smooth, you add about 1/3 of the chocolate chips or chopped chocolate chunks. I use dark chocolate as it has less sugar but that's up to your personal choice. The batter is thick and delicious!
Fold in the chocolate chips to spread them evenly.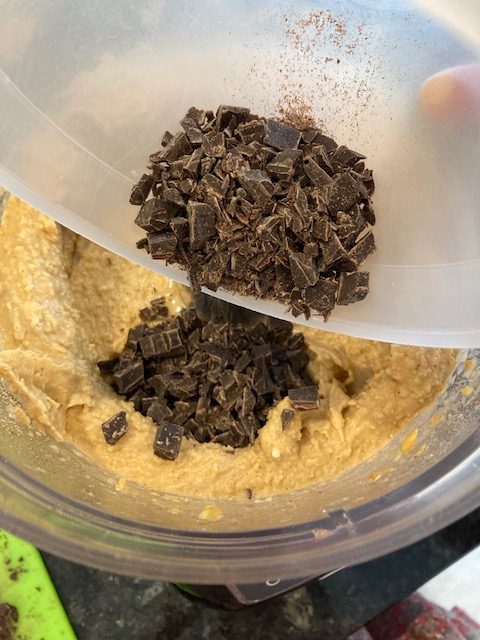 Spoon the mixture in the prepared tin and sprinkle the remainder of the chocolate chips on top. If you find the batter very sticky, you can spray your spatula with non stick oil or use some oil on your hands to help smooth it out evenly.
Bake for 20 – 25 minutes. Check with a skewer inserted into the centre, it should come out clean.
Just one note, be sure not to over bake them as they need to be a little soft and squidgy in the centre.
Leave the blondies to cool in the tin, sitting on a wire rack for 20 minutes. Sprinkle with sea salt and then cut into squares. Store them in an airtight container in the fridge for 3 to 5 days.
Recipe Notes:
* If you add an egg the batter will be more cake like than blondies and of course will not be vegan
* You can use almond butter or another favourite but be sure they are natural with no additives
* Add nuts, dried fruit or some white chocolate if your diet allows (be sure to keep them small)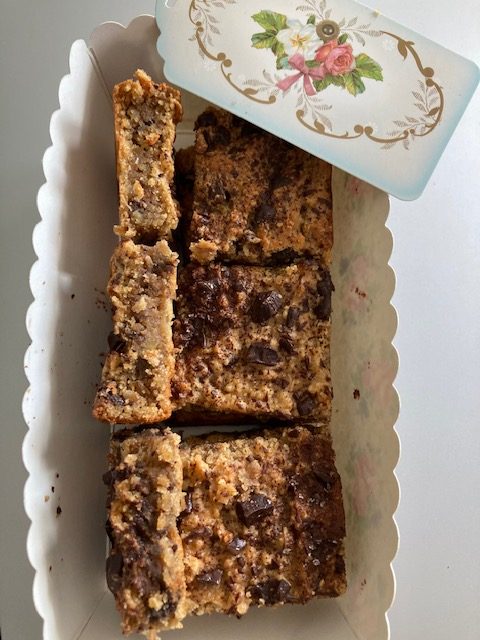 Make them, Bake them, Love them!
Soraya x