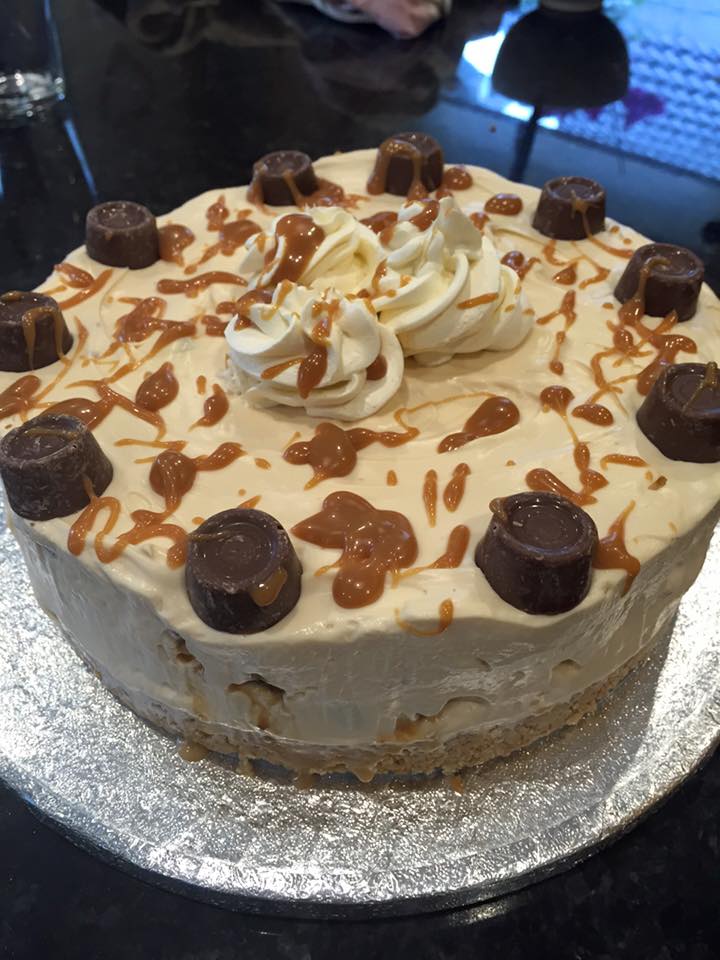 A delicious, creamy dessert packed full of Rolos. It's a no bake cheesecake so best to make it the day before you need it and let it set overnight in the fridge. They are a great dessert as you can make them well in advance which leaves you time for other things. I would recommend you leave it in the tin as long as you can as it doesn't set totally solid like a baked cheesecake. It's a little soft but just so gorgeous that it's only a teeny issue.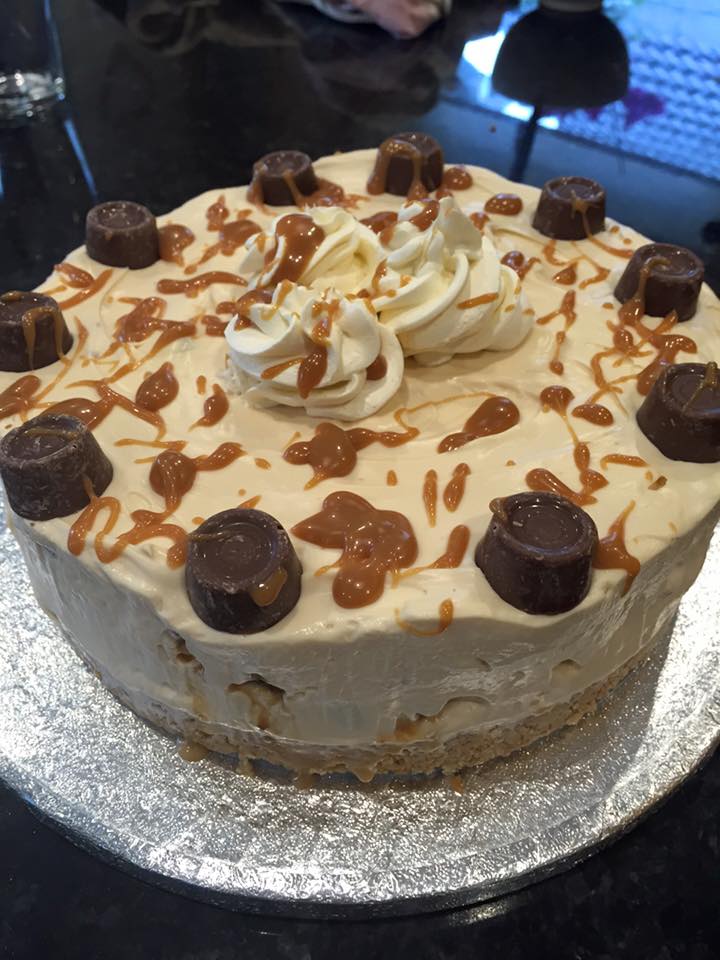 The recipe is by Jane's Patisserie and the filling is pretty high but if you prefer less, just half the cheesecake filling mix. Personally I wouldn't recommend doing that! Only use full fat cream cheese. It won't set properly if you use low fat version. www.janespatisserie.com
So you use a 20cm / 8″ loose bottom tin and when ready to serve, place the base on a tin of peas, beans, whatever and push gently down the sides of the tin to remove it and then you will be left with the base on top of the tin. Perfect!
There's only a little bit of preparation to do beforehand. Whizz the biscuits in a food processor for quick and easy results. Melt the butter in the microwave. Chop up the Rolos into quarters and set aside.
Ingredients:
Biscuit Base
– 150g Digestives
– 150g Golden Oreos/Vanilla Crunch biscuits (I used Fox's Golden Crunch biscuits)
– 125g butter, melted
Cheesecake Filling
– 500g cream cheese, I used 250g mascarpone, 250g Philadelphia (full fat!)
– 1 tsp vanilla bean extract
– 100g icing sugar
– 150g caramel – I use Carnations Caramel
– 300ml double cream
– 175g Rolo sweets, chopped up into quarters
Method:
1) Blitz the biscuits in a food processor (or break up in a bag with a rolling pin..) and mix the biscuits with the melted butter. Spread on the bottom of the cake tin and press down firmly. Leave to set in the fridge while you make the rest.
2) Using a free standing mixer with the whisk attachment, whisk together the cream cheeses, vanilla, icing sugar and caramel until smooth and lump free – this could take 30 seconds or so.
3) Pour in the double cream and continue to whisk for a couple of minutes until its very thick and mousse like (I mix it on a medium-high speed) – Now this could take up to 3-4 minutes depending on your mixer, but you seriously have to stick at it – it will hold itself completely when finished mixing (like a meringue does!) If you don't mix it enough it won't set properly!
4) Fold the chopped up Rolos through the cheesecake filling. Spread over the biscuit base and leave to set in the fridge for 5-6 hours, or preferably overnight.
5) When ready to serve, top with a drizzle of caramel and decorate with extra Rolos.  If you want, you can whip some cream and pipe it prettily around the edges or pop a few rosettes in the centre.
A perfect Party Dessert!
Soraya x