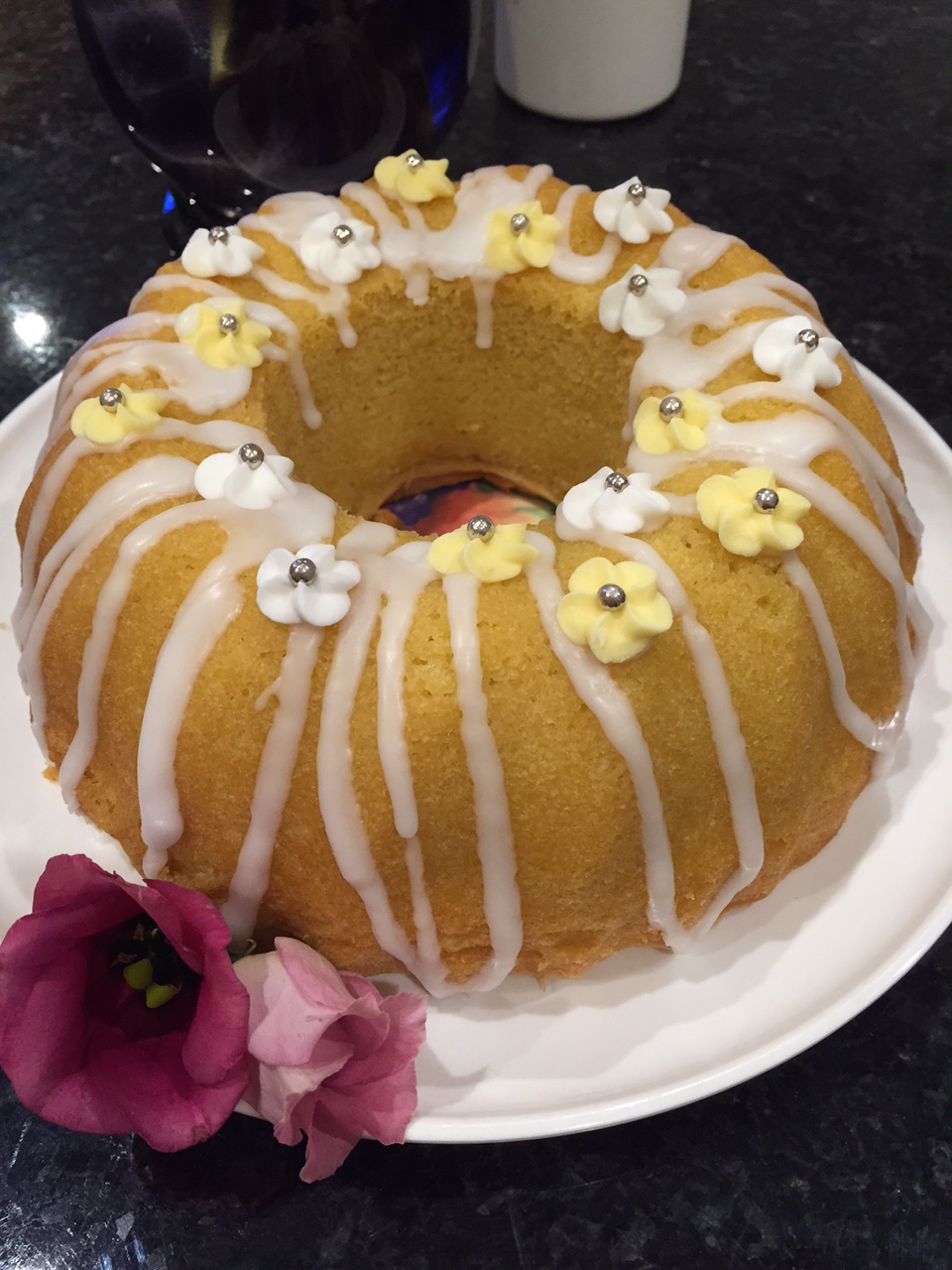 Using a bundt or ring tin can transform a lovely cake into something special. It's one of my favourite tins to use as everything seems to look just that bit special out of it. The one trick for success is to grease and flour well. Once you do that, there won't be any tears or tantrums with large pieces of cake stuck to the inside of the tin. I'm a massive fan of anything with almond flavour and this very pretty Almond Cake is surprisingly easy but with great results. I used yellow and white daisies to decorate but you could use multi coloured fondant flowers for a really pretty spring or summer display. I added Almond Extract to the icing too just to complete the whole experience. The smell in the kitchen was ah may zing!
So it should serve approximately 14/16 people and you need a 20cm diameter bundt or ring tin. Butter and flour this so the cake slips out easily after baking. I used a sandwich bag with the corner cut off to ice the cake. The addition of ground almonds will keep this cake moist and it will also last for about 4/5 days in an airtight tin – nice!
Ingredients:
200g butter, softened
200g golden caster sugar
4 eggs, beaten
100g self raising flour
100g ground almonds
1 tsp baking powder
1/2 tsp almond extract
For decorating: Icing Sugar, Almond Extract, Water and a few flowers
Method:
So to start, preheat the oven to 180C / Fan 160C / Gas 4. Grease and flour the tin really well. Cannot stress how important it is (and how easy your life will be) to do this.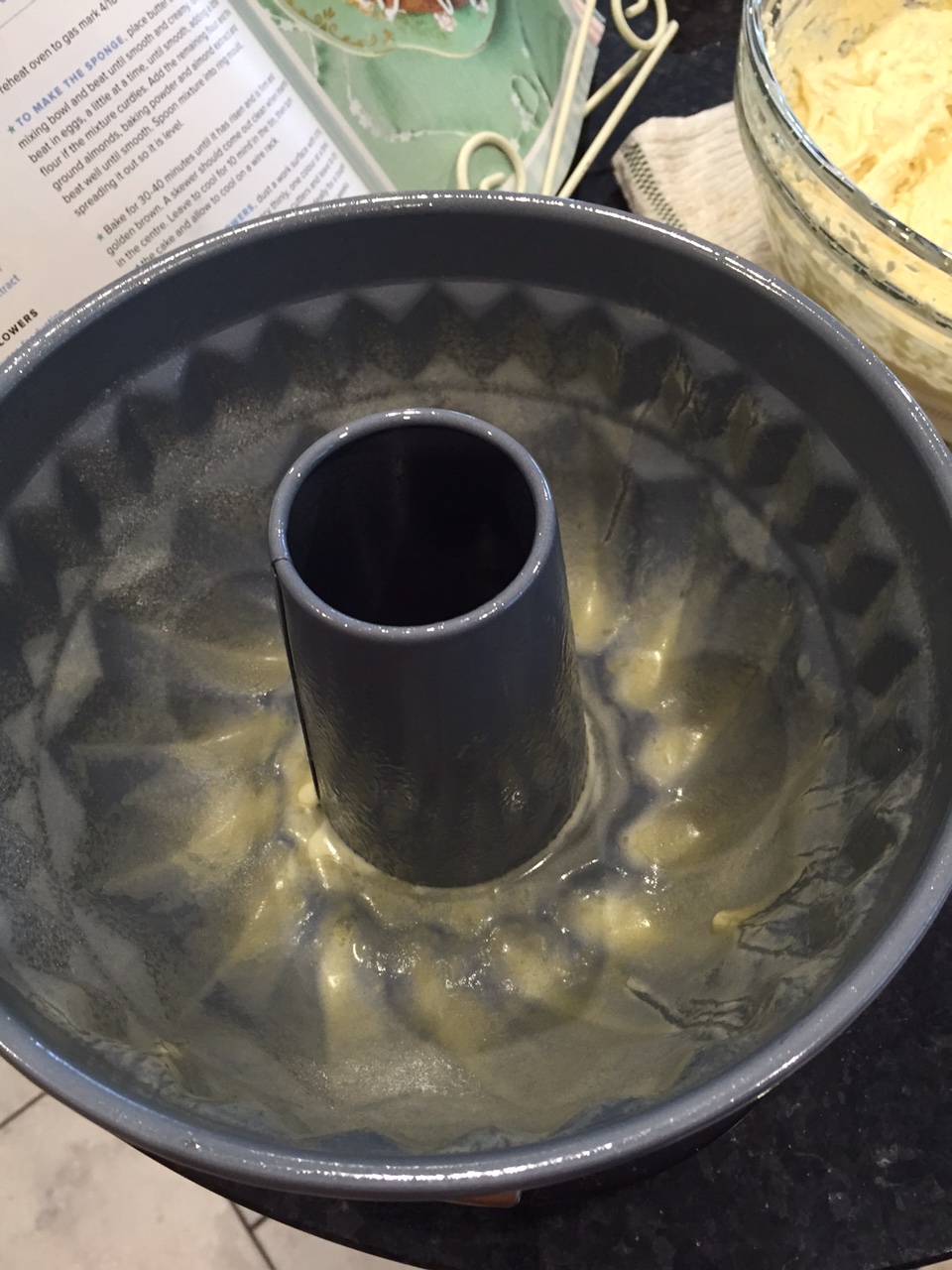 Well greased and floured – no sticking here!
1. Place the butter and sugar in a large mixing bowl and beat until smooth and creamy. Should take about 3/4 minutes. Gradually, add in the beaten eggs, a little at a time until the mixture is smooth. If the mixture begins to curdle just add a little bit of the flour and beat again.
2. Add in the remaining flour and the ground almonds, baking powder and almond extract and beat well until smooth.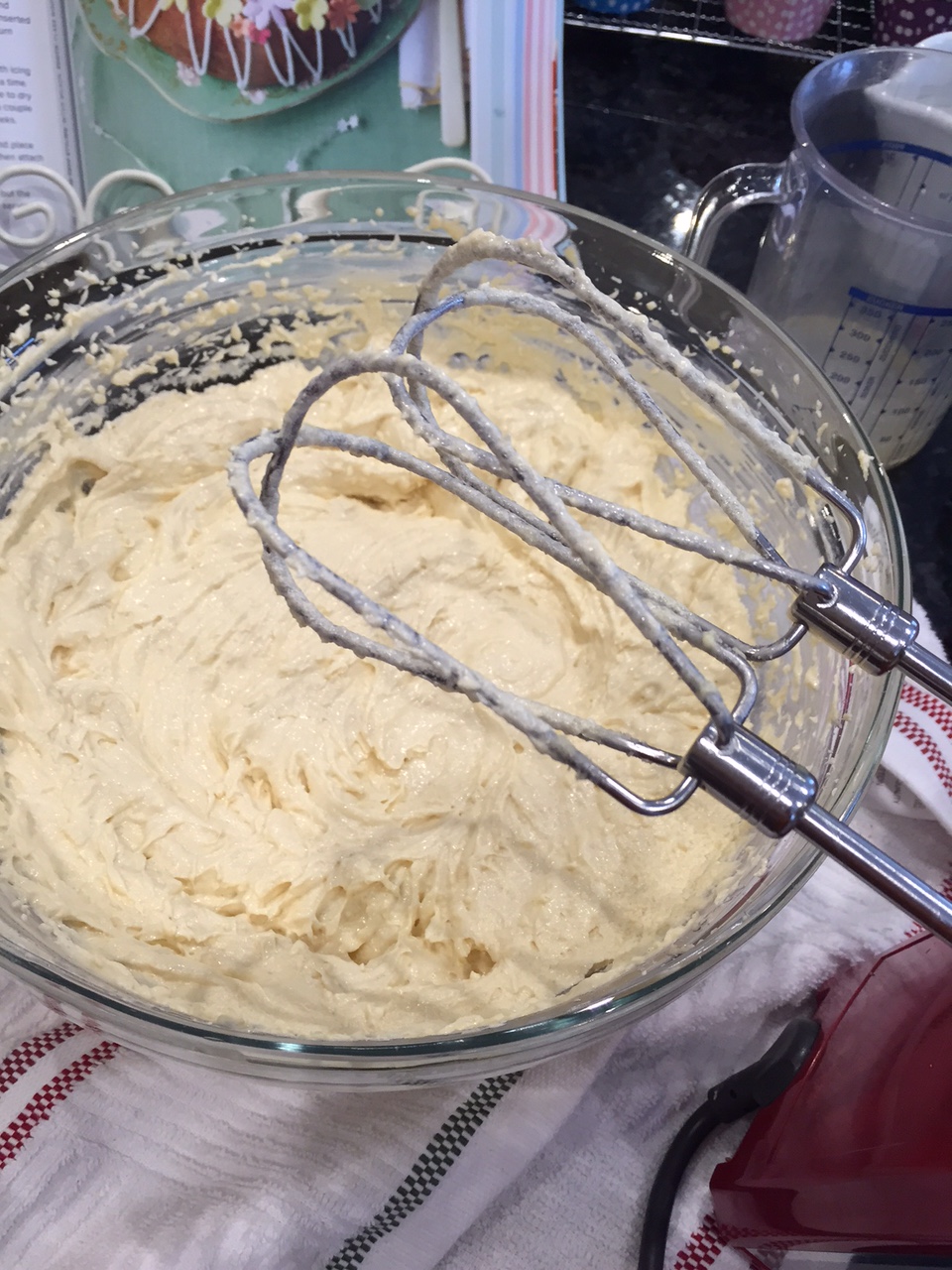 Ready to transfer to the tin.
3. Spoon this mixture into the ring mould, spread it out so it's level.
4. Bake for 30/40 mins until it has risen and is firm and golden. A skewer should come out clean when inserted into the centre.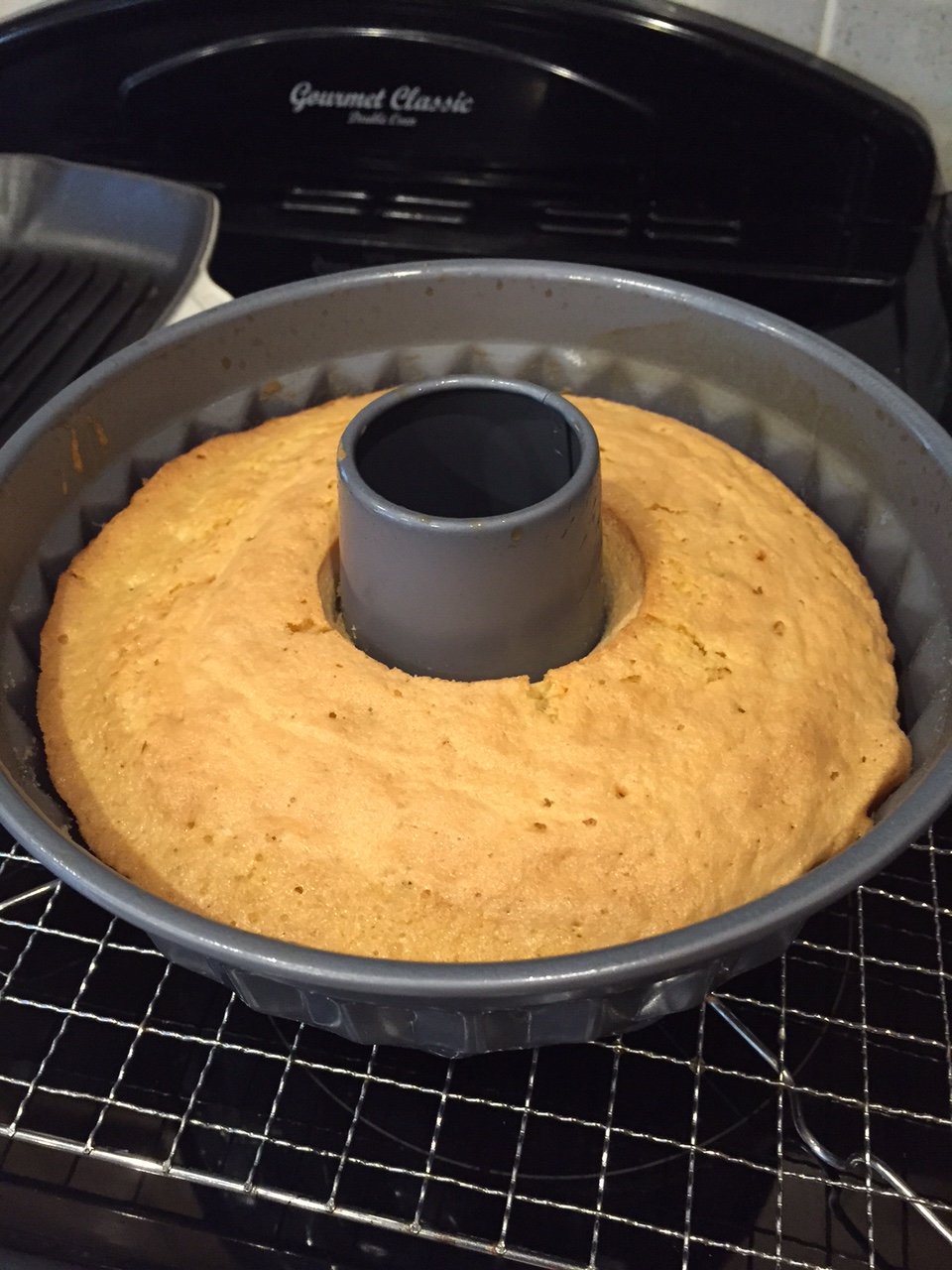 Out of the oven and a lovely gold colour. Leave to cool in the tin for 10 minutes before turning out on a wire rack and allow to cool completely.
 A thing of beauty … I could look at this all day 🙂
When it came to decorating, I made up some icing with icing sugar, a few drops of Almond Extract and a little water to make up a thick paste. I let it sit for a few minutes and then spooned it into a plastic bag. Sit the bag in a pint glass before transferring the icing into it. Just makes it a little easier and can stay there till you're ready to use it.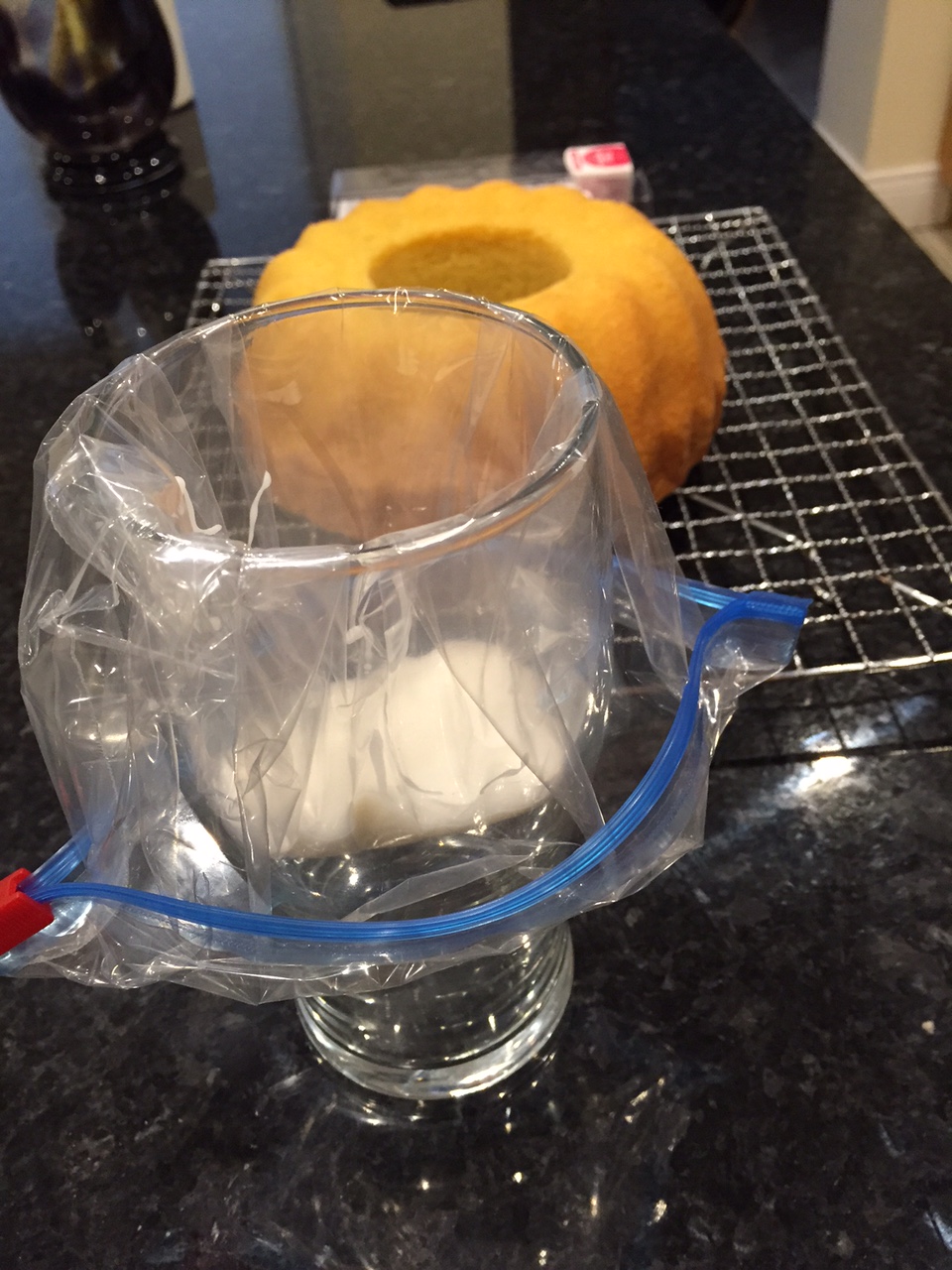 Snip the teeniest bit off the corner of the bag and pipe lines all over the cooled cake to make a pretty effect. You can pipe a bit of icing on the back of each flower before attaching it to the cake to help it stay in place.
A lovely centrepiece 🙂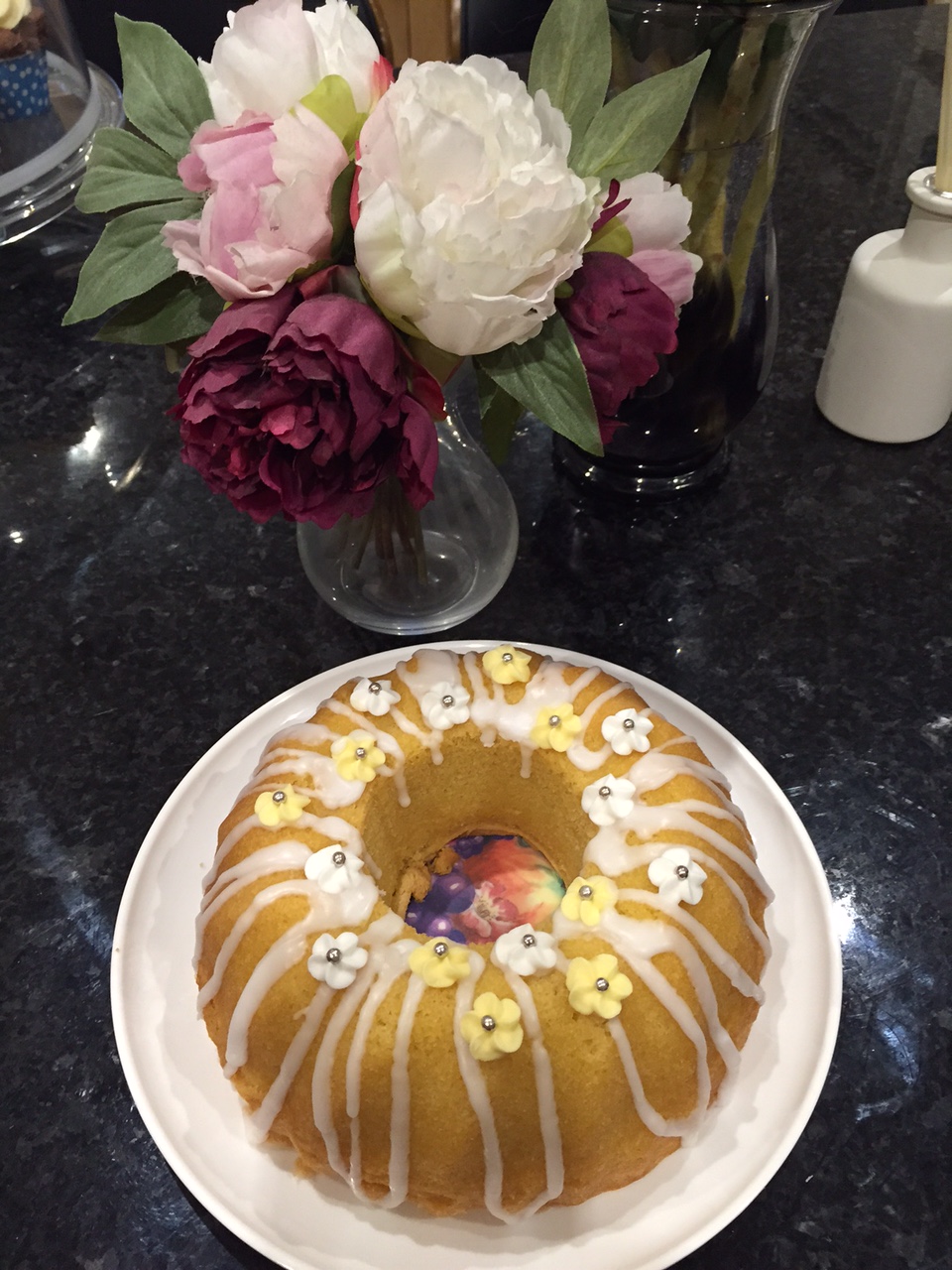 Remember to bake with love
Soraya x