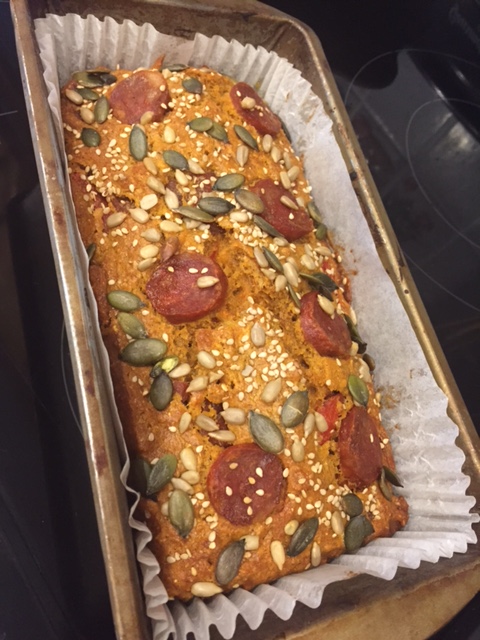 Sometimes I really just want a savoury bite and one of the tastiest recipes I've made lately is this sweet potato loaf bread. It's gorgeous with or without the chorizo and could be served with soup or a salad as something a little different from your usual brown or white bread.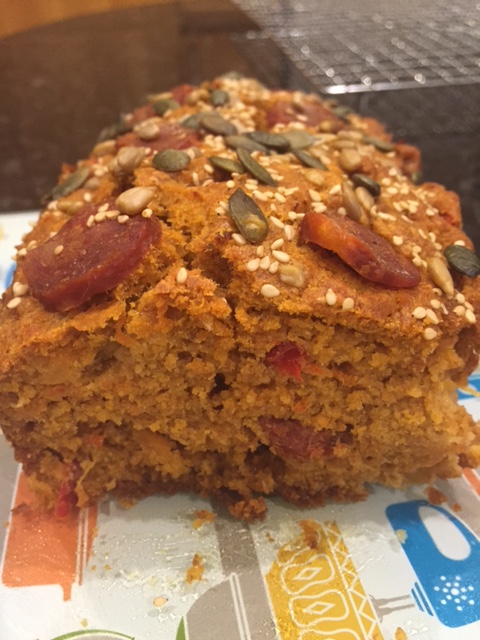 As sweet potato is exactly that, sweet … you really don't need anything with this. It's moist enough and tasty enough just to eat as is.
It makes a 2lb loaf tin and I used a liner (remember, if there's an easy way I'll find it) but you can line the tin with parchment if you prefer. *After the first time making this, I would probably reduce the amount of olive oil by about 20ml and when **crisping the chorizo, I would omit any oil as it contains enough on it's own. You can try the original recipe as given below and see what you feel yourself. It doesn't produce a very oily result but it can be difficult to slice properly and I felt by reducing the amount of oil, it might result in a sturdier loaf.
One key element is to leave it till it's completely and utterly cooled. It does gain some sturdiness as it cools so see how you go.
For a vegetarian option, just omit the Chorizo and add extra peppers and some sundried tomatoes.
Ingredients:
300g sweet potato
80ml olive oil (see note* above)
150g chorizo, finely sliced (see note** above)
2 large eggs
150g self raising flour but I used 75g each wholemeal flour and self raising for a healthier option
1 tsp bicarbonate soda
half tsp salt
2 tsp paprika (you could use smoked paprika for a more intense flavour)
100g roasted peppers in oil, drained and chopped (I would suggest you pat them dry to remove all the oil)
A handful of mixed seeds for sprinkling (optional – I used pumpkin, sesame and sunflower seeds)
Method:
Preheat oven to 170C (325F / Gas 3)
Prick the skin of the sweet potatoes with a fork and microwave for 10 mins. Slice in half and scoop out the flesh into a bowl.
Heat 1 tbsp. of the olive oil in a pan and fry the chorizo until crisp. Set aside to cool a bit. (see note above)
Add the eggs and remaining oil to the sweet potato and stir in the dry ingredients. Add the peppers and chorizo and keep a few for the top of the loaf. Mix well to combine everything.
Scrape this into the tin and top it with the chorizo slices and sprinkle the mixed seeds on top. Bake in the preheated oven for 30-35 minutes or until a skewer comes out clean. I left mine in for a further 5 mins. and the skewer came out clean.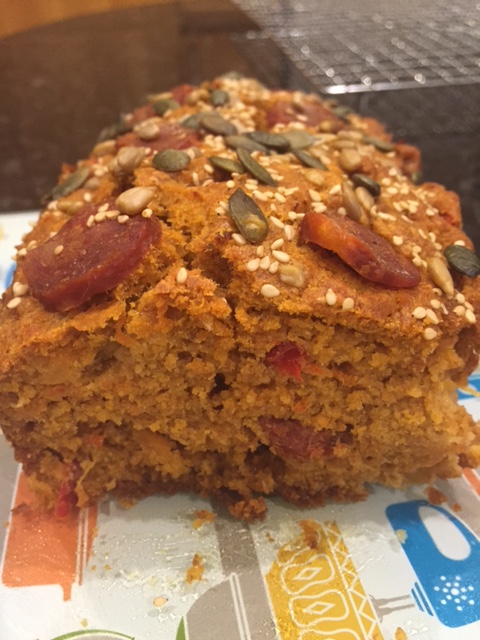 You can see the pieces of peppers & chorizo in the bread
Leave to cool completely in the tin. Don't try to take it out before it's totally cold or it will fall apart.
Another combination you might like would be to chop up sundried tomato pieces and add to the mixture at the same time as the peppers. Keep some aside to decorate the top too for a great Mediterranean vibe.
Try black or green olives and just pat them dry before adding.
Bake with love
Soraya x