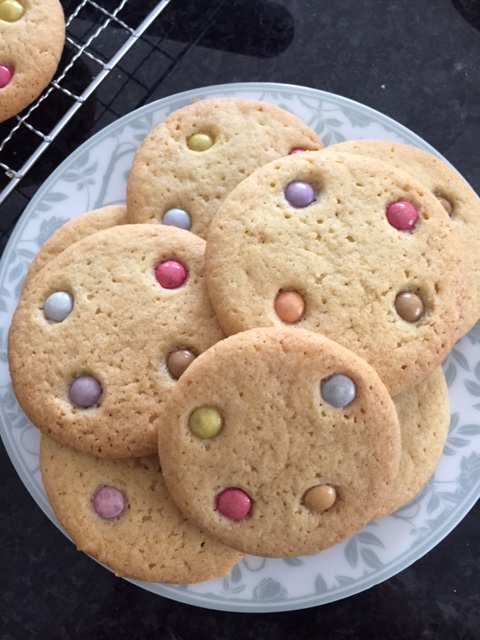 A really simple and fun cookie recipe which the kids will love helping you to make. You could also use M&M's for a change and as they have different fillings, they would be great fun to eat too! Maybe each person could choose their favourite colour and use that colour only on their own personal cookies 🙂
Make half the quantity below if you prefer. It makes between 20 – 24 large cookies so perfect for parties 🎉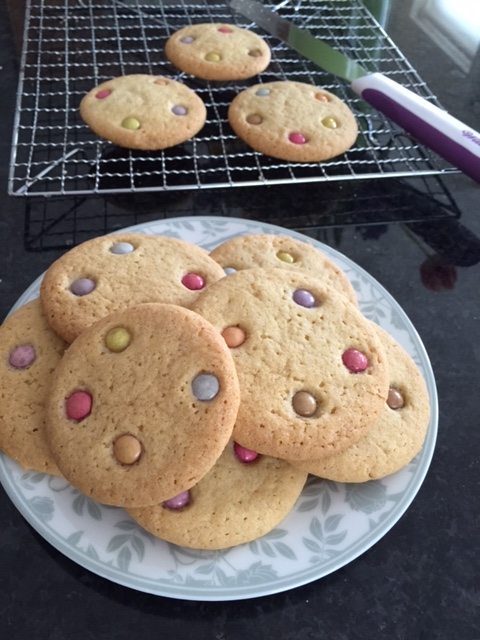 This recipe will make approx. 20 cookies depending on the size but just be warned, they really do spread out quite a bit so I would make them only the size of a walnut but again, it's up to you. Here's an idea of what they look like before and after baking …
i made these again recently and had to use parchment paper as they were a bit sticky.
Also with a different oven, they only took about 12 mins to bake so keep an eye on them.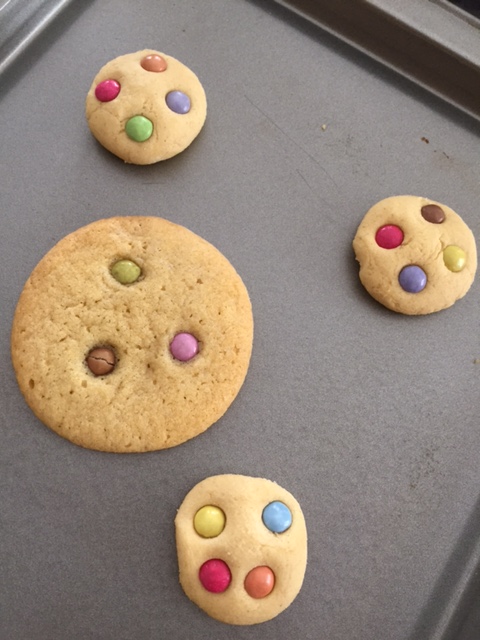 Ingredients:
350g plain flour
1 tsp bicarbonate of soda
1 tsp baking powder
250g softened butter
300g caster sugar (I used 180g)
1 egg, beaten
1 tsp vanilla extract
3/4 boxes of Smarties (I bought the mini packs as they are smaller in size so you can fit more on your cookie)
Method:
1. Heat oven to 180C or 160C for fan. You need 2 baking trays. No need to grease.
2. Sift the flour, bicarbonate of soda, baking powder and a pinch of salt into a mixing bowl.
3. In another bowl, cream together the butter and sugar until pale and fluffy, then beat in the egg and vanilla extract.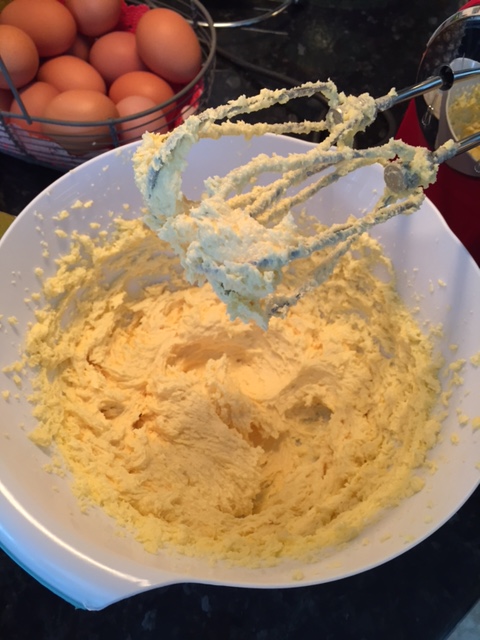 4. Gradually beat in the sifted dry ingredients into the wet mixture to form a stiff dough.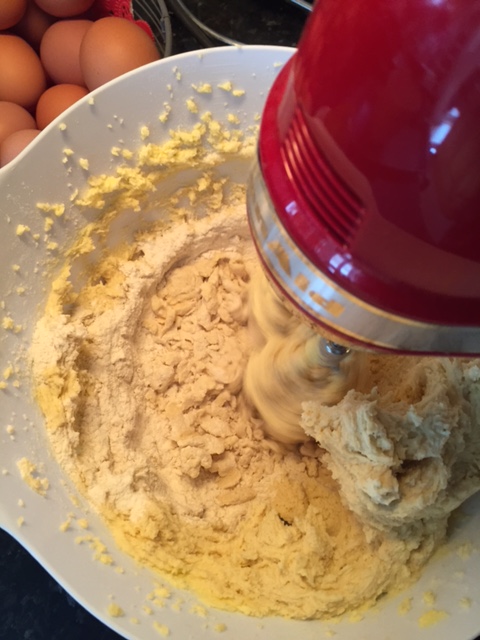 Use your mixer for this bit too, just do it in stages.
5. Roll the dough into approx. 20 balls then place them on the ungreased baking trays, spacing them well apart. Press a few Smarties into each ball which will help flatten them a bit.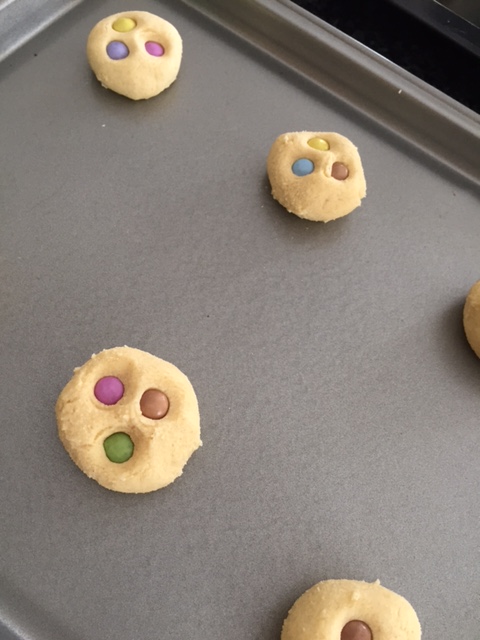 6. Bake for 15 mins until they are pale golden brown. You don't want them any darker. Leave to cool on the trays for about 2 minutes before removing them to cooling racks to cool completely. Use a spatula to do this.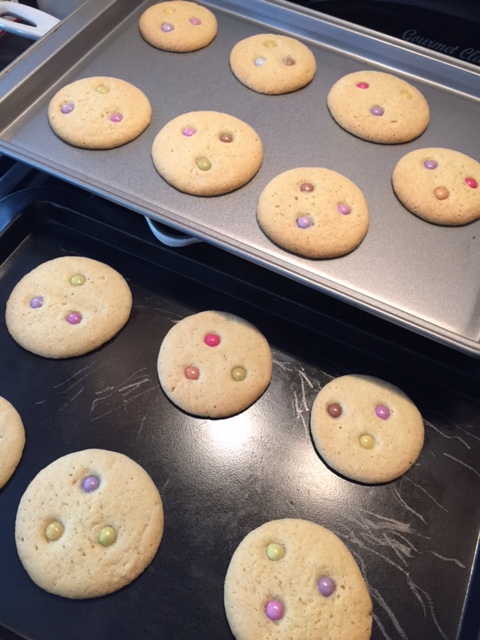 Just out of the oven and waiting to cool for 2 mins before moving to wire racks.
These lovely biscuits will keep in an airtight tin for up to 5 days! Perfect for after school treats during the week.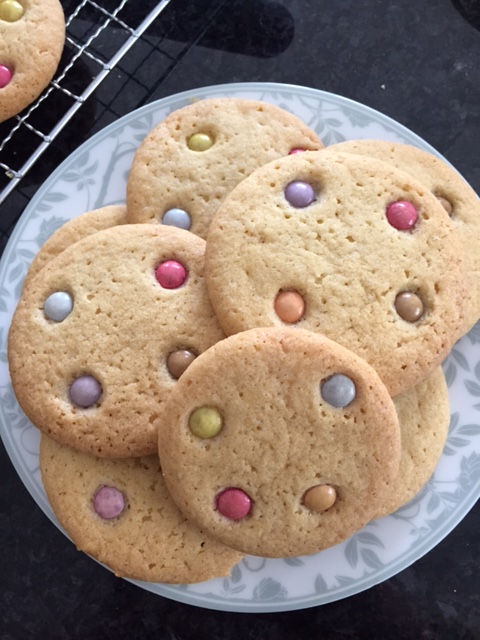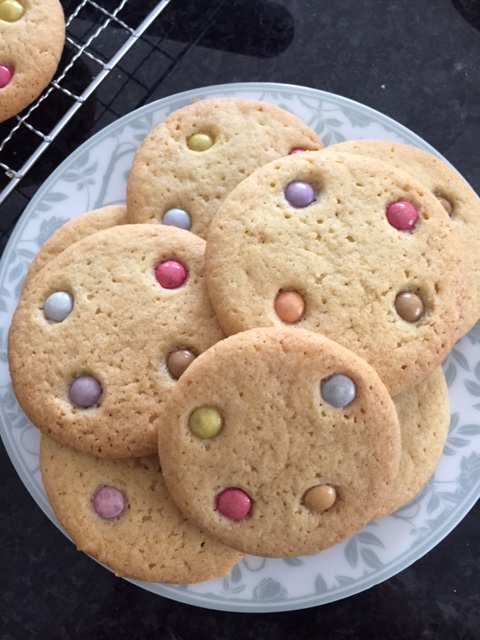 Bake with love
Soraya x