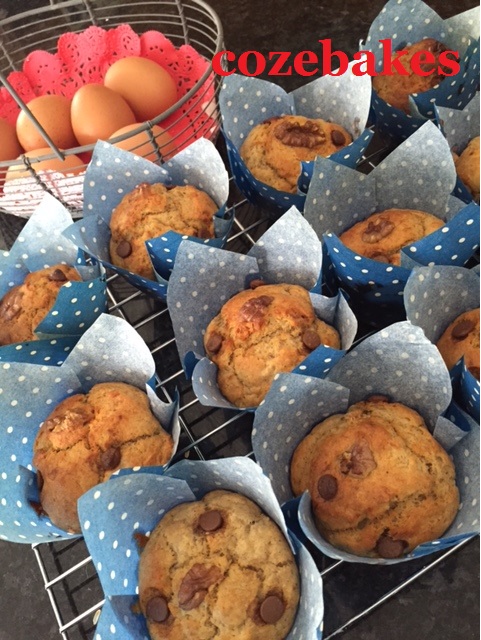 These muffins are light and fluffy and because I've changed the recipe to have no added sugar, they are a perfect breakfast choice, a snack on the run or an afternoon time out with a cuppa. They are great to give to the kids too!
I topped them with just 3 little chocolate chips and a walnut just for a little bit of yumminess but you can leave them out if you prefer. Eat them hot or cold.
The one hint I would give you to produce delicious light and fluffy muffins is not to over mix. When you think the mixture might need a little more, that's the time to stop! They are supposed to be lumpy going into their cases.
Ingredients:
75g butter, melted
250g self raising flour
1 tsp baking powder
1/2 tsp bicarbonate of sod
pinch of salt
1/2 tsp ground cinnamon
1/2 tsp ground nutmeg
1 tsp vanilla extract (I used Vanilla Bean Paste)
1 tsp honey
3 large bananas – very ripe
2 medium eggs
125ml milk (you can use almond milk if preferred)
Method:
Preheat oven to 190C (fan). Let the melted butter cool.
Mash the bananas well.
Sift the flour, baking powder, bicarbonate of soda, salt, cinnamon and nutmeg into a bowl.
In another bowl, beat the eggs (just with a fork), vanilla extract, honey, cooled butter and milk.
Add the bananas to the egg mixture and stir.
Make a well in the dry mixture (this is important and make sure you can see the bottom of the bowl) and add the egg mixture.
Stir it all roughly with a fork. Again, do not stir too much. Your mix should be thick and lumpy so as to result in light muffins.
Divide the mixture into a greased muffin tin. I used an ice cream scoop. You can use muffin paper cases but give them a spray of non stick oil (very lightly) as this mixture can stick to the paper cases. If you want to use paper cases, do make sure the muffins are completely cold before removing them otherwise they might stick to the bottom of the cases.
Pop them into the preheated oven for 20/25 minutes. I checked after 23 and they were done.
Once they are golden brown and firm to touch, remove them and leave to cool for about 5 minutes in the tin before removing to a wire rack. They will only need about 5 more minutes on the rack to be ready to eat 🙂
I did pop on just 3 chocolate chips on the top of each one and a piece of walnut before baking them.
You can also use 40g of chopped walnuts to mix through at the last stage.
If you do want to add chocolate chips, make sure to dredge them lightly in some flour to keep them all from sinking.
Bake these lovely, healthy muffins with love
Soraya x