A perfect little chocolate cake for any celebration or afternoon tea. I brushed warm apricot jam over the cooled cake before icing it and this helps to keep it moist and also to prevent lots of crumbs as you spread the chocolate fudge icing. When you're making the icing (very easy) just don't let it get too hot or it will lose it's shine and you can make it ahead of time and then just gently reheat it until it's runny. The decoration is totally up to you. If it's for something special, you can add edible flowers and chocolate curls or top with chopped pieces of your favourite chocolate bars. Let your imagination go wit this one!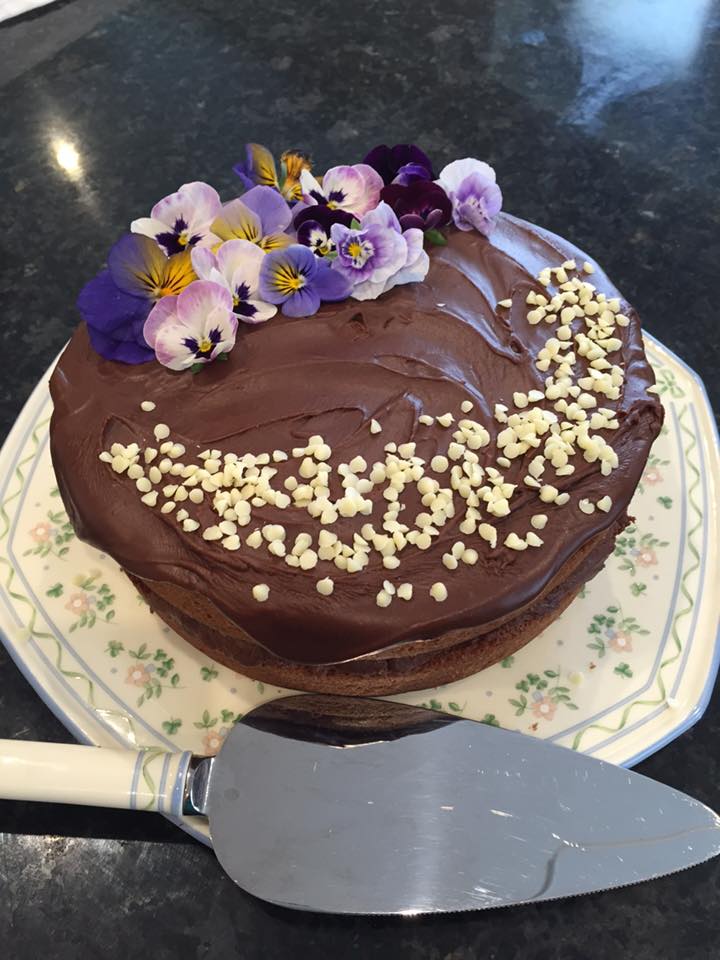 So you should get about 8 wedges out of this cake. Originally a Mary Berry recipe so what's not to love!
Ingredients:
1 and 1/2 tablespoons of cocoa powder
3 tablespoons of hot water
175g soft margarine or butter
175g caster sugar
3 extra large eggs
175g self raising flour
1 and 1/2 teaspoons baking powder
For the Fudge Icing:
50g margarine
25g cocoa powder, sifted
2 tablespoons milk, approx
225g icing sugar, sifted
Method:
Preheat oven to 180C and grease and base line two 18cm sandwich tins with greased greaseproof paper.
Blend the cocoa powder with the hot water in a large bowl and let it cool. Add the rest of the cake ingredients to the bowl and beat well for 1 – 2 minutes. No more!
Divide between the tins and to get an equal split, just weigh each tin with the mixture to help get accurate reading.
Bake for 25/30 minutes or until the cake has shrunk slightly from the sides of the tin and it springs back when pressed gently. Place on a wire rack, remove the greaseproof paper and leave them to cool completely.
To make the icing: Melt the margarine in a small pan, add the cocoa powder and cook for 1 minute. Remove the pan from the heat and stir in the milk and icing sugar. Beat the mixture well until it's smooth. Let it cool a little bit until it's a spreading consistency.
Once the cakes are completely cooled, heat some apricot jam and spread it on one of the cakes, top this with the fudge icing. Put the other cake on top, brush this with the warmed apricot jam also and top it with the rest of the fudge icing.
Decorate as you wish 🙂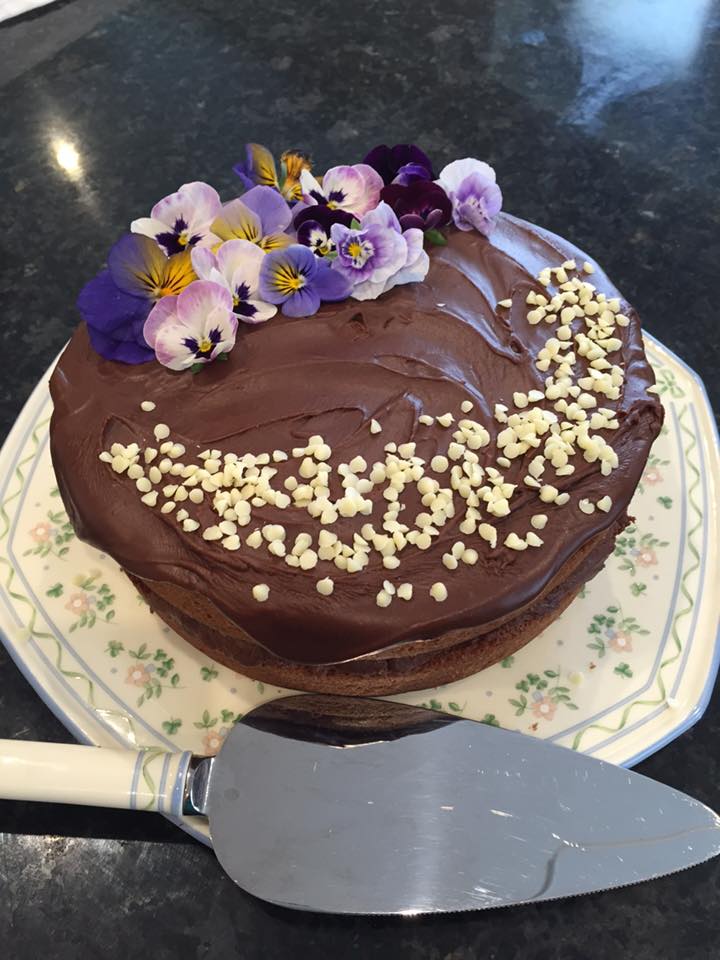 I used edible Viola flowers on once side and white chocolate chunks on the opposite to decorate for a birthday.
Bake this piece of chocolate heaven with love x
Soraya