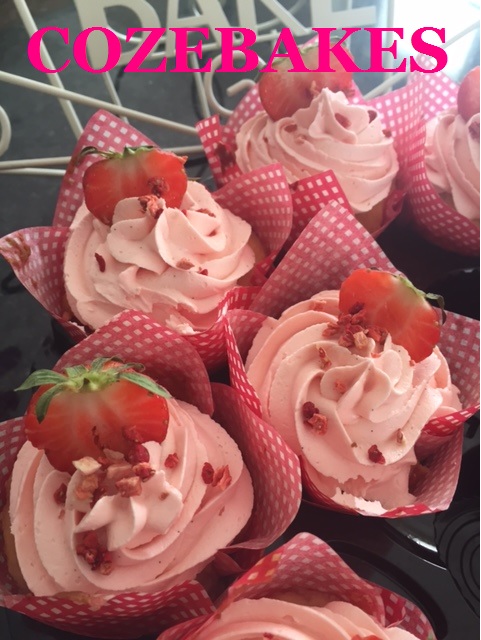 I wasn't sure about making these as strawberries can misbehave when baking and become mushy and unpleasant to eat but this recipe proved to be the exception and got thumbs up from everyone, even non gluten free tasters. It simply is a delicious recipe and the pretty pink frosting really finishes them beautifully. I like them without the frosting and they would be perfect for breakfast or a mid morning treat this way.
Decorated with pink frosting, fresh strawberries and freeze dried strawberries, they make a perfect tea party addition. You would not know these beauties are gluten free as they turn out so light and fluffy.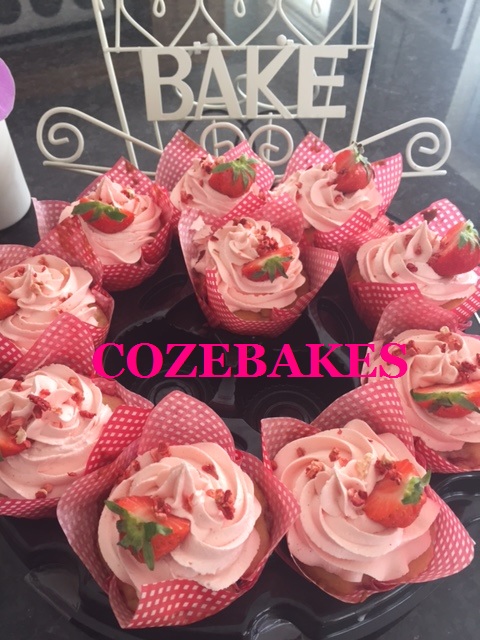 Depending on how big you make these, you can get anything from 14 to 18 cupcakes from this recipe. I used muffin wrappers and a muffin tin and so they resulted in a muffin size cupcake and I got 14.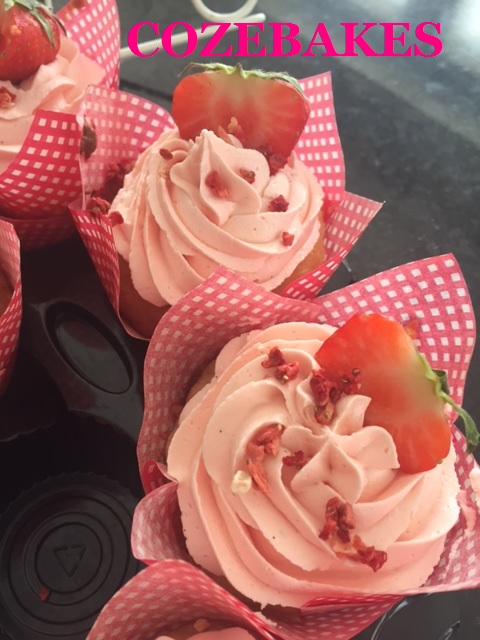 Ingredients:
2 large eggs
2 large egg whites
1 tsp vanilla extract
160g butter
300g caster sugar (I used 250g)
300g wheat & gluten free self raising flour, sifted (I use Dove's Farm)
1/2 tsp salt
2 tsp xanthan gum (available in most supermarkets)
125ml milk (if you're dairy free, use soya, rice or almond milk)
12 large strawberries, chopped up
For the Frosting:
140g butter, softened
280g icing sugar
1 to 2 tbsp. milk (see above for dairy free)
1/2 tsp vanilla bean paste
Method:
Preheat oven to 180C / 160C fan / Gas 4 and line your tin with muffin cases
Blend the eggs, egg whites and vanilla extract with a fork and set aside.
In a large bowl, cream the butter and sugar together until it's light and fluffy. It should take about 3 minutes on high.
Gradually add in the beaten eggs and vanilla mixture on a medium speed and mix well between each addition.
Fold in the sifted flour, salt and xanthan gum in two batches and alternate it with the milk. Use a large metal spoon to fold gently. Add in the chopped strawberries and again, fold gently to incorporate.
Divide out the mixture between the cases filling them about 3/4 full. Use an ice cream scoop so you get equal amounts. Level out the batter with the back of a teaspoon as it is quite thick.
Bake in the preheated oven for 25/30 minutes. Check after 25 minutes to see if they are well risen, golden and the sponge springs back when touched. I popped them back for 2 minutes more so a total of 27 minutes.
Remove from the oven and place the second batch in. Leave them to cool in the tins for about 5 minutes and then transfer them to a wire rack to cool completely.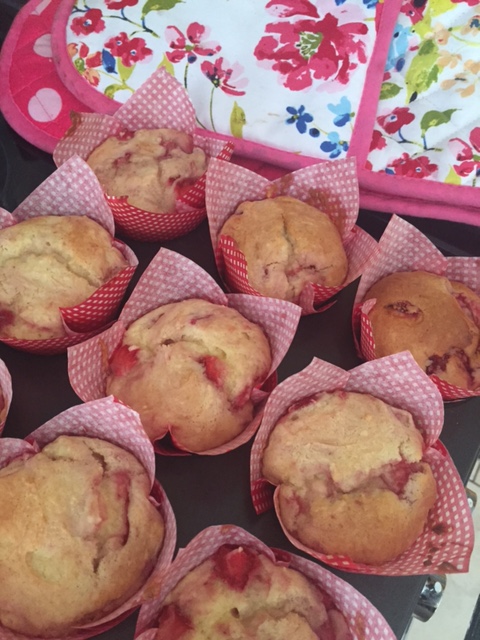 While the cupcakes are cooling, you can make the frosting. Alternatively, you can store them in an airtight container overnight and frost them the next day.
Place the softened butter into a bowl and using a mixer on high speed, give it a good 3 minutes.
Add in half the icing sugar and mix well again.
Add in the remaining icing sugar and 1 tbsp. of milk and beat on high for a good 3/4 minutes till soft and creamy.
Finally, add in the 1/2 tsp of vanilla bean paste and mix well again.
If you like, you can use a gel colour to give a pink shade. Using a toothpick, insert it into the gel and add bit by bit to the frosting till you get the required shade.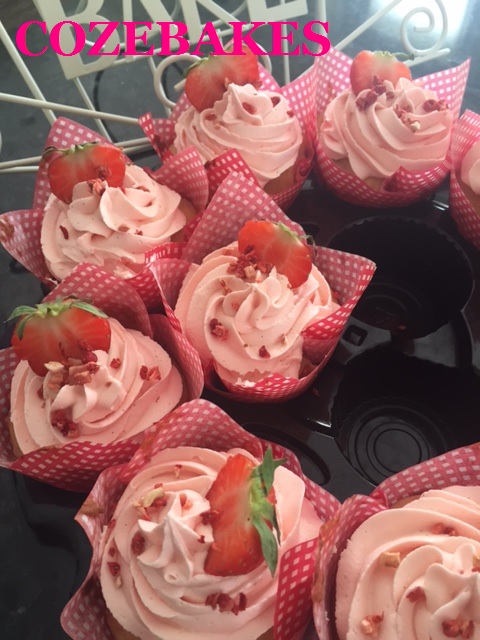 I used an open star nozzle (Wilton 1M) to achieve the swirl. Cut strawberries in half (leave the green stems in place) and place each one on the frosting. Finish by sprinkling on freeze dried strawberry pieces if available.
Baked with lots of love!
Soraya x