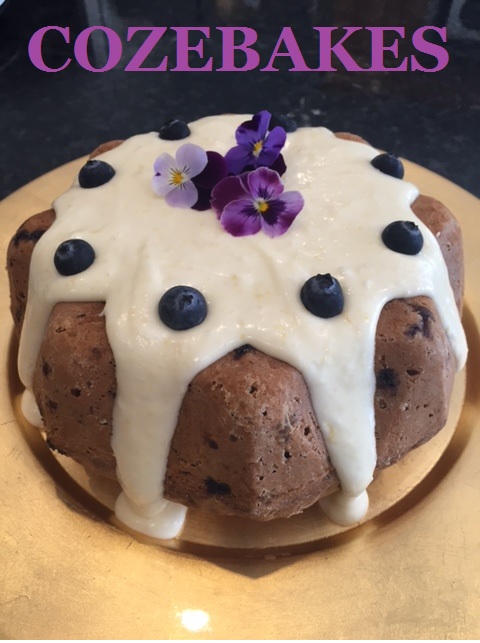 Have been looking at lots of different versions of this recipe for the longest time and really wanting an occasion myself to make it. Some people in my house (no names) don't like blueberries so finally I had the perfect reason to try it and I adapted it so I could use my Ikea bundt tin which produces such a great shape and I knew it would look perfect once iced.
As my bundt tin is quite big, you could use a plain savarin tin and these quantities would make two so you can use one and freeze the other (uniced).
Otherwise, a 9″ / 23cm round tin will also work well. The cake doesn't rise much at all so what you see if basically what you get. If it does rise a bit while baking, just leave it to cool and it will settle back down.
The courgettes are a great addition and help to keep the cake moist. You can decide if you peel them and there's no butter in this cake as vegetable oil is used instead. The cake itself is dairy free. The frosting is cream cheese but you could use icing sugar and lemon juice as an alternative and keep it totally dairy free.
Preheat oven to 160C and grease and flour the bundt tin really well. Use a pastry brush to get into every corner so you have a successful turn out.
Ingredients:
220g caster sugar
2 eggs
250ml vegetable oil
1 tsp lemon extract
450g courgettes ** shredded
385g plain flour
1 tsp salt
1 tsp bicarbonate of soda
1/2 tsp baking powder
zest of 1 lemon
200g blueberries
** If you use a large sized courgette, you will need to squeeze out any excess water before adding to batter. The smaller ones tend not to have as much liquid but if you're worried, just grate and squeeze before adding.
Icing: (see *Note* below)
35g butter, softened
85g cream cheese
240g icing sugar – sifted
zest of 1 lemon
juice of half a lemon
Method:
Cream the sugar, eggs, oil and lemon extract together. Stir in the grated courgettes.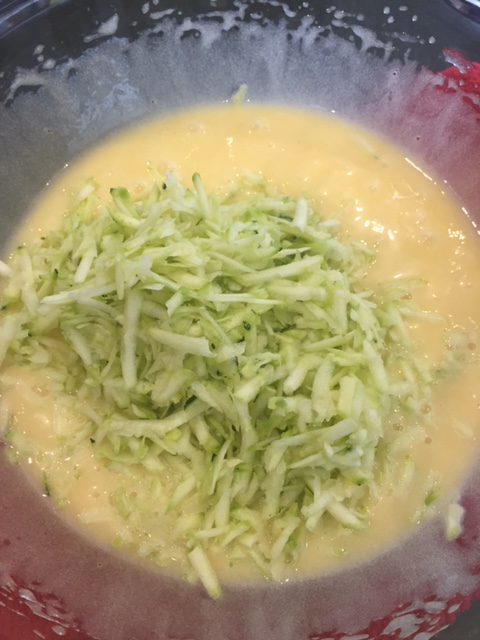 Gradually add the dry ingredients (I added 1/3 at a time and gently mixed after each addition). Add the lemon zest.
Dredge the blueberries well with flour and gently fold them into the mixture. This will prevent them from sinking to the bottom while baking.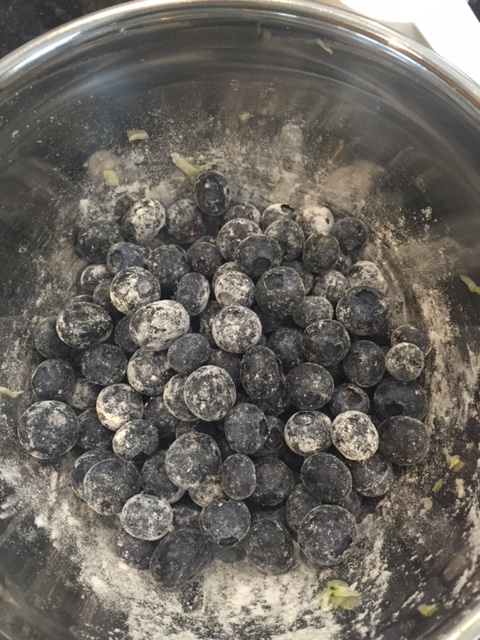 Pour the mixture into the prepared bundt tin and bake in the preheated oven for 65 / 75 minutes. In my oven, it took 70 mins for the cake tester to come out clean.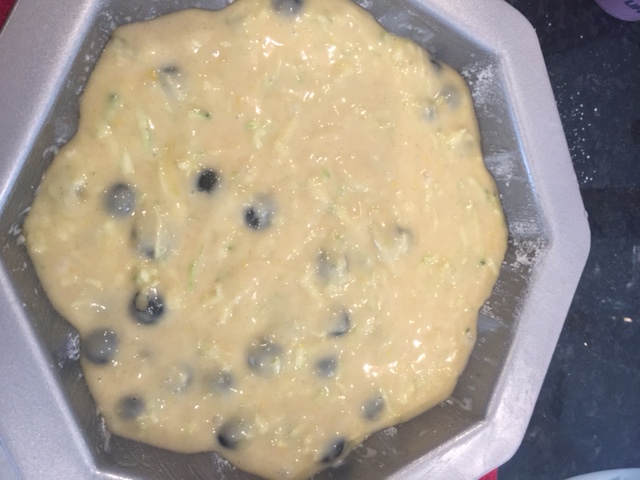 Once baked, leave to sit in the baking tin for 10 minutes. Don't be tempted to remove before this! Then turn out on to a wire rack to cool completely.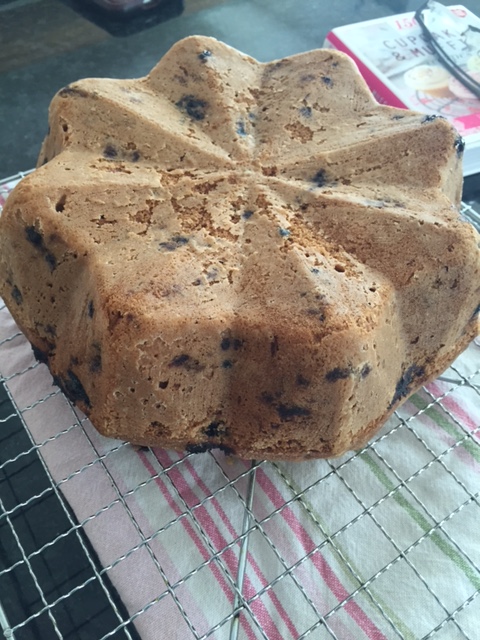 Love this shape! You can see the even spread of blueberries throughout the cake.
Make the cream cheese frosting:
Beat the butter and cream cheese together till smooth and well combined.
Add the icing sugar and lemon zest and gradually add the lemon juice till you get a spreadable but thick consistency.
*Note* If you want to keep the cake dairy free, use icing sugar and lemon juice to decorate.
Pour the icing over the cooled cake and decorate with blueberries and edible flowers. You can also use the fine zest of lemon and courgette to give a lovely bright yellow and green topping.
Bake with love (and vegetables 🙂 )
Soraya x