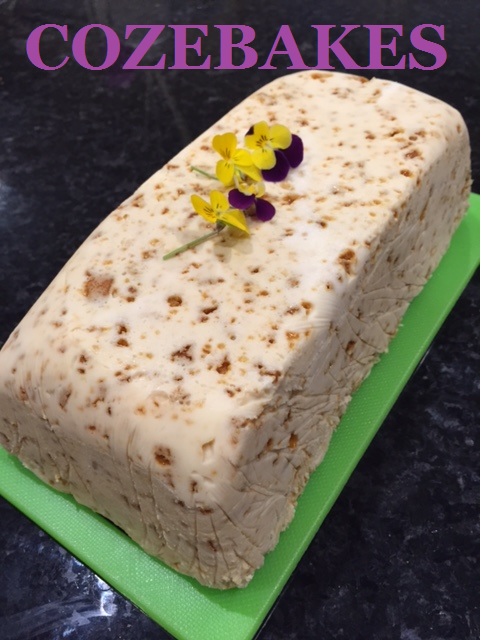 Another recipe from the fabulous Mary Berry. A simple and easy no churn ice cream recipe with totally delicious results. The honeycomb takes a little bit of attention but it's quite straightforward really if you follow the step by step instructions and really makes this ice cream recipe a bit special.
It will keep in the freezer for a month (won't last that long 🙂 ) and softens quite quickly once taken out. You can keep some of the honeycomb to decorate on top if you like. Perfect to finish off a dinner party, or for a BBQ or any occasion really. So far, I haven't needed an excuse 😉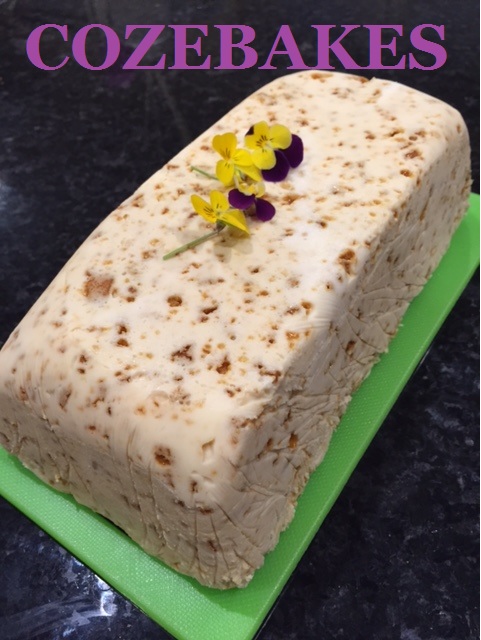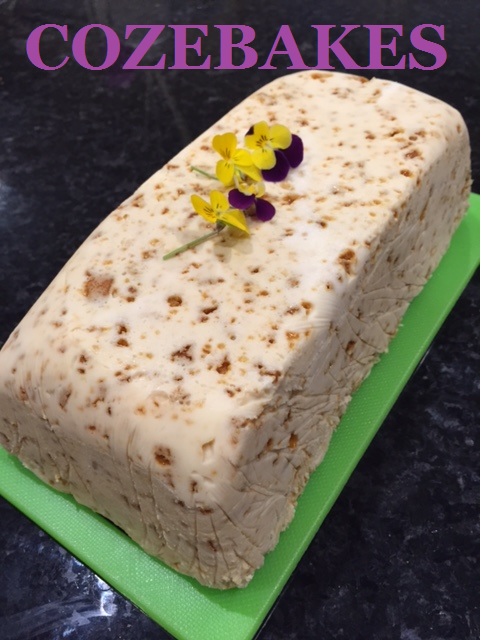 Make sure you use a really good non stick parchment baking paper for the honeycomb. It will stick like glue otherwise. Make the honeycomb first and then prepare the rest of the recipe while it cools.
Ingredients:
For the honeycomb:
4 tablespoons Golden Syrup
150g Caster Sugar
2 teaspoons Bicarbonate of Soda
For the ice cream:
600ml Double Cream
397g (1 tin) full fat condensed milk
Method:
Line a flat sheet with the non stick paper and have it ready.
Using a deep saucepan, put in the golden syrup and caster sugar and stir over a low heat until the sugar has dissolved. Please be careful here. This gets really, really hot so you can't test it with your finger. You will feel the grains with the wooden spoon so keep mixing till the sugar is totally dissolved.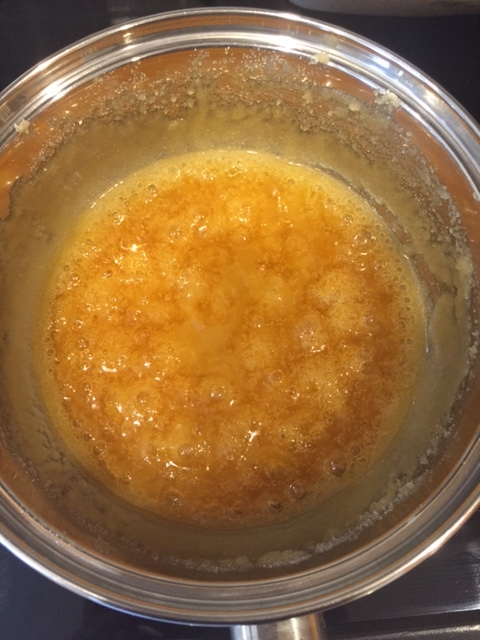 Once this happens, allow the mixture to bubble gently and leave it to simmer like this for 5/6 minutes until it turns a lovely honey-caramel colour but watch it very closely as it can burn very easily.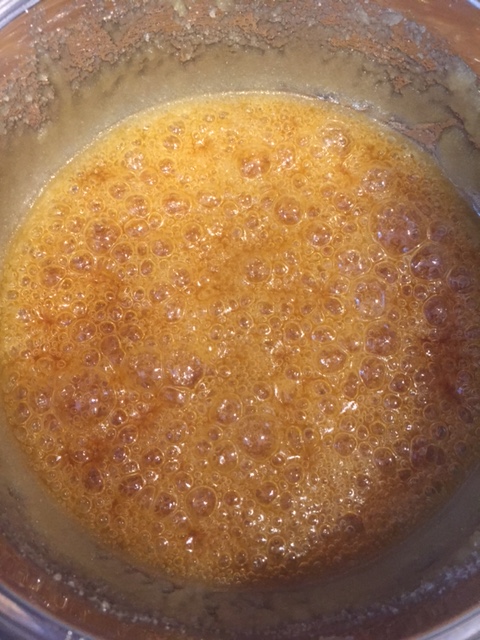 Once you achieve this, remove from the heat and immediately put in the bicarbonate of soda and mix really well with your wooden spoon until every bit is combined. It will foam up like mad but it's supposed to do that. So get a few arm muscles working with this stage 😉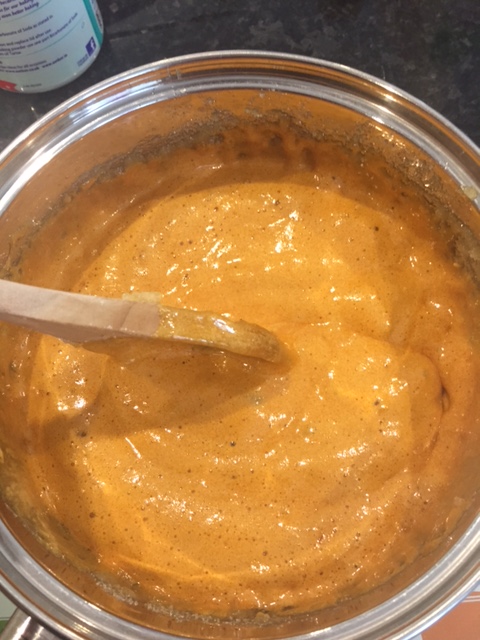 Tip this foaming mixture unto the non stick baking parchment, it will spread out naturally so leave it to do it's stuff. It will take about 20 minutes for the honeycomb to harden and cool down. Leave it aside while you get the ice cream ready.
To prepare your 2lb loaf tin, use cold water to rinse it out and empty it without using a cloth to dry. Then line it with cling film. The water helps the cling film to stick to the tin.
An easy way to clean your dirty saucepan is to fill with water again and put it back on the heat. As the water heats up and begins to bubble, it will melt the leftover honeycomb that's stuck to the pan. Just throw this out and wash your pan as normal. Much easier than trying to scrub off left over honeycomb!
Once your honeycomb is set and cooled, break it up into pieces. It's quite easy to break with your hands but after I did this, I covered it with fresh parchment and using a small hammer, broke the honeycomb into smaller pieces.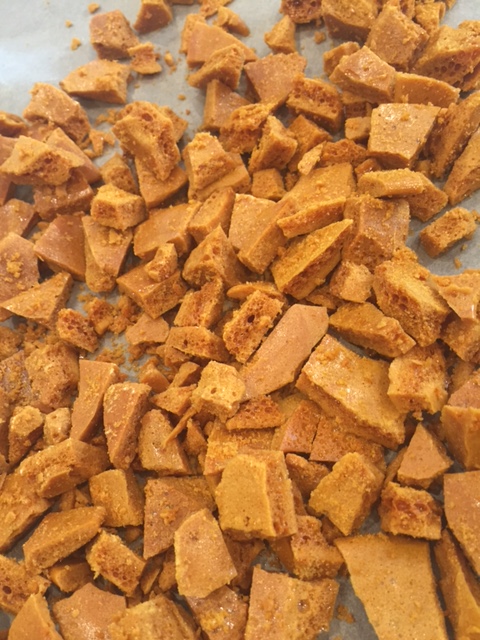 To make the ice cream, whip the double cream in a clean bowl until it forms soft peaks and then stir in the condensed milk. Mix in the honeycomb pieces and stir to combine it well throughout. I was happy to use all the honeycomb here as I wasn't making this for a particular occasion but if you are making this for something special, then keep aside some of the broken honeycomb in an airtight container to decorate when presenting.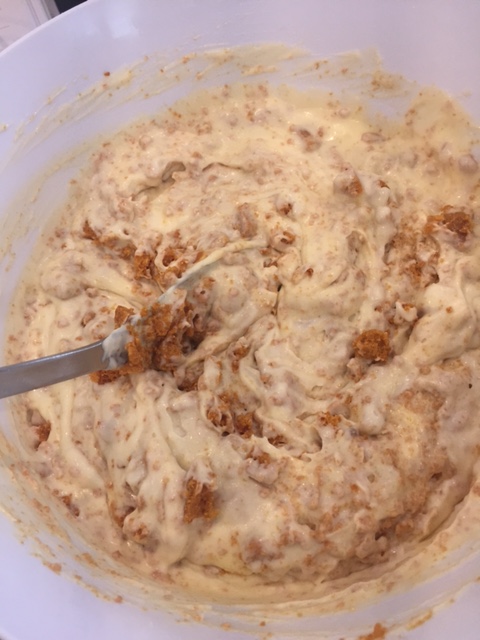 Pour this into your prepared loaf tin and level the top. Cover with cling film and freeze overnight. I had enough cling film hanging over the sides to pull up and cover the top completely.
When ready to serve, tip it out on a plate and remove the cling film. At this stage, you could sprinkle the reserved honeycomb on the top. It only needs about 5 mins before it's ready to cut.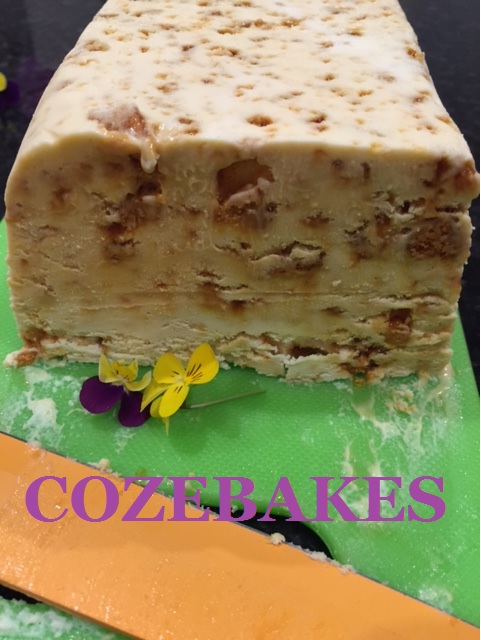 Once removed from the tin, I placed the rest in a plastic, freezer safe container with a lid for dipping into when the urge for some delicious ice cream comes upon one of us 😉
Bake with love!
Soraya x