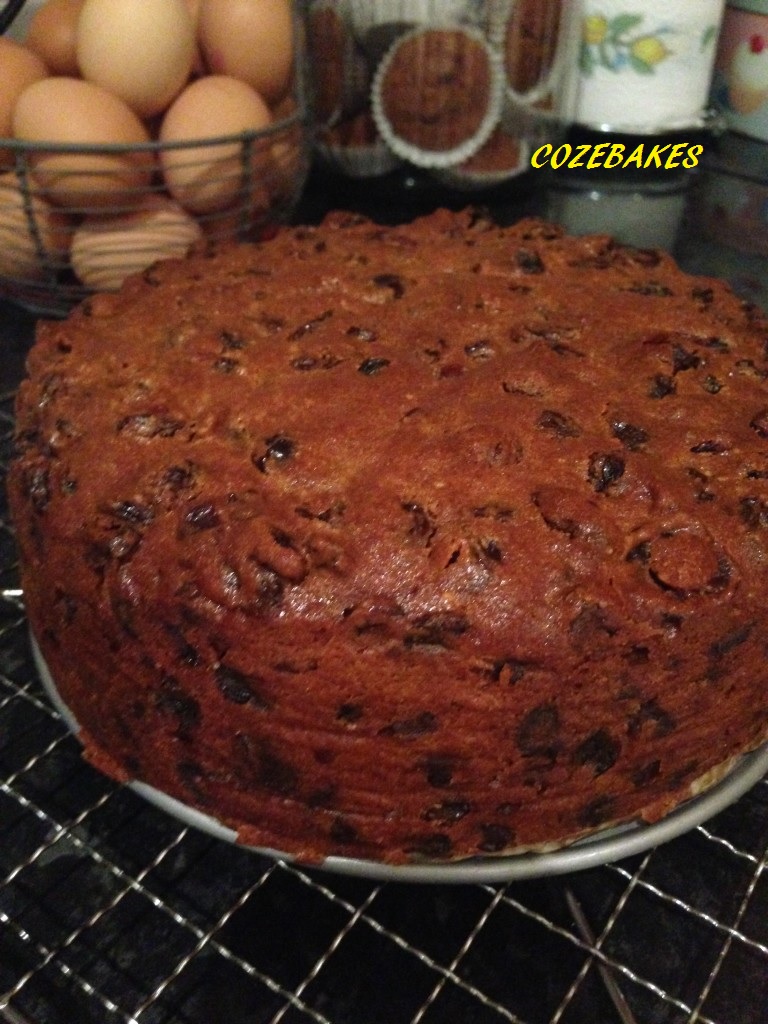 ---
This Christmas Cake Recipe is one I haven't tried before, it was adapted from an Odlums booklet, but it's very straightforward, it has lovely ingredients and it worked out perfectly. Can't really ask for more than that! There's very little skill needed in putting together a Christmas Cake. The preparation and baking times are the key to a successful result!
The ingredients are listed as usual but do take a look at my video on making this cake for alternatives to suit your own taste. Also there was a little blip regarding the brandy but it worked out really well so it will be up to you what way you proceed. Take a look at the video before starting: https://www.youtube.com/watch?v=YE8xFKTILyM – apologies if I go on a bit …. 😉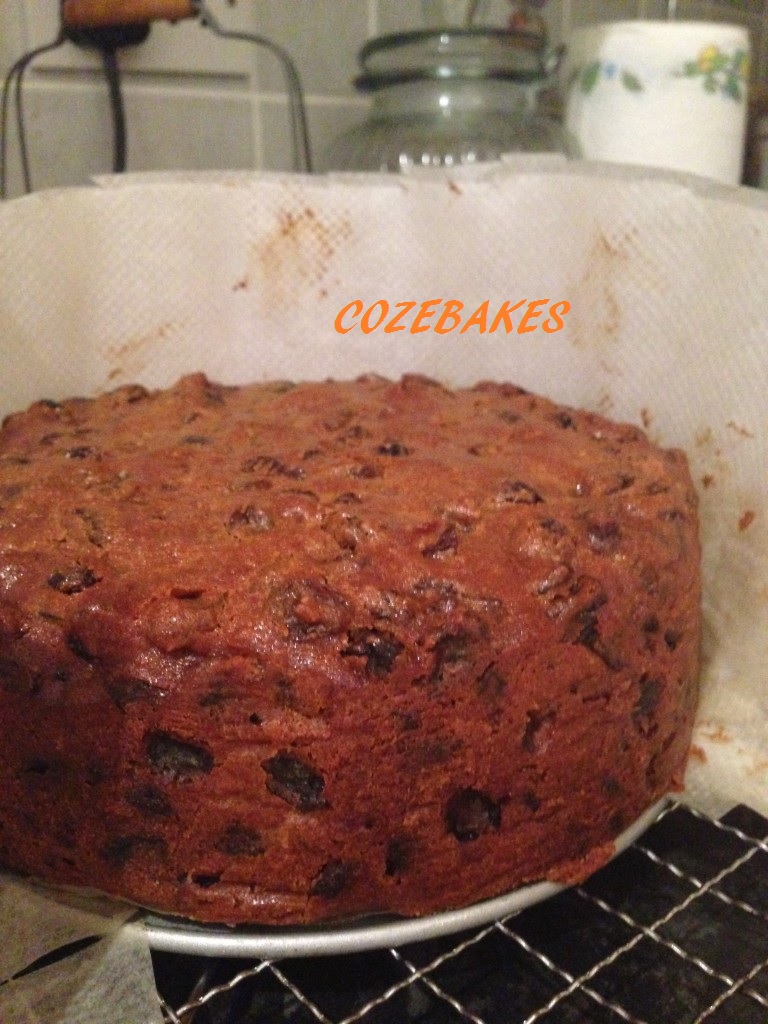 So in the original recipe, it called for a baby bottle of Brandy. I thought this might be the size of the bottles you get on planes and I used 50ml. You can use this amount but maybe leave it soak for a few hours. If you opt for 25ml, you can go straight ahead and not leave the fruit soak after heating.
Ingredients:
225g Plain Flour (sieved)
175g Margarine or Butter
225g Dark Brown Sugar
375g Sultanas
375g Fruit Mix – choose what you like yourself
100g Cherries
100g Chopped Mixed Nuts
100g Ground Almonds
3 Large Eggs
Zest and Juice of one Orange
1 teaspoon Mixed Spice
1 small bottle of Brandy
The Method:
Put butter/marg, sugar, fruit, zest, juice and the brandy into a large saucepan.
Slowly bring to the boil, stirring occasionally, until the butter has  completely melted.
Turn off heat and leave to cool for approx. 30 minutes.
Meanwhile pre-heat oven to 140°C/275°F/Gas 1 and line an 8″/20cm round deep cake tin with greaseproof paper.
Stir the eggs, nuts and ground almonds into the fruit mixture and mix well.
Finally, stir in the sieved flour and mixed spice.
Spoon the mixture into the tin and smooth it out evenly.
Bake for 2½ – 3 hours approx. After 2 hours, cover with paper if the top is browning too quickly. To check the cake is done, insert a skewer into the center – if it comes out clean, the cake is cooked..
Leave cake in tin to cool completely.
When cold, wrap in greaseproof paper and then tinfoil. Store in a cool dry place.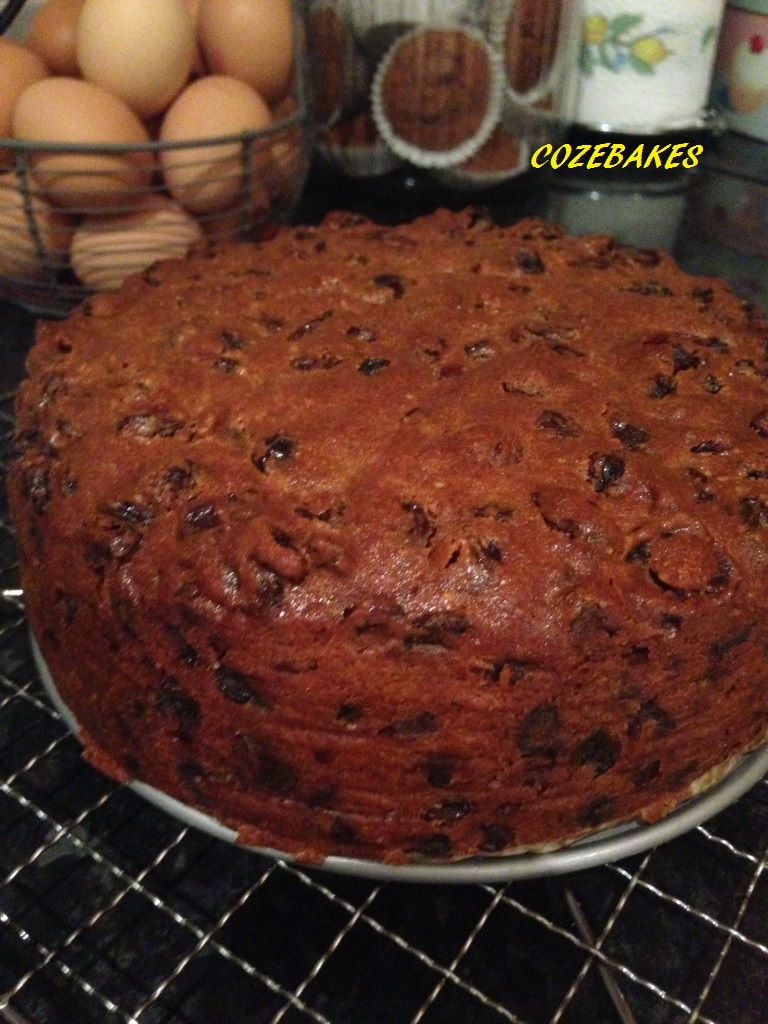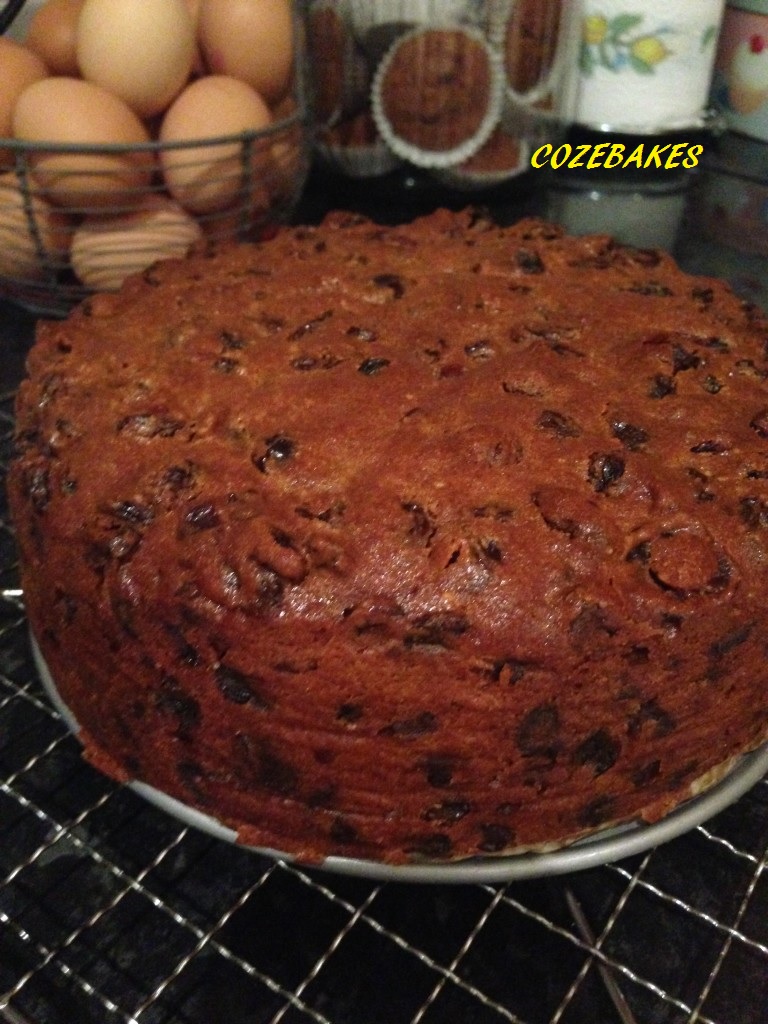 You can feed the cake every 10 days if you like. Choose your favourite tipple, only a tablespoon or so and wrap again in parchment paper and tin foil to keep fresh after alcohol has soaked through completely.
Enjoy & Bake with Love
Soraya x