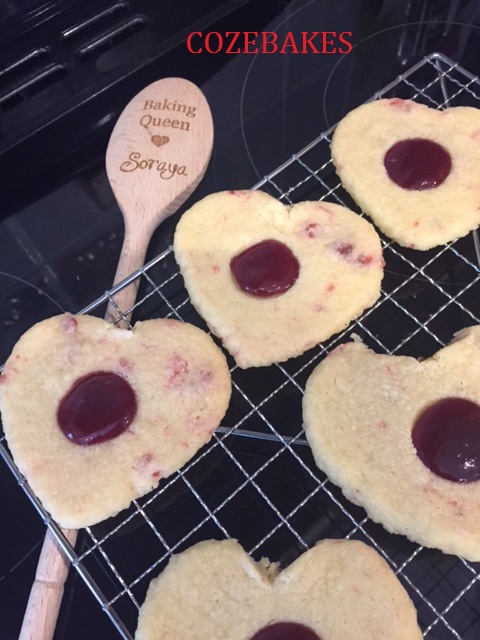 Tried out these gluten free shortbread hearts as they looked so delicious and gluten free shortbread can be difficult to get right. A few things needed to be adapted to get it right but after that, they worked really well and are totally delicious and addictive!
They don't have to be heart shaped but they do look just lovely like this and are a great gift to box up and give to someone you love.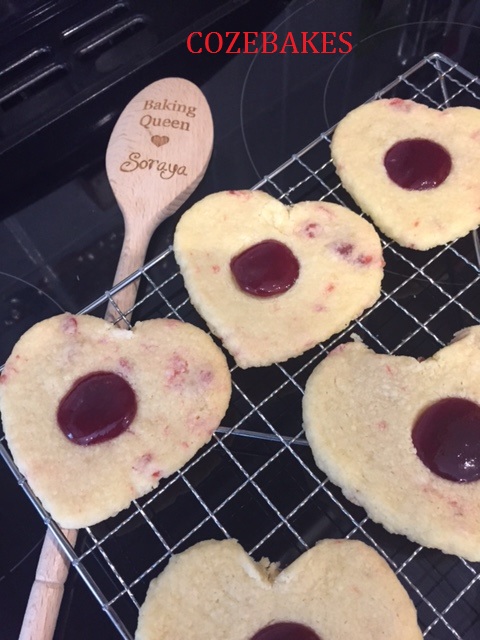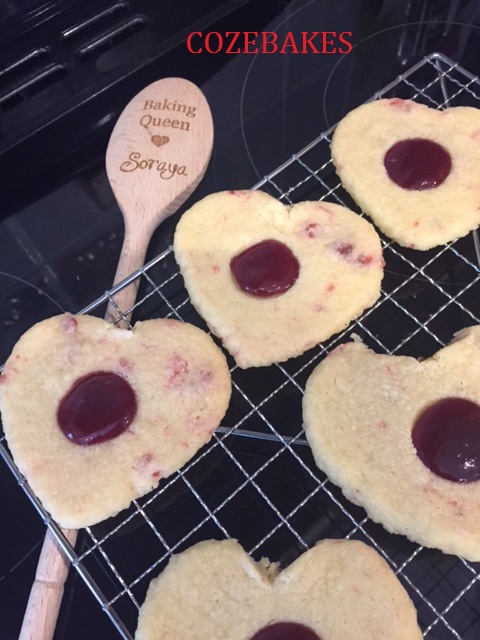 Depending on the size of your cutter, you will get approx. 14/16 biscuits from this recipe. Don't overwork the dough or it will become crumbly and make sure you roll out the dough to the thickness of at least 2mm as they can break up quite easily once baked.
A tip is to have the jam sieved and ready to go once the shortbread is baked as you don't have a lot of time to make the centre indent, spoon in the jam and return to the oven. They begin to firm up quite quickly once out of the oven so you do need to work quickly but be gentle as the biscuits are very, very soft and you don't want to push a hole right through them.
If you don't need to make them gluten free, then use 150g plain flour and 100g ground almonds and don't include the rice flour. 
Ingredients:
100g icing sugar
100g gluten free plain flour
100g rice flour
50g cornflour
50g ground almonds
250g cold butter, cut into cubes
50g glace cherries, chopped into small pieces
1/2 tsp almond extract
8 tbsp. cherry jam, sieved (I used Black Morello Cherry jam)
If you don't like cherries, use freeze dried raspberries and raspberry jam with vanilla extract instead
Method:
Preheat oven to 180C or 160C Fan – Gas 4. Line two baking trays with parchment.
Sift the icing sugar, the flours and the cornflour together into a large bowl. Stir in the ground almonds and the cubed butter so the butter is covered and then rub in the butter until the mix is smooth.
Stir in the chopped cherries and almond extract and bring together to form a dough.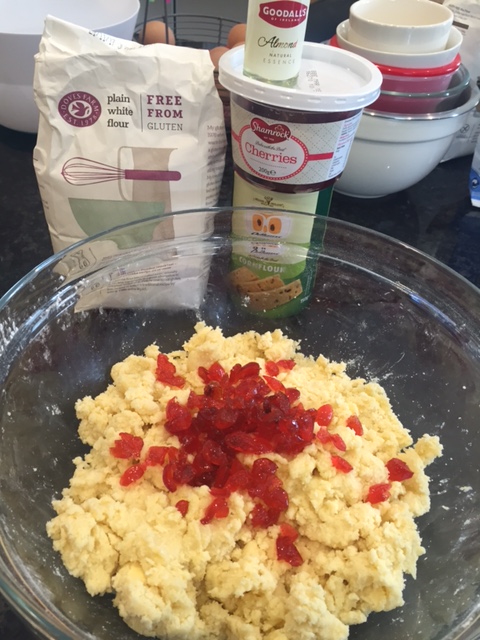 Roll out on a lightly floured surface but don't overwork the dough. Remember to keep it a good thickness of at least 2mm. Stamp out the shapes you want using your chosen cutter and keep re-rolling the trimmings to use up all the dough. I found it was easier to cut out the shapes and then pull the extra dough away before lifting out the stamped shapes with a palette knife on the prepared baking tray.
Leave a bit of room between the biscuits as they spread a bit, especially if you are not making the gluten free version. Also try to use a cutter with a pronounced shape as they can lose their shape while baking. You can pop the baking tray into the fridge for about 10 minutes if you have time.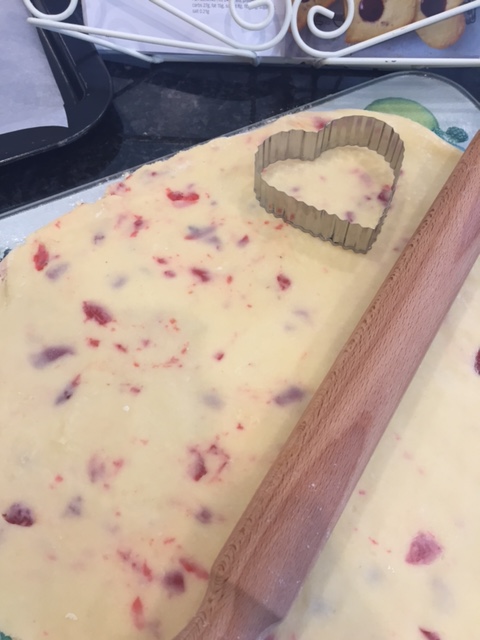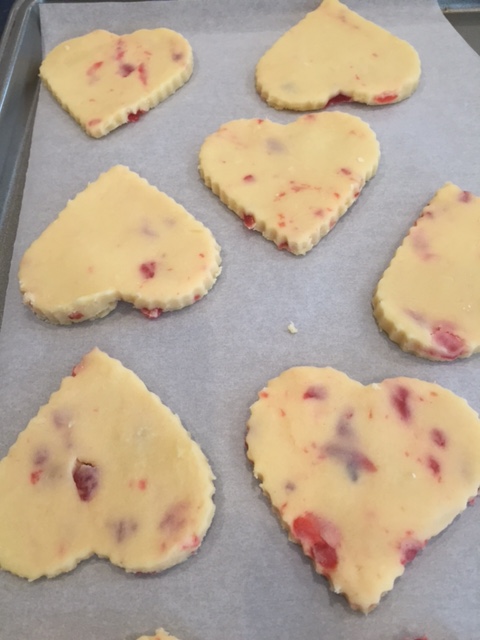 Bake for 8 – 10 minutes until they are a pale golden colour. Remove from the oven and using a bottle top or the top of a wooden spoon, press very gently into the centre of each biscuit to make an indent. Spoon in a little of the cherry jam and then return to the oven for 2 minutes more. (I used the lid of a bottle of lemon juice)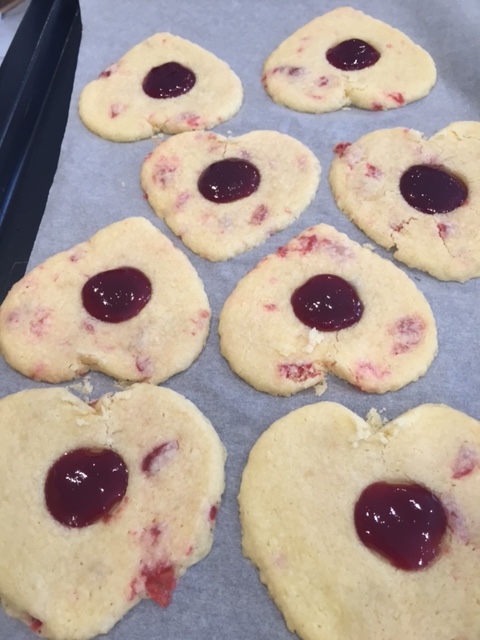 Remove and leave on the baking tray for at least 10 minutes before removing to a wire rack to cool completely. You can dust with icing sugar to serve though I found them sweet enough without it.
Keep in an airtight container for up to 4/5 days. Enjoy!
Soraya x