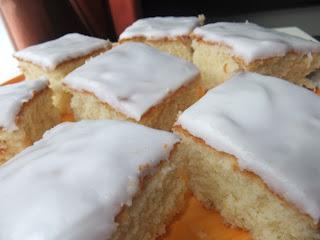 This is a recipe from Mary Berry's Baking Bible. It's a traybake which always work so well when you have a crowd or when you have to transport your bakes as they can be left in the tin till ready to serve.
You get the lightest, just like pieces of lemony clouds once you follow the steps. It's a very simple recipe which has never failed to go down really well. The topping originally is a lemon flavoured icing but if you prefer, make up a drizzle with caster sugar, heated with a little water to which you add the zest of a lemon and spoon over the top of the still warm sponge. Deelish!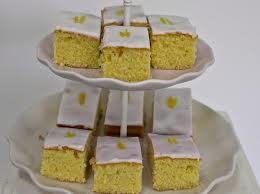 You need a 30cm x 23cm baking tin or a small roasting tin will also do. Grease lightly and then line the base and sides with parchment. Preheat oven to 180C or 160C fan, Gas Mark 4.
One bit of advice is to have the butter at room temperature. It helps result in a really light as air sponge.
Ingredients:
225g softened butter
225g caster sugar
275g self raising flour
2 level tsp baking powder
4 large eggs
4 tbsp milk
grated rind of 2 lemons
For the icing: 3 tbsp lemon juice and 225g icing sugar, sifted
Method:
Couldn't be simpler! Just measure all the ingredients into a large bowl and beat until well blended. This means a good 5 minutes! You want to incorporate lots of air for a perfect result. I tend to beat the eggs lightly before adding them and I like to just give the dry ingredients a bit of a mix before adding the wet.
Turn the mixture into the prepared tin and level the top with the back of a spoon.
Bake in the preheated oven for about 35-40 mins or until the cake has shrunk from the sides of the tin and springs back when pressed in the centre. Leave to cool in the tin. If you want to have a drizzle finish, then prepare it while the cake is baking and once it cools a bit but is still warm, spoon gently all over the cake and let it dry to form a lovely crunchy top.
For the icing: Mix together the lemon juice and sifted icing sugar to give a runny consistency. Spread out evenly over the cooled cake and leave to set. Don't put it into the fridge, just leave it somewhere cool.
When ready to serve, cut into squares or pretty little rectangular or triangular shapes.
You can decorate each piece with an iced orange or lemon slice from Dr. Oetker, which are easily found in the supermarket or with gold balls for a more special occasion.
Alternatively, very finely grate some lemon zest over each slice and top with an edible purple viola for pure Afternoon Tea elegance!
You will be well loved for making this!
Soraya
cozebakes – bake with love x