These cupcakes have a great surprise once you take a bite! Nice chunks of chocolate orange pieces throughout and this adds such a special touch. They are topped with an orange flavoured buttercream and I used the Golden Yellow from the Wilton Gel Dye range to get this shade.
The recipe is originally from Jane's Patisserie and I've changed a couple of things and the method to get a perfect result each time.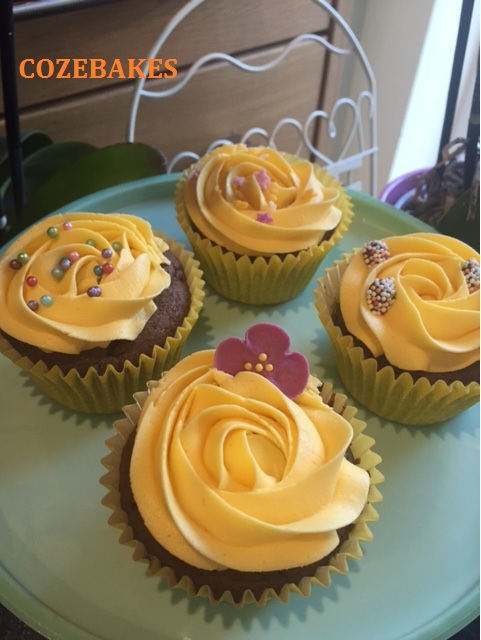 You will get 12 good sizes cupcakes from this recipe. If you want to get more, then use the traditional fairy cake cases.
Ingredients:
150g butter, softened and at room temperature
150g caster sugar
120g self raising flour
30g cocoa powder
3 medium size eggs
Zest of 1 orange or 2 tsp of Orange Extract
1 x 175g Chocolate Orange, chopped up (do this before you start)
Buttercream:
150g soft, unsalted butter
300g icing sugar
Food colouring (optional)
2 tbsp. orange juice
Method:
Preheat oven to 180C / 160C Fan and line a muffin tray with paper cases. Now is the time to chop up the chocolate orange into pieces.
Beat the butter and caster sugar together until smooth and fluffy. It should take about 2/3 minutes.
In a little bowl, mix the flour and cocoa powder together and in a jug, whisk the eggs so they are combined.
Add these to the butter and sugar mixture and beat again. Don't over beat and don't use a high speed as the cupcakes will bake unevenly. This is why I suggest you mix the above ingredients together before adding them all together so you won't overbeat.
Add the orange zest and chopped chocolate and fold through the mixture.
Using a small ice cream scoop, spoon evenly into the cases. Bake in the preheated oven for 18 / 20 minutes. Check they are cooked through by using a skewer which should come out clean.
Transfer to a wire rack to cool completely.
To make the buttercream:
Beat the butter first for at least 4/5 minutes until it's very smooth. Don't cut the time short or your buttercream won't turn out smooth.
Add about half of the icing sugar and beat again till it's completely combined. Then add the rest of the icing sugar along with the orange juice, colouring if being used and beat again really well.
Pipe the buttercream in your favourite way and decorate as desired. I have made these before and used chocolate segments on each cupcake.
You can also melt some chocolate orange and drizzle over the buttercream or use chocolate sprinkles, sugar flowers, etc.
Bake with love
Soraya x