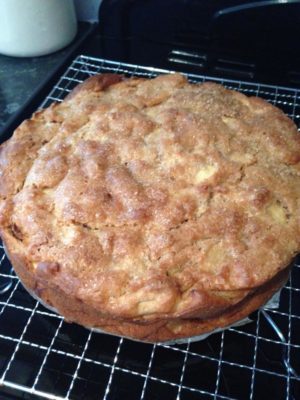 This delicious and low fat cake comes from the Hairy Bikers. It contains low fat milk and sunflower oil so no butter and for a large 23cm cake, only uses 100g of demerara sugar which you could substitute for an organic variety which is less refined.
I converted it to a Gluten Free version so everyone at home could enjoy it and it worked really well. The other bonus of this lovely recipe is that it freezes well so you can cut in half or in slices and keep for when you desperately need a slice of cake to help sort out the woes of the world. Defrost thoroughly and heat up in a low oven or in the microwave. It's perfect served hot or cold and will keep fresh for several days once you wrap it in tin foil.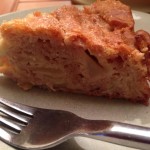 The cake can serve 12 to 14, takes approximately 15 mins to prepare and about an hour to bake. It's around 195 calories per slice but if you're not counting, then add some cream or custard for a gorgeous pudding! I've popped down some variations to try below the method.
Preheat oven to 190C / 170C Fan or Gas 5
Line a 23cm springform cake tin with baking parchment. Lightly oil the base and sides.
Ingredients:
750g cooking apples
1 tbsp fresh lemon juice
Finely grated zest of ½  a lemon
230g Gluten Free self-raising flour (I use Dove's Farm)
1 tsp Gluten Free baking powder
1/4 tsp Xanthan Gum
1 tsp ground cinnamon
1 tsp ground mixed spice
2 large eggs
100g demerara sugar, plus 2 tbsp
200ml semi-skimmed milk
100ml sunflower oil
½ tsp sifted icing sugar, for dusting
Method:
Peel the apples and cut them into quarters. Remove the cores and cut the apples into thin slices. You'll need about 500g prepared weight. Put the apple slices in a bowl and toss with the lemon juice and zest.
Mix the flour, baking powder, cinnamon, xanthan gum and spice in a large bowl.
Whisk the eggs with the 100g of sugar, milk and sunflower oil in a separate medium sized bowl using a large metal whisk.
Then pour the wet ingredients into the dry ingredients, stirring lightly until combined using the whisk to break up any stubborn lumps. Toss the lemony apples through the cake batter until evenly mixed and pour the mixture into the prepared tin.
Sprinkle the 2 tablespoons of sugar evenly over the top and bake the cake in the centre of the oven for approx. 1 hour until it is well risen and golden on top. Test the cake by inserting a skewer into the centre; it should slide easily through the apples in the middle and come out clean.
Leave the cake to cool for at least 10 minutes before removing it from the tin  and carefully peel off the baking parchment; leave to cool on a wire rack.
You need to handle this very gently as it can break. I couldn't remove the parchment for at least 20/25 mins. Better to wait than be sorry.
Dust with sifted icing sugar and serve warm or cold with a little single cream or half-fat creme fraiche.
Variations:
Once the Autumn arrives, you can add 100g of fresh blackberries for a delicious dessert pudding
The addition of 200g of dried fruit such as currants or raisins will make a lovely traditional style cake
Ginger works beautifully with apple so use 2 tablespoons of finely chopped preserved or stem ginger and 1 tsp of dried ginger
As Winter approaches, add 150g of dried cranberries for a lovely festive bake
Bake with love
Soraya x