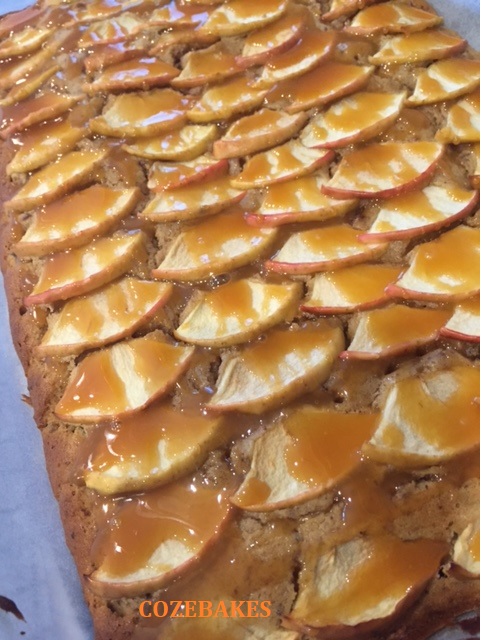 Ooooh where do I start??! It's a delicious take on a traditional Toffee Apple and adding the toffee sauce just sends it into another dimension. A wonderfully moist and spicy cake which is surprisingly easy to make.
If you don't like dates, don't worry. You can't taste them. They add moistness and that great sticky toffee flavour.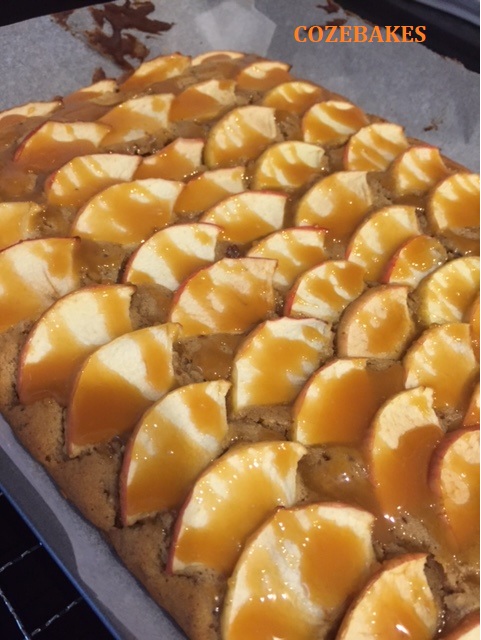 So if you get the first part of this recipe made, then you can organize the rest of the ingredients while you wait for it to cool. I didn't use my food processor; instead I have a mini one and it worked fine as it's not a large quantity.
Heat the oven to 180C / 160C Fan / Gas 4
Grease a 20 x 30 cm traybake (or approximately that size) and line with baking parchment.
Ingredients:
200g dates, roughly chopped
200ml milk
250g butter, softened
300g self raising flour
200g light brown sugar (I used 100g as I was topping the cake with toffee sauce)
1/2 tsp baking powder
4 large eggs
1 tbsp. (yes you read right) each mixed spice and ground ginger
1 tsp vanilla extract
3 small red apples (I used 2 Pink Lady apples as they are bigger)
Lemon juice
Method:
Put the dates and milk in a pan and bring to a simmer. Remove and let cool for about 15 mins. You can get the rest of the ingredients ready now.
Using a food processor or similar, whizz the dates and milk mixture to a puree and scrape into a large bowl.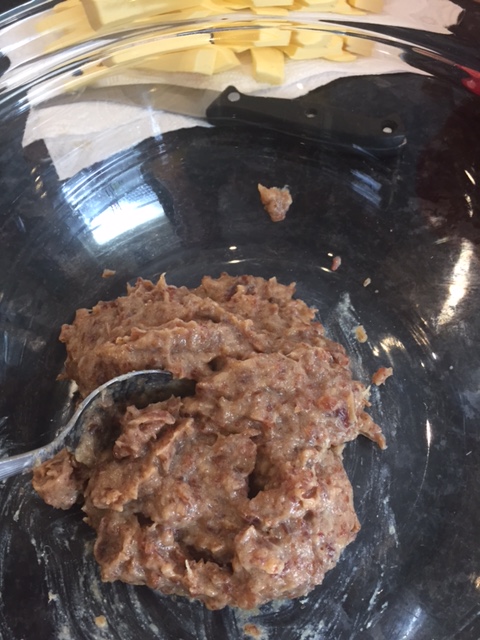 Then you add the butter, flour, brown sugar, baking powder, eggs, spices and vanilla but don't mix it in yet.
Quarter and core the apples, then slice them into thin slices and toss with lemon juice as you go. No need to peel them.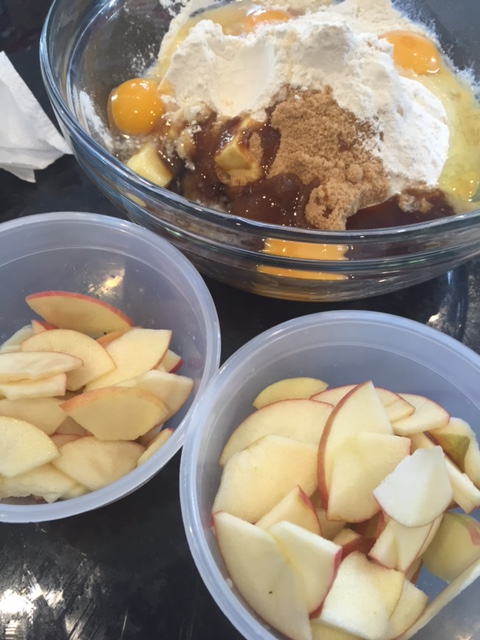 Then using an electric mixer, beat the cake ingredients until everything is well combined. Spoon the batter into your prepared tin.
Arrange the apple slices on top of the batter, overlapping as you go.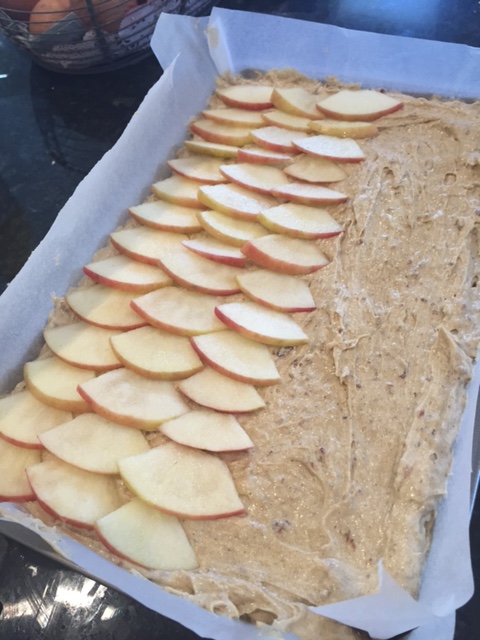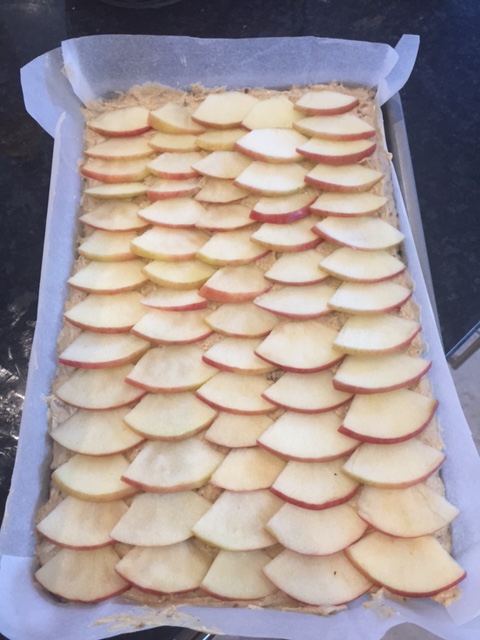 Bake for 45 mins approximately and check with a skewer inserted into the cake. If it comes out clean, it's ready. Cool in the tin.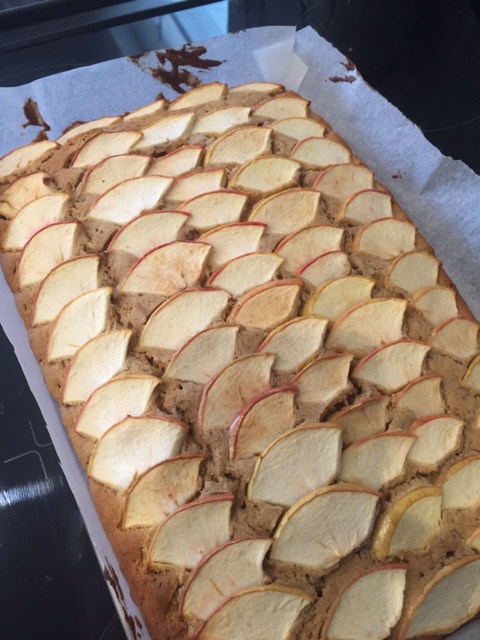 If you have a jar of toffee sauce, or some salted caramel sauce, then heat very gently and drizzle all over the cake.
If not, about 6/8 toffees, melted with a little milk until runny, will work just as well. You can dust with icing sugar before serving.
Just cut into generous slices and a dash of vanilla cream will be just perfect!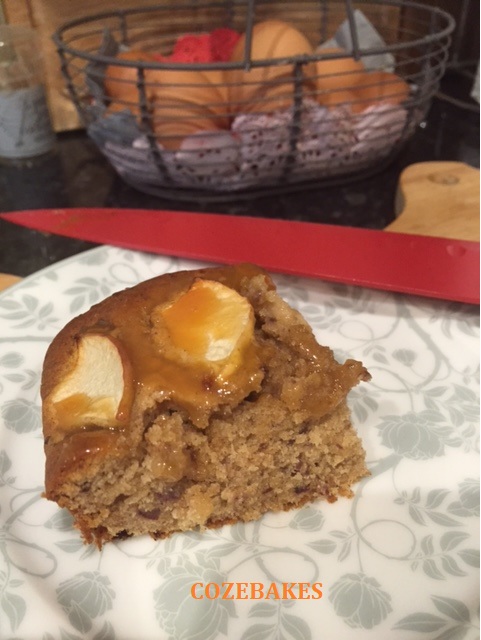 Bake with love!
Soraya x