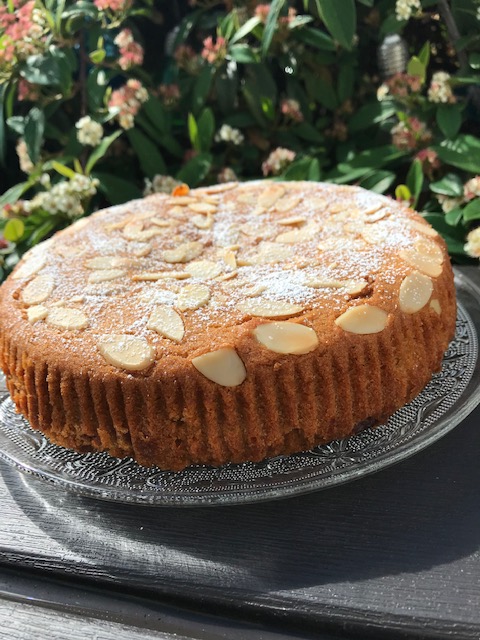 I am such a big fan of the traditional Bakewell Tart but sometimes I just don't want to make the different components and it's quite sweet so when I saw Jane's Patisserie's bakewell cake version, it was the perfect fit for me to have my bakewell fix without the effort.
I've made a few changes (as usual 😉 ) and it worked out really well. It's full of the traditional Bakewell flavours we all love and using ground almonds really helps to keep it light.
Another bonus is that it needs so little to serve it up. The almonds and a dusting of icing sugar are the perfect finishing touches.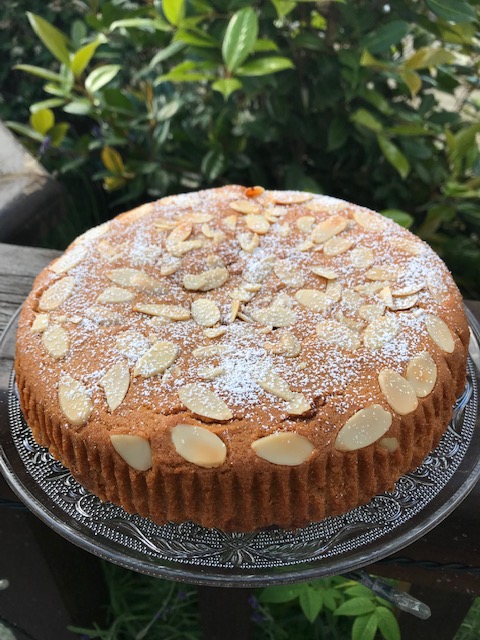 We love a simple to make cake, one bowl and you're sorted and this recipe is exactly that. I did use my stand mixer as it's so handy to add things in while it's still beating and when using ground almonds, you do need to really combine it well into the batter.
You can use an electric mixer but will need to work it for longer.
There's a couple of notes below to help 
Ingredients:
150g unsalted butter or Stork
85g golden caster sugar **
150g ground almonds
150g self raising flour
3 medium eggs (room temperature)
2 tbsp. milk (use full fat)
1/2 tsp almond extract **
250g fresh raspberries **
Approx 2/3 tbsp. raspberry jam
25g / 30g flaked almonds
Icing sugar to dust
** Notes ** 
I reduced the sugar by a substantial amount. If you prefer, you can use the full 150g
I used light brown sugar so the cake had a caramel colour
You can substitute vanilla extract for the almond and if you like a bit of a hit, you can use Kirsch
I used all raspberries but you can sub half the quantity with fresh blueberries too
Method:
Preheat oven to 180C or 160C Fan and grease and line a 20cm / 8″ tin. If you have springform it will help.
I like to place the dry ingredients in a small bowl first and just whisk them together to remove any lumps.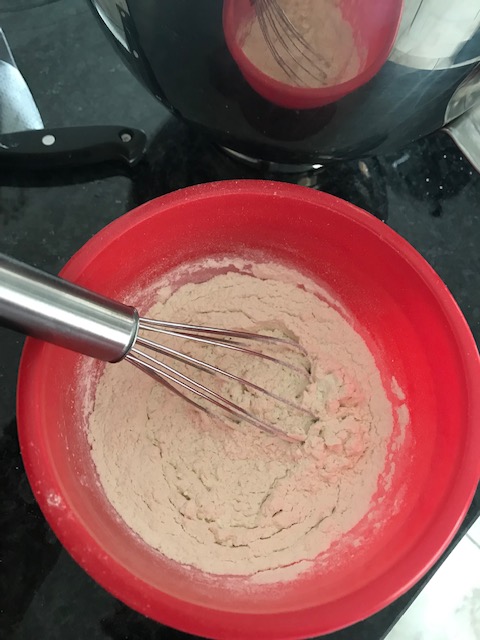 Into the stand mixer, put the butter, sugar, self raising flour, ground almonds, eggs, milk and almond extract and beat all together until smooth.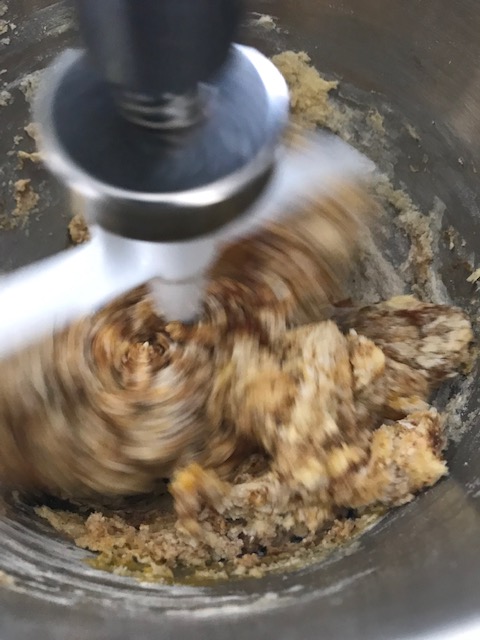 Spread half the batter into the prepared tin. Next spread the berries and raspberry jam on top of this.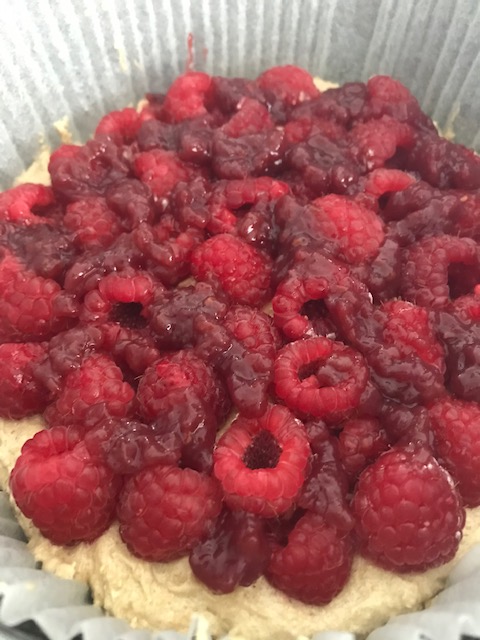 Next, spread the rest of the cake batter on top. If you use an ice cream scoop, you can place the batter around the top of the berries so that it's easier to just let all the scoops meet up rather than trying to spread the batter from the centre out.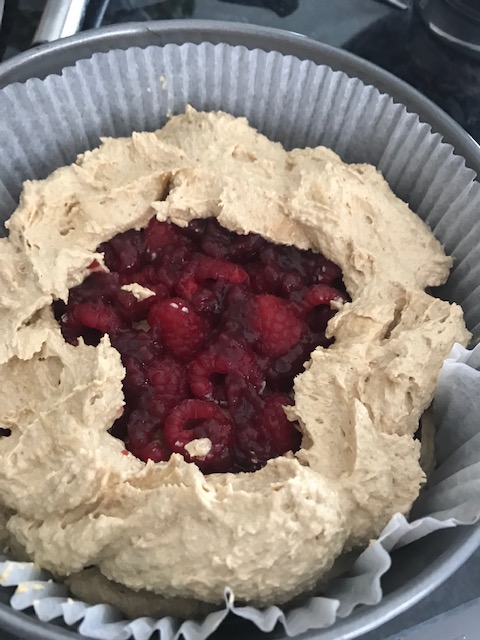 Flatten it out and sprinkle the flaked almonds over the top.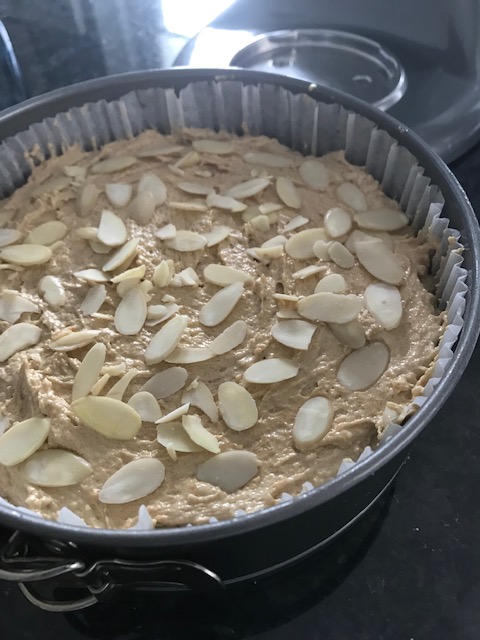 The complete mix doesn't come up very far but it will rise nicely while baking. Bake in the preheated oven for approx. 50 minutes and check with a skewer to see it comes out clean.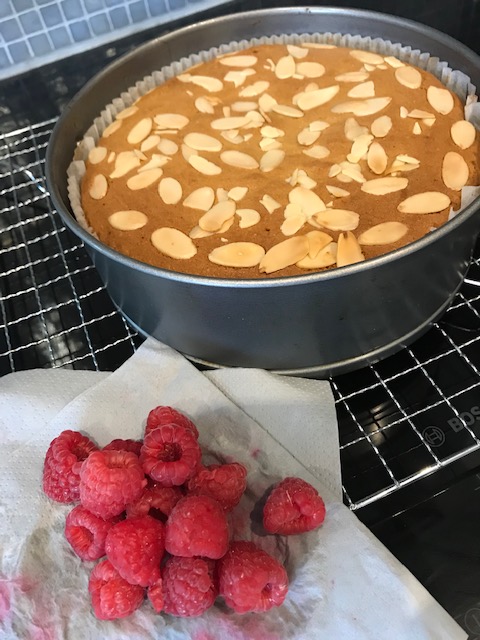 The cake might be a bit raised but it will flatten down as it cools. Leave it in the tin to cool for at least 20/30 minutes, as it's quite fragile and may crack if you try to move it too early. Just leave the whole thing on the wire rack.
When you think it's safe, remove the sides and leave it on the base as it gives it a secure placing. Dust the cooled cake with icing sugar and serve.
A dollop of fresh cream will be totally delicious! This lovely Raspberry Bakewell Sponge Cake will keep for 3/4 days in an airtight container at room temperature. Nice!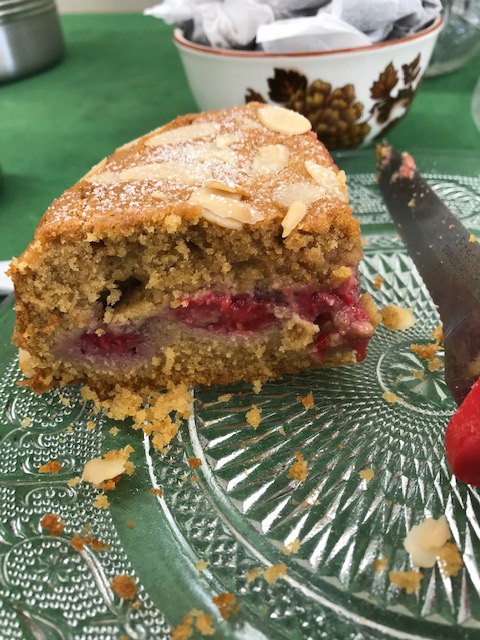 Bake with love!
Soraya x