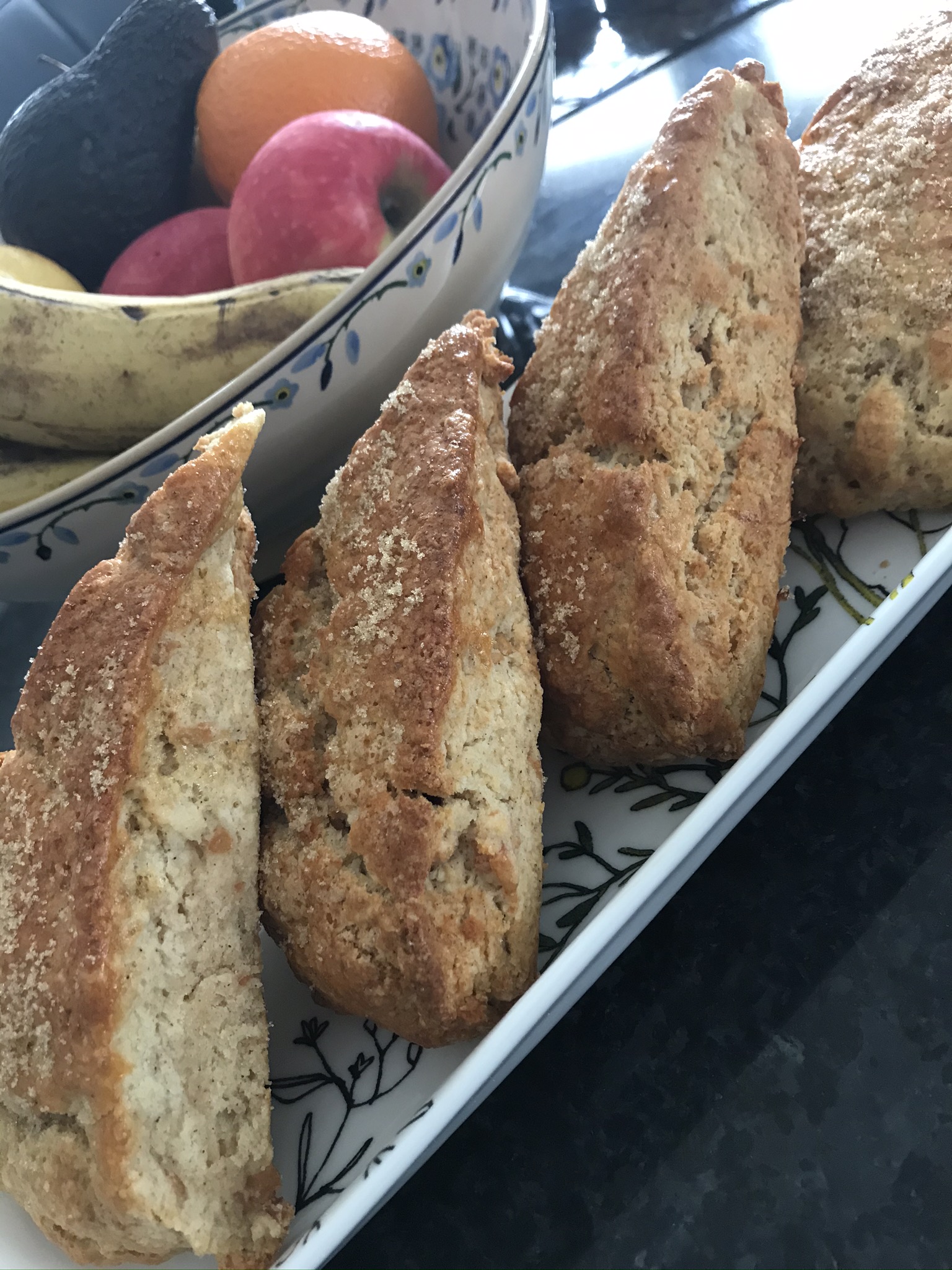 Traditionally we make our scones with  buttermilk or regular milk but this recipe uses Greek Yoghurt instead. I was sceptical of course. I thought it would be way too dry and not be able to work into a dough but it worked! The scones were really good.
You can use a caramel drizzle on these if you want to dress them up and they are equally delicious on their own or with a dusting of icing sugar.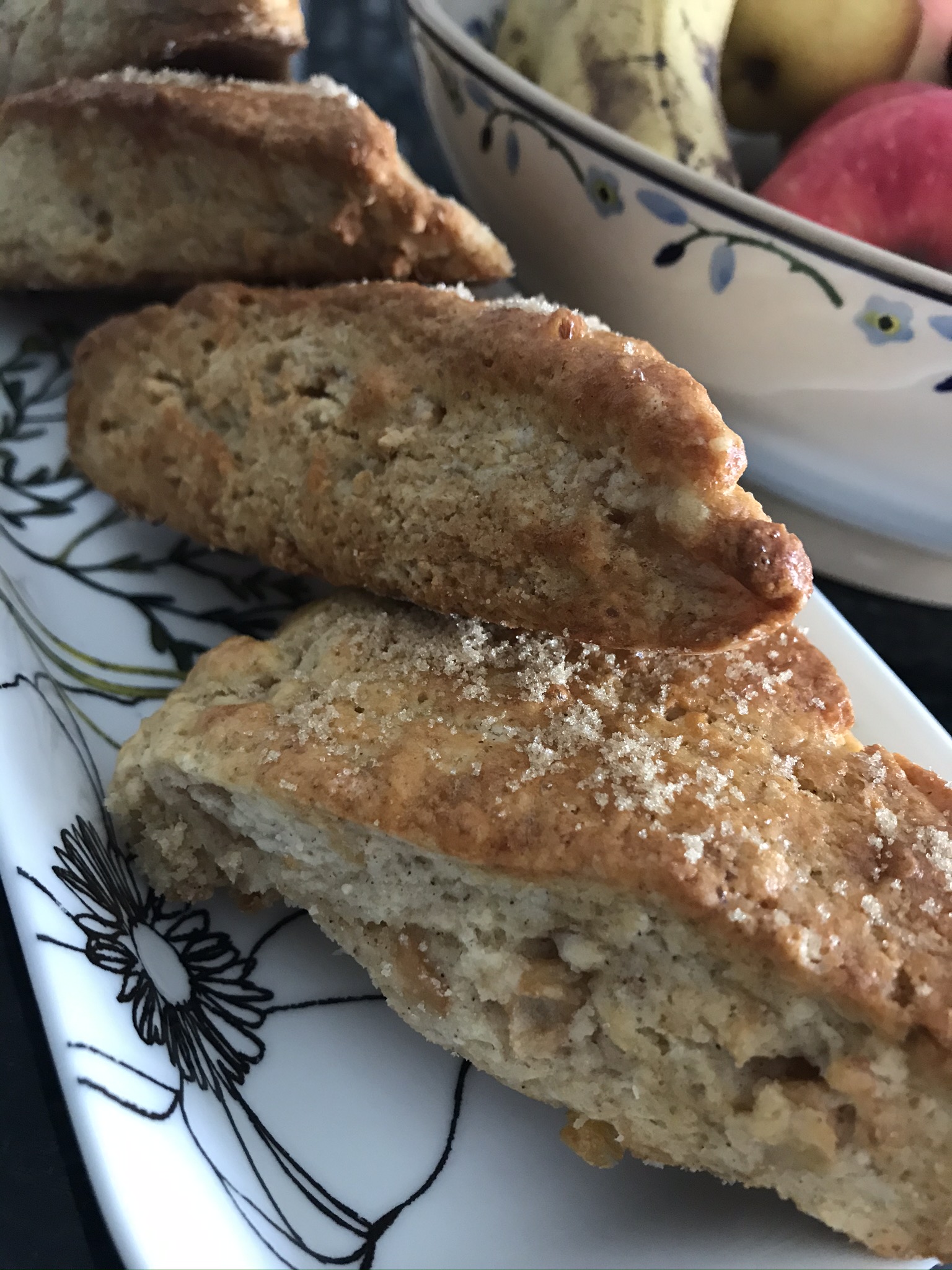 I went for the American scone shape (triangles) rather than the traditional round shape we all know and love. I chose it mainly because of the apple pieces in the dough. I wanted to make sure not to loose any of them!
I converted the original recipe to Gluten Free and I'll include the regular ingredients below.
Ingredients:
15g butter
1 large Granny Smith apple, peeled and finely chopped – approx 115g
1/2 tsp cinnamon ( you can use 1 tsp if you love cinnamon)
385g gluten free plain flour or regular plain flour
65g caster sugar
2 tablespoons gluten free baking powder or regular baking powder
1 tsp bicarbonate of soda
1 tsp xanthan gum (Gluten Free Only)
115g cold butter, cut into cubes
245g Greek Yoghurt – I used Vanilla flavour just for a change.
Caramel Icing – optional
60g butter
100g light brown sugar
2 tablespoons milk
1/4 tsp vanilla extract
50g – 75g icing sugar
Method:
Here's a video showing how quick the dough comes together. https://www.facebook.com/soraya.quigley/videos/pcb.3529936507024636/10217681304045511/?type=3&theater&ifg=1
Preheat oven to 175C Fan Oven and line a baking tray with parchment paper.
Melt the butter over medium heat. Add in the apples and cook for 4/5 minutes until they are soft. Stir in the cinnamon and leave aside to cool.
In a large bowl, sift in the flour, sugar, baking powder and bicarbonate of soda.
Add in the cold butter cubes and mix till it forms large breadcrumbs. Next stir in the Greek Yoghurt and cooled apples mixture. It starts off dry as you can see above and you will have to eventually use your hands to bring the dough together.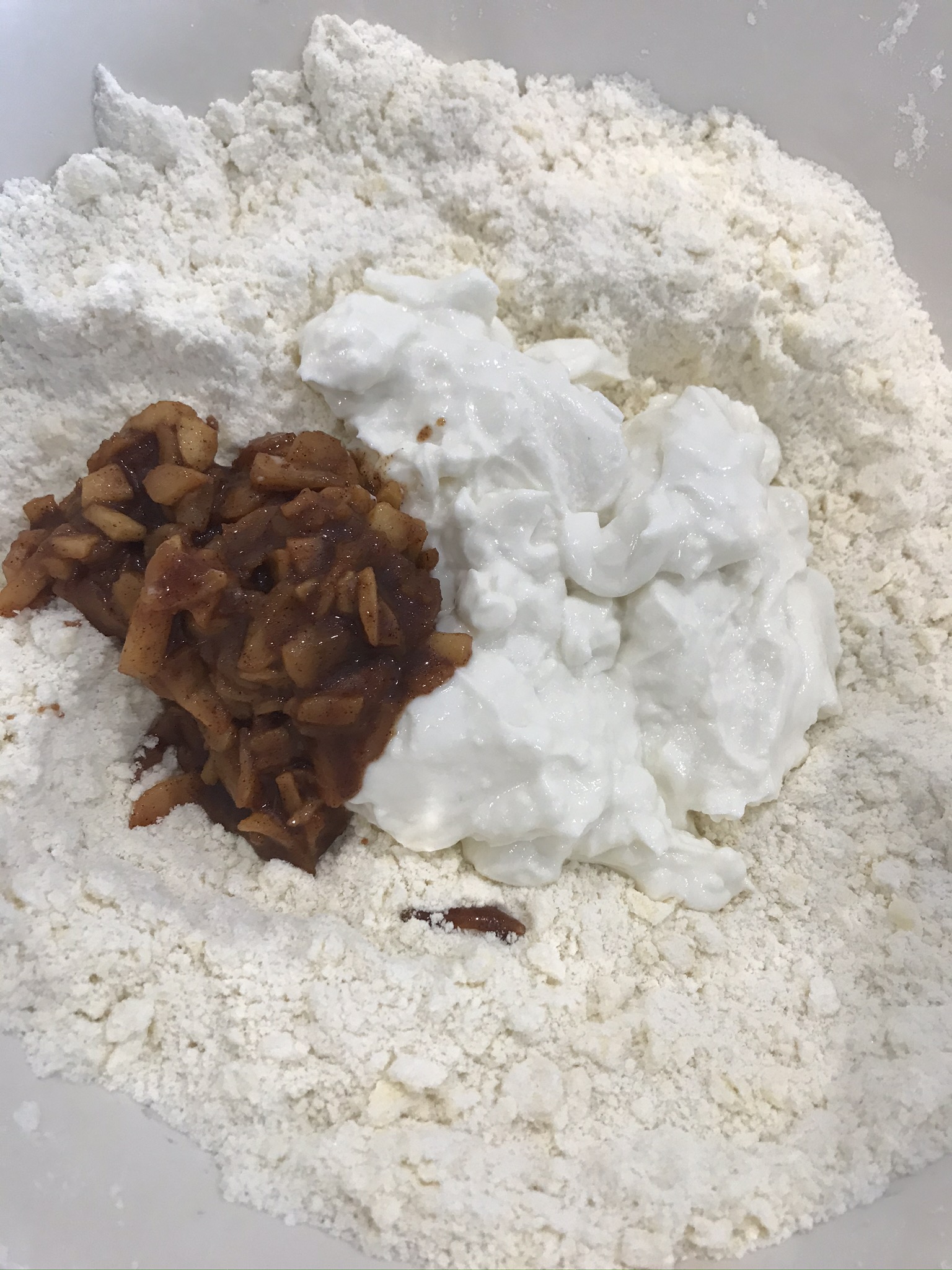 Turn out on to a floured work surface and for a log shape. Use a knife to cut triangles and gently pull them apart. You can see the method here: https://www.facebook.com/soraya.quigley/videos/pcb.3529936507024636/10217681303725503/?type=3&theater&ifg=1
Place the triangles on the lined baking tray and leave a little space between them. Brush with beaten egg and bake for 15 – 18 minutes, depending on their size. If they are very large, they will need around 22/24 minutes.
Remove them from the oven and let them cool for 2/3 minutes. You might gently prise them apart and transfer them to a wire rack to cool.
To ice your scones:
In a small pan heat the butter till melted. Stir in the brown sugar and milk and cook over a medium heat for just 1 minute. Transfer this to a bowl so it will cool slightly. Stir in the vanilla extract and start off with 50g of the icing sugar.
Using an electric mixer, beat until blended. If you need to, add the extra 25g of icing sugar to get the desired consistency. Drizzle over the scones.
As with all scones, they are best eaten on the day they're made but once kept in a tight container, will be fine for a day or two.
You can freeze these scones once they are completely cool but don't ice them until ready to serve.
Bake with love
Soraya x