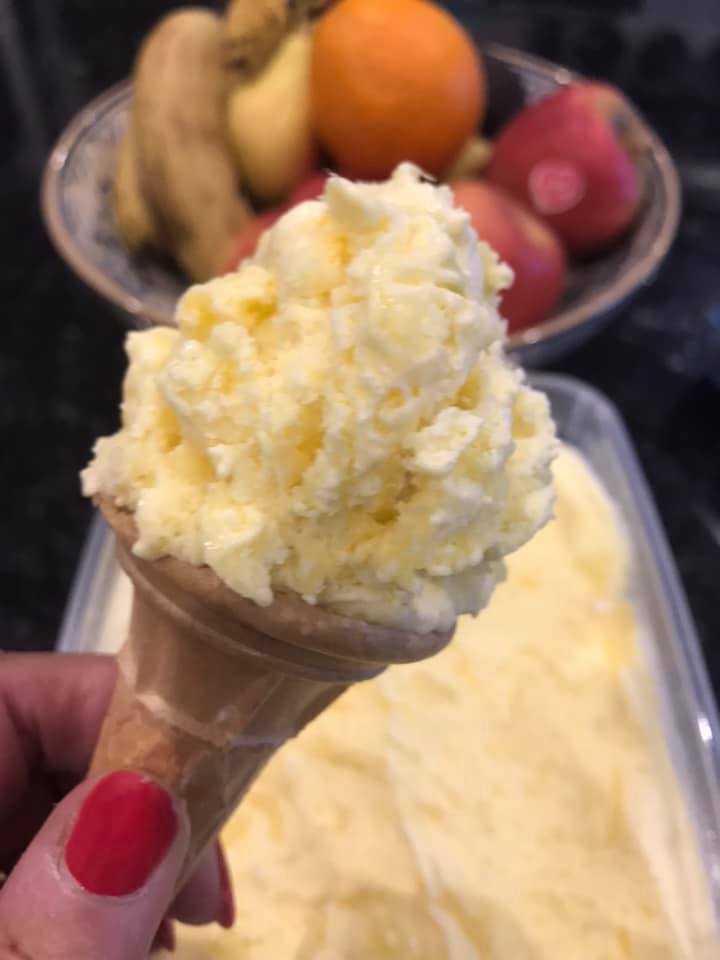 After running a poll on what ice cream flavour to make over on the cozebakes Facebook page, the winner by quite a big margin was Mango Ice Cream.
I make this a little differently than the other ice cream recipes on here as you could chop up fresh mango and mix it in but there's a chance you would be eating frozen pieces of mango with ice on them after the freezing process and that wouldn't be very nice! The solution I felt was to pulp the mango in my food processer and mix this in to get the flavour throughout.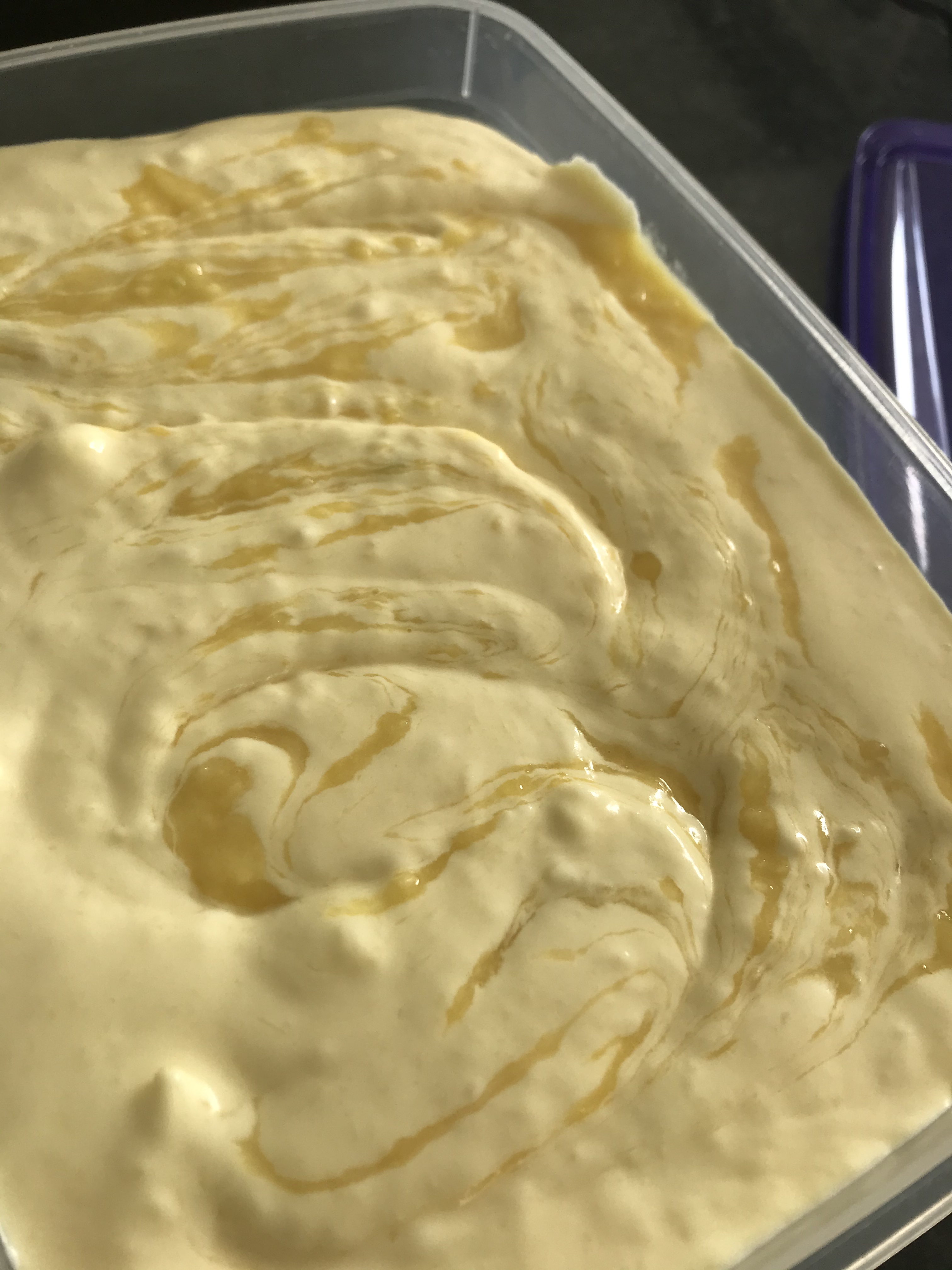 I went in search of very ripe mangoes and it was a little bit of a test! Eventually I got 4 mangoes that were "ripe and ready to eat" according to the package. When I peeled them, I was hoping for that bright orange flesh but it was definitely more on the yellow side. They were quite sweet though so I added a little bit of gel colouring to intensify the colour. This was really just me being picky as I sometimes can be but that's a personal choice and you don't have to do this. One point is please don't add the liquid food colouring. The gel is the option to use here.
As it was a large quantity, I froze the ice cream in a large tupperware container and I placed a sheet of parchment over the top before sealing the lid. This will help prevent ice particles forming on the top.
A minimum of 6 hours would be needed but overnight is preferable. To serve, you need to leave the ice cream out for at least 15 minutes so you can scoop successfully 🙂
Ingredients:
480ml double cream
1 tin (397g) Carnation Condensed Milk
4 very ripe mangoes, peeled and sliced
Method:
In a food processor or Nutri Bullet, blender, etc., place the chopped and peeled mango pieces and process them so they are a chunky pulp consistency. Don't go as far as the smoothie look.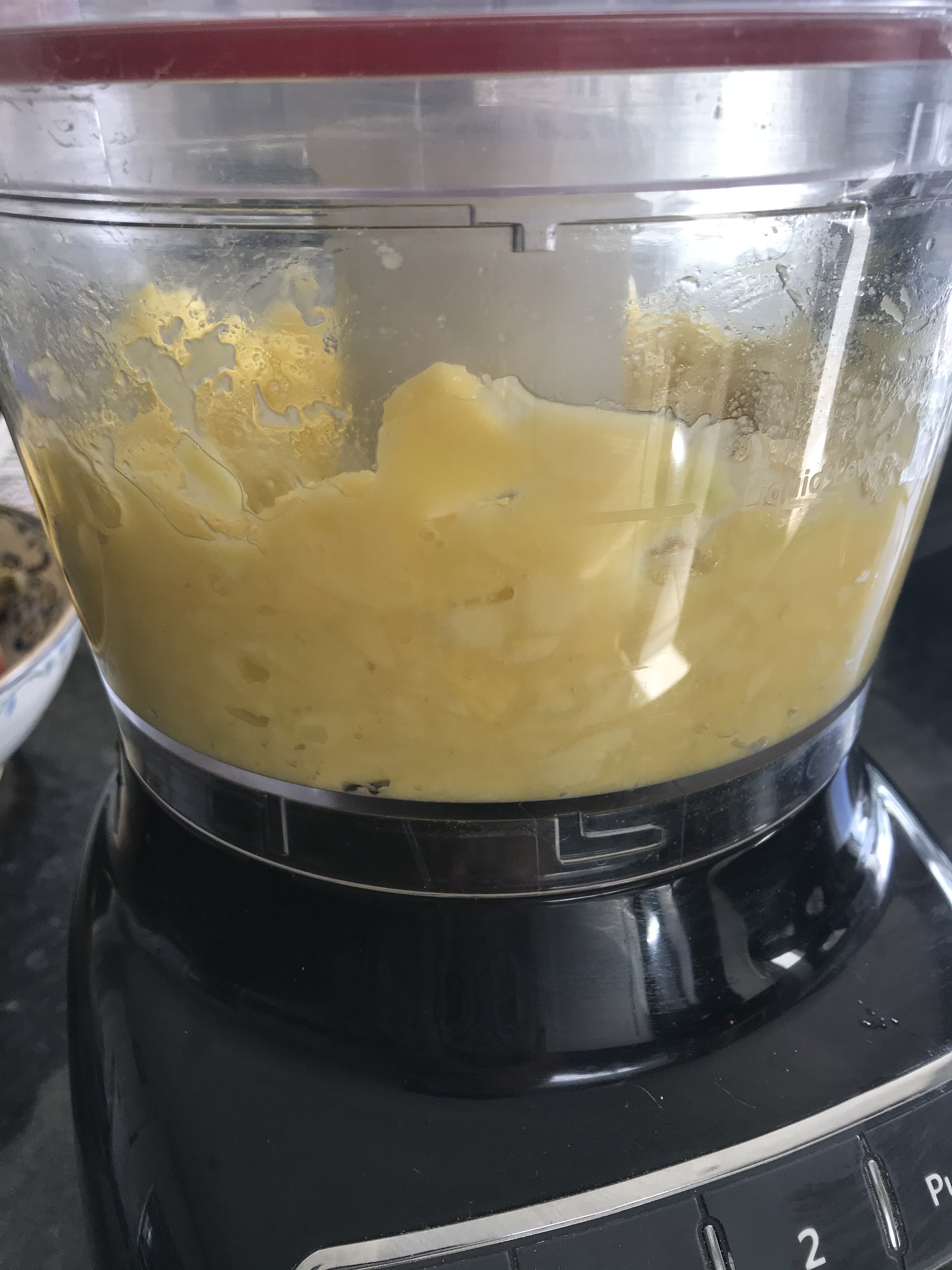 In a large, clean bowl, beat the cream until it's stiff. It should hold a peak solidly when you lift the beaters.
Using a smaller bowl, mix together the condensed milk and mango pulp so they are well combined. Keep aside a few spoons of the mango pulp to swirl on top at the end. Then add them to the whipped cream and fold till both are completely combined.
If you want to add colouring, just use a toothpick and dip into the gel. Then place this into the condensed milk and mango mixture and mix together to thoroughly combine the gel colouring and get the shade you want. If your mangos are a good orange colour, you won't need to do this.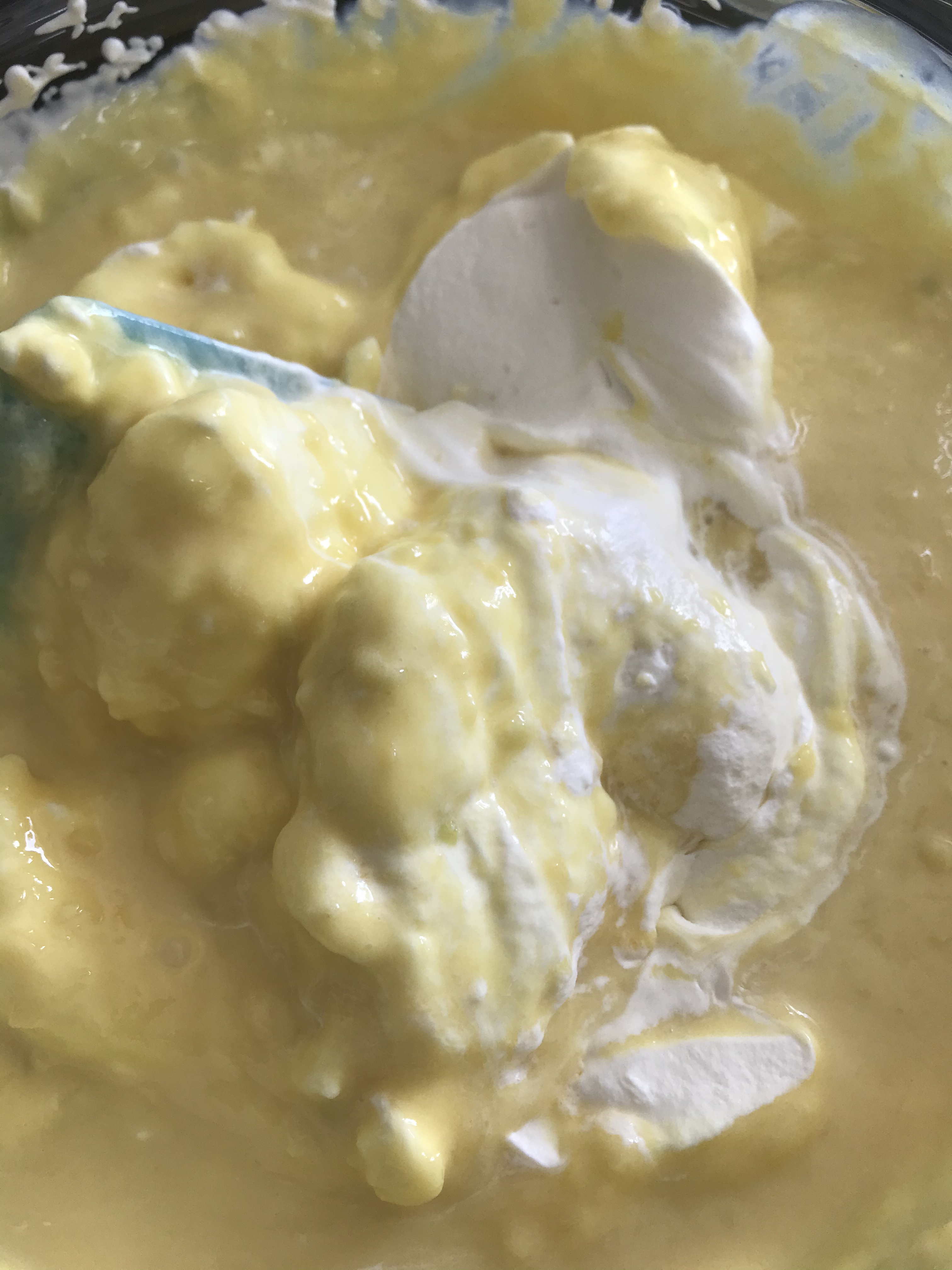 Once you're satisfied everything is mixed together properly, pour this into your chosen container. If you're using metal like a loaf tin, I tend to line them with cling film first. Use the back of a spoon to level off the top.
Add the remaining spoons of mango pulp on top of the ice cream and swirl it through from top to bottom. Don't over do it or you will loose the pulp.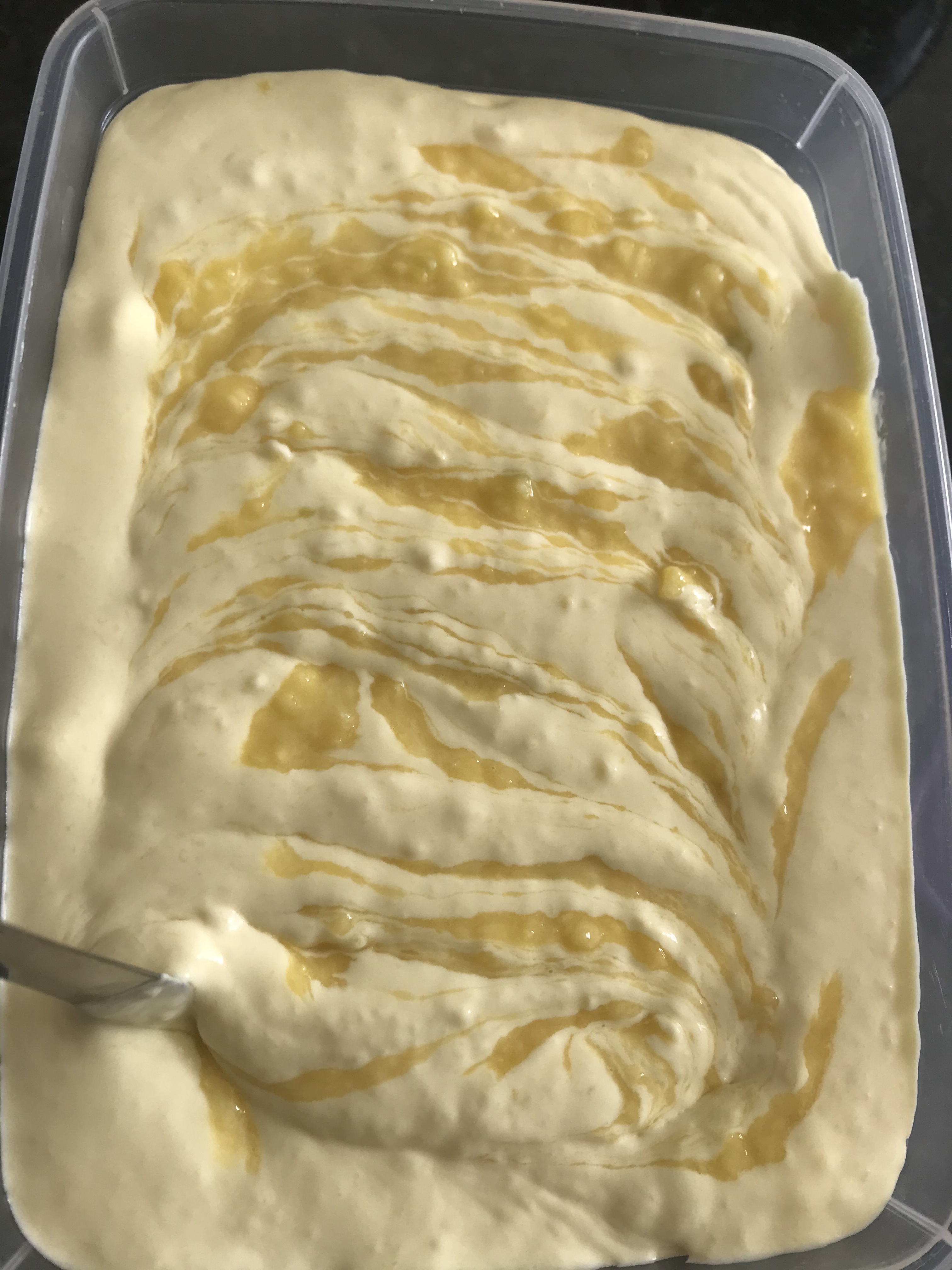 Place a piece of parchment gently on top of the ice cream. Just touching the top to prevent icicles forming. Then seal the container with the lid and place in the freezer for a minimum of 6 hours but preferably overnight.
When ready to enjoy, remove from the freezer for about 15 minutes before serving and scoop into cones or bowls. You can top with some fresh slices of mango for a final flourish!
No baking but made with lots of love
Soraya x