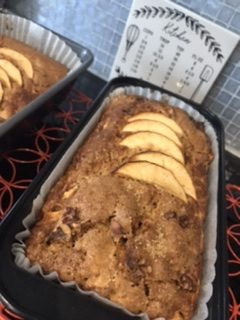 A very simple and delicious tea time cake full of apples and spices to give it warmth. Using both dark and light brown sugar gives the cake texture a rich, almost caramel flavour. You can opt to add in sultanas but equally, adding in dried cranberries would give a great contrast. I topped the cake with walnuts and after enjoying a slice, I think it would benefit greatly from adding some into the mix.
This cake is very moist and needs delicate handling once it's baked. I would recommend you leave it sit for a good 20/25 minutes before removing it from the tin to a wire rack.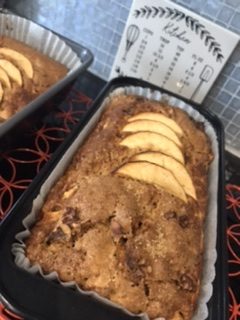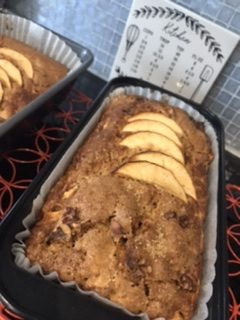 Once you have made the batter, you can get two 2lb loaf cakes out of it. Don't be tempted to fill to the top or it will overflow. If you fill both tins about 3/4 way up, it will work really well. That way, you get to enjoy one, freeze the other or gift to someone you love <3
One last thing is this cake is not made in your traditional way of beating butter and sugar. It's more along the lines of pastry or scone making but still works out beautifully so definitely worth a go.
Ingredients:
350g self raising flour
Pinch of salt
1 tsp mixed spice
1 tsp cinnamon
230g soft butter
100g light brown sugar
70g dark brown sugar
120g sultanas (optional or use dried cranberries)
35g walnut pieces (optional)
100ml cider or apple juice
400g cooking apples such as Bramley. Peel first and then weigh them. Keep a few slices for decorating the top.
3 medium eggs (not to weigh over 50g each)
1 tsp vanilla extract
2 dessert spoons of demerara sugar to top the cake
Method:
Begin by slicing and dicing the weighed, peeled apples and soaking them in the cider or apple juice. Set aside and get the rest of your ingredients ready.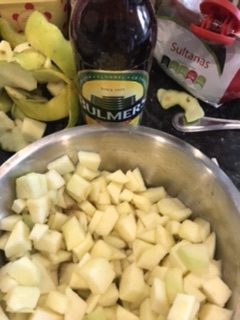 Preheat oven to 160C Fan or 180C Conventional and line your loaf tins with parchment. If you prefer, you can use an 8″ / 20cm round tin with a loose bottom.
Into a large bowl, sift the flour, spices and salt.
Next add the softened butter and rub in or use a pastry cutter. Once it's resembling breadcrumbs, then add in both the sugars, the sultanas or cranberries if using and walnut pieces if using. I dredged my sultanas in about 1 tsbp flour before adding so they wouldn't sink.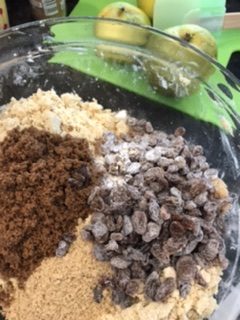 Then stir in the diced apples, remembering to reserve a few slices for topping the cakes.
Beat the eggs lightly and add the vanilla extract. Fold this mixture into the bowl. Just give enough turns so everything is covered.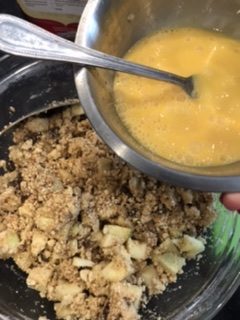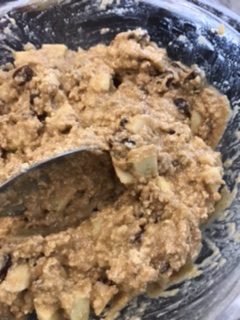 Spoon the mixture into your prepared tin and smooth the top. I hollowed out a little bit down the centre of the cake to get an even rise.
Sprinkle the demerara sugar over the top of each cake and then arrange the extra apple slices down the centre of the cake. Give them a gentle push into the batter.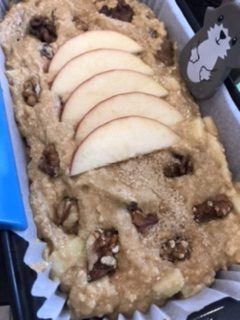 Bake in the preheated oven for an hour. Check with a skewer or cake tester. It should come out clean. Remove from the oven and leave to sit on a wire rack for 20/25 minutes. Then you can lift the cake out of the tin to a wire rack to cool.
It's a beautiful cake in it's simplicity and mix of flavours and needs very little to accompany it. Saying that, some custard wouldn't go amiss. 🙂
Bake with love
Soraya x