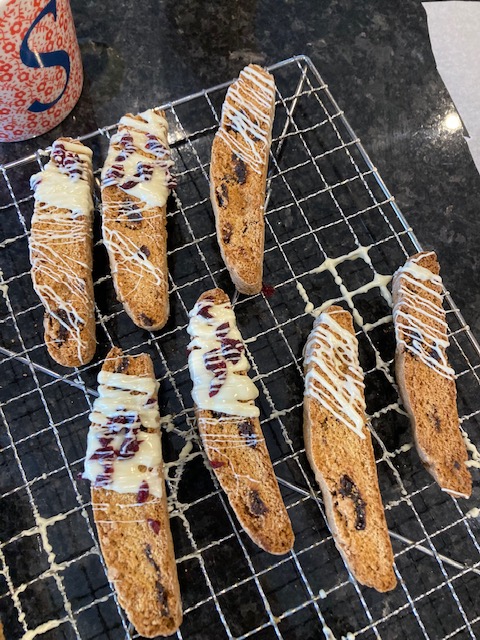 Biscotti are an Italian biscuit, traditionally almond flavoured. They are baked twice to make them dry and crunchy and we recognise them for their oblong shapes. They lend themselves really well for flavourings and I have two options in the recipe below.
They can be left plain or dip the ends into some chocolate and sprinkle with nuts or cranberries. Biscotti can be seen as a lighter biscuit choice as they use less fat and sugar than other traditional cookies and biscuits. The addition of nuts helps to up their health benefit.
These Biscotti make the perfect homemade gift for loved ones at Christmas. They are quick to make and require no special equipment. As they last for a few weeks in an airtight container, they are the perfect bake to make ahead and give to loved ones.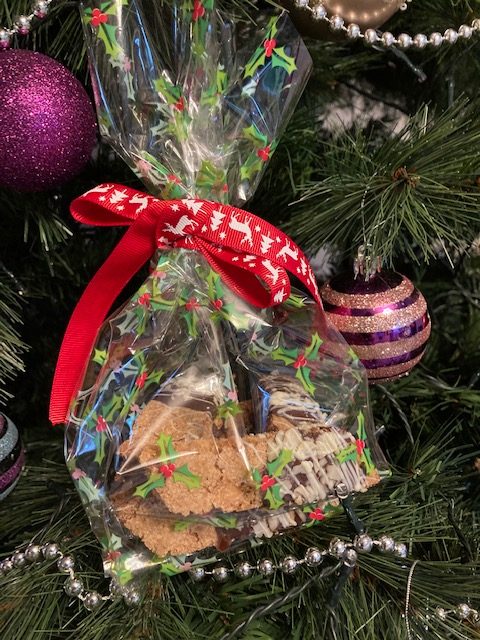 Ingredients:
150g Plain Gluten Free Flour
1/2 tsp Bicarbonate of Soda
Pinch of Xanthan Gum
75g Caster Sugar
50g Gluten Free Ground Almonds
1 large egg
Cranberry & Orange Biscotti Additions:
50g Dried Cranberries
Grated Zest of 1 Large Orange
1 tablespoon Orange Juice
Almond Biscotti Additions:
100g Whole Almonds
Grated Zest of 1 Lemon
1/2 tsp Almond Extract OR 1 tsp Vanilla Extract
Method:
Preheat oven to 170C Fan or 180C and line a baking tray with parchment.
In a large bowl, sieve the flour, bicarb and xanthan gum into a bowl and then add the sugar and ground almonds and stir to mix. If you're making the Almond Biscotti, add the whole almonds now.
Break the egg into another bowl and beat it. Depending on what flavour you're making, add the zest and juice to the egg and beat well.
Pour the wet ingredients into the dry and stir to a soft, slightly sticky dough. You can bring it together with your hands. Dust the top of the dough with some GF plain flour and transfer to to a prepared baking tray.
Use your hands to shape the dough into a rectangle. Try to make it about 3-4″ x 9-10″ in size. Bake for 25 minutes. Remove from the oven (leave your oven on) and let to cool for about 10 minutes and then cut into 1/2″ thick slices. Put these slices back on the baking tray and bake for 7 minutes. Remove from the oven and turn them over and bake for a further 7 minutes.
Place the slices on a wire rack to cool completely. Once cooled, store the biscotti in an airtight container. You can also drizzle the ends with some GF dark or white chocolate and add extra cranberries or almond slivers.
Bake with love
Soraya x