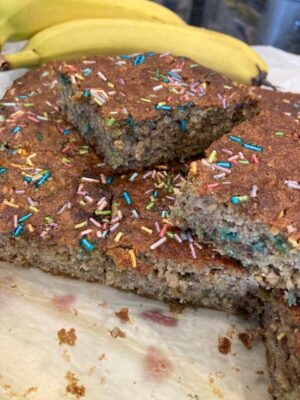 There are times when bananas are much loved and enjoyed and then other times they are left to go brown and not as attractive looking but that's when they become magical and the most wonderful of ingredients. The riper a banana, the sweeter it is and this helps to reduce the addition of sugar in a recipe.
This recipe has no refined sugars as it uses Organic Maple Syrup for a little sweetness. You can also use Agave Syrup or an artificial sweetener. I use a combination of Almond Flour and Oat Flour and of course Sprinkles!! Almond Flour is not the same as Ground Almonds so be aware when prepping your ingredients.
Prepare a 20cm x 20cm square baking tin by lining with parchment and leaving an overhang for easy removal after baking. Then give the base and sides a very light coating.
Preheat the oven to 180C Fan and get your ingredients ready. I used an electric mixer for the first part of the method but a good whisk will also work.
Ingredients:
3 Bananas, Medium sized
2 Eggs, large
80g Nut Butter of Choice (1) see note below
50g Maple Syrup or equivalent
1/2 tsp Vanilla Extract or Vanilla Bean Paste
95g Almond Flour
40g Oat Flour (2) see note below
1/2 tsp Bicarbonate of Soda
Pinch of Salt
45g Funfetti Sprinkles
Be sure the Nut Butter you choose has no added sugar
Measure out the oats then blitz them to make oat flour
Method:
Mash the bananas well and add into a large bowl along with the eggs, maple syrup, nut butter and vanilla. Beat to combine.
Next add into the bowl the almond and oat flours, bicarbonate of soda and pinch of salt. Stir to mix together. Finally fold in the sprinkles.
Spoon into the prepared baking tin and shake to level out into the corners. Top with extra sprinkles. Bake for 30 – 35 minutes and check with a skewer or toothpick inserted into the centre to check it's done. It should come out clean.
Remove from the tin and let it cool on a wire rack, then cut into squares once cold.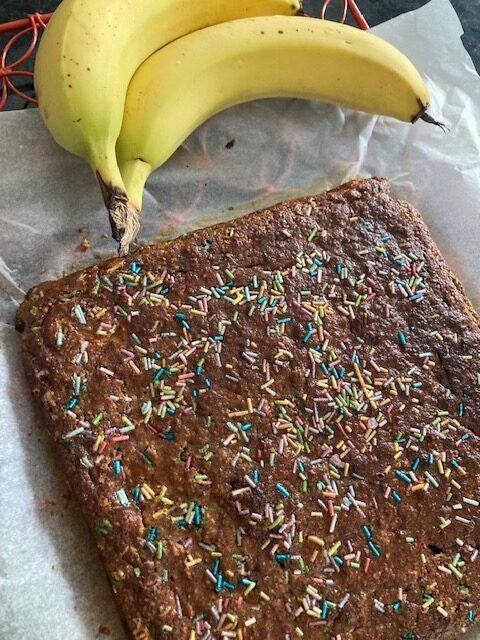 The squares will keep in the fridge for up to 4 days and they also freeze well.
Enjoy!
Soraya x