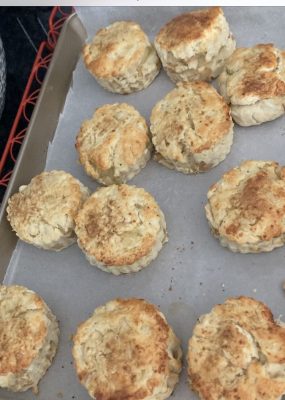 Regular Recipe also included
To have something a little different from the much loved apples we use this time of the year, I thought that a scone with some delicious pears and lovely warming spices would make a welcome change. This recipe has been made as a Gluten Free share but I've also added in a regular option for those who don't have any dietary issues.
To start, I'd say get all your ingredients out and measured ready to go. Scones don't take long to put together and by the time the oven has heated up, they will be ready to bake. Choose pears that have a bite and hold together otherwise they will release too much liquid into the recipe. Peel and chop the pears into small pieces and drizzle with a little lemon juice to prevent browning while you prepare the scone dough.
Ingredients: (Regular Recipe in brackets)
1 large Egg
140 ml Buttermilk or Greek Yoghurt (Regular Recipe won't use all of this quantity)
2 tbsp Ginger syrup – I used the syrup from a jar but Golden Syrup will work too
350g Plain Gluten Free flour (Use 450g Regular Plain or Wholewheat Flour)
100g Gluten Free Rice Flour
30g – 40g Caster or Coconut Sugar depending on your preference
4 tsp GF Baking Powder
1 tsp Xanthan Gum
1 tsp Cinnamon
Pinch salt
120g Butter chopped
250g Pears, peeled and chopped**
Method:
Preheat oven to 200C Fan and line a large baking tray with parchment
Whisk the egg along with the buttermilk/yogurt and syrup in a jug and set aside.
Sift the flours, salt, sugar, baking powder, xantham gum and cinnamon into a large bowl.
Add the chopped butter and rub in with your fingers or a pastry cutter to form a bread crumb like mixture.
Add the chopped pears to the mixture and stir in. Now add the liquid mix, a little at a time until you can make a dough.
Turn it out on to a lightly floured board and shape into a circle about 5cm – 6cm in height and use a cutter to cut out. Bring together any cut offs until you have used up all the dough.
Place the cut out scones on the lined tray and brush the tops with the either any of the leftover liquid or a beaten egg and then scatter over some Demerara or Coconut Sugar on top.
Bake for approximately 15 minutes or until golden and a skewer/toothpick comes out cleanly.
Cool and then enjoy! Scones are normally best eaten on the day they are made but these will last for a few days in an airtight container. Just warm them up before eating. They are also great for freezing. Freeze them flat and then transfer to a freezer bag to save space and simply pop into the microwave for an anytime treat!
Soraya x