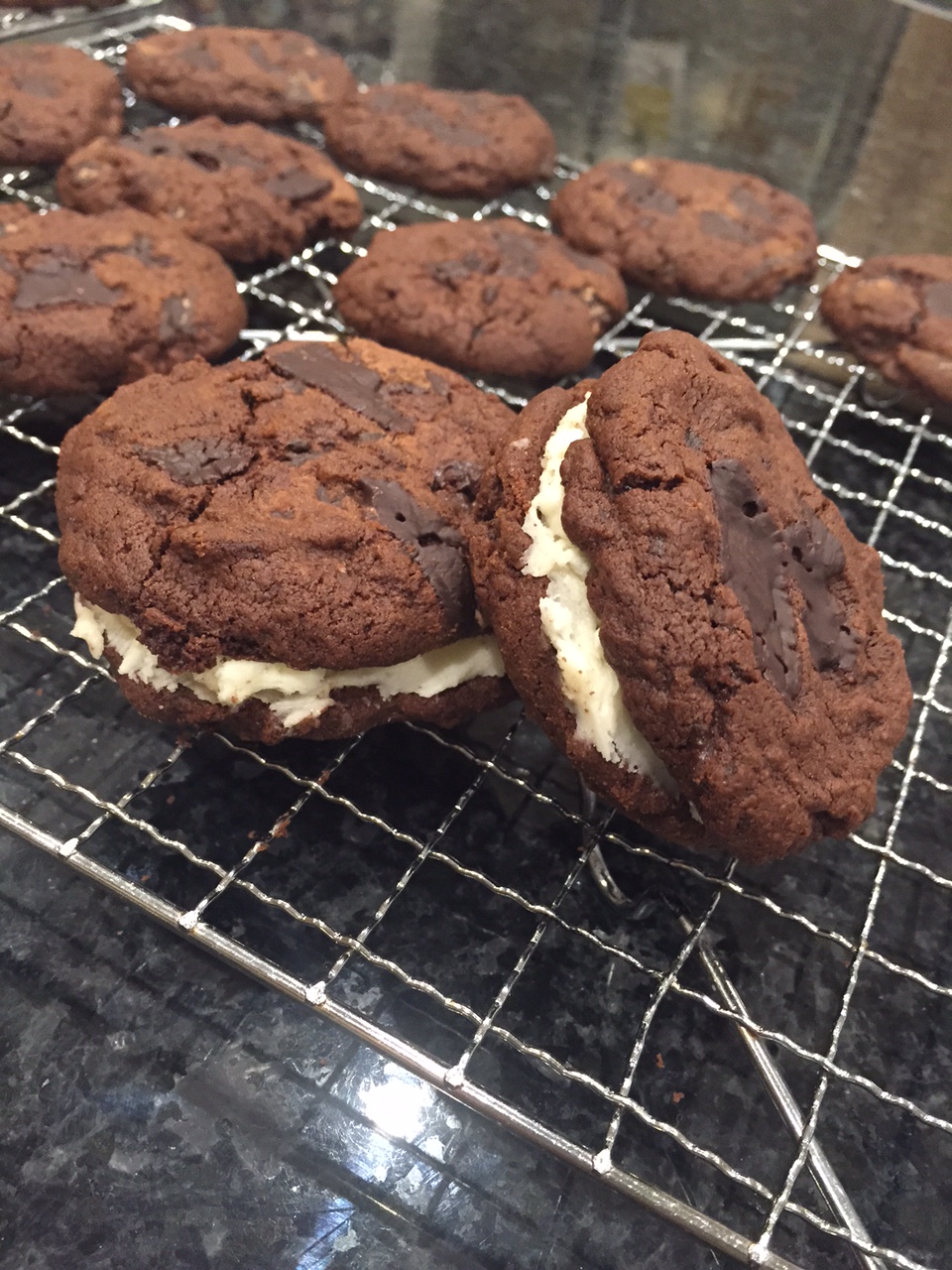 Sometimes in our house, chocolate is the only answer and the request came for "something chocolatey please". First of all, I thought, I'll make my chocolate brownies but then I wanted to try something new. I also had a bowl of marshmallow buttercream frosting left from a previous bake and thought it would make the perfect filling for the cookies. These cookies are a true chocolate lovers delight.
So this recipe can make up to 30 cookies depending on size and of course if you decide to sandwich them like I did, then you get half the quantity but oh they are pretty scrumptious and decadent so who's counting.
What I will tell you, is if you're looking for a workout for your arms, then this recipe is the answer. There's a bit of elbow grease needed for the folding as the dough is quite sticky and you can't go at it hammer and tongs. Now I may be castigated for saying this but for me, they are too rich and if I made them again, I would probably mix the dark chocolate with a quantity of milk chocolate. What way you do it would be up to you but do keep the greater quantity dark rather than milk chocolate. I certainly got no complaints and was told they were perfect but you know yourself, some people will die by chocolate and the rest of us like it a little bit lighter 🙂
You can make these 2/3 days ahead and keep in an airtight container or you can freeze them which helps for when you're planning in advance.
Ingredients:
400g dark chocolate (at least 60% cocoa solids), roughly chopped
125g unsalted butter, softened
150g dark brown soft sugar
1 medium egg, at room temperature
1 tsp vanilla extract
150g plain flour
25g cocoa powder
1 tsp bicarbonate of soda
My advice would be to chop up all the chocolate and set aside as you don't use it all in one go and it takes a few minutes to do it. Weigh out the sugar and the other dry ingredients. The dough needs to sit in the fridge for about 20 mins so you don't need to turn your oven on till that stage.
Method:
Melt 150g of the chocolate and set aside.
Use an electric hand mixer to cream the butter and sugar together – should take about 5 mins. Add the egg and vanilla and beat again until well combined.
Fold the melted chocolate into the creamed mixture and then sift in the flour, cocoa powder, bicarbonate of soda and half a tsp of salt into the bowl and fold this until it's just mixed. Gently stir in 200g of the chopped chocolate. This is where you need the upper arm muscles!!
Line two baking trays with baking parchment and put tablespoons of the dough on each tray, leaving space between them because they will spread a little. I got 15 dollops on each tray. Then use the remaining chopped chocolate to press into the dough.
Ready for the fridge. Not particularly pretty but …. wait!
Chill in the fridge for 20 minutes and here's when you turn your oven to 180C or 160C for a fan, Gas 4.
Depending on your oven, you can check these after 12 mins but mine were in for 15 mins as they are ready when they are just crispy.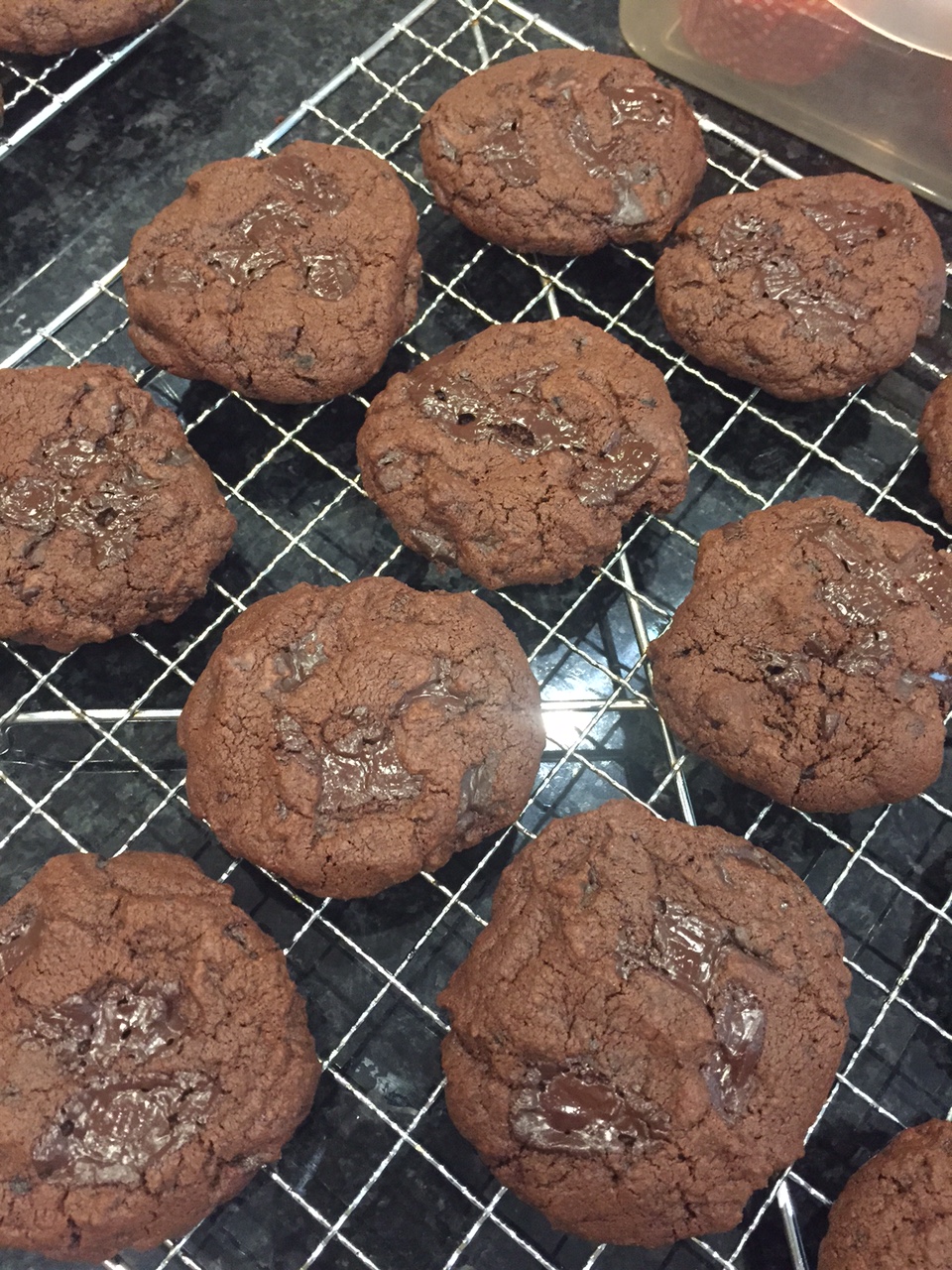 Just out of the oven and still too soft to mess with.
Cool on their trays for 5 mins then transfer them to a wire rack to cool completely. A palette knife is handy for this. You will wonder how you can even pick them up to eat them but once they cool completely, they set really well.
As I mentioned above, I had a bowl of marshmallow buttercream leftover and decided to use it to sandwich these babies together to make a cookie version of a whoopie pie. The general consensus was a very positive one. Result!!
You could make a cream cheese filling for them or just a vanilla buttercream filling and if you wanted, they are fine on their own as very rich, full of chocolate cookie. Whatever you think yourself, it will all work 🙂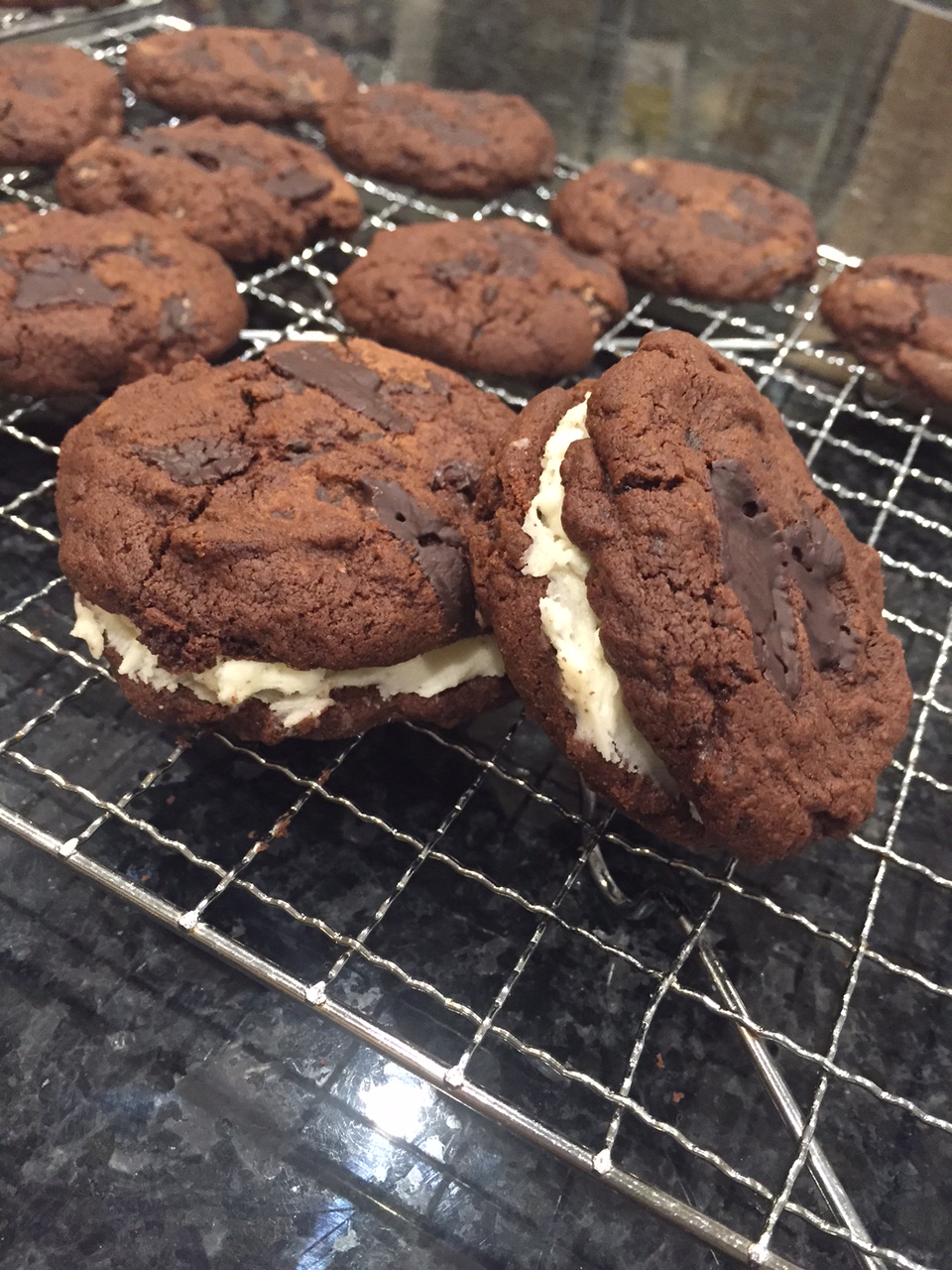 Now I know I could have piped the buttercream unto the biscuits to make them look ever so fancy but I just got the trusted palette knife out and lashed on loads of it on each biscuit. These were for a group of lads so I figured they wouldn't even notice!
Have a try and let me know how you get on with these and remember to bake with love
Soraya x