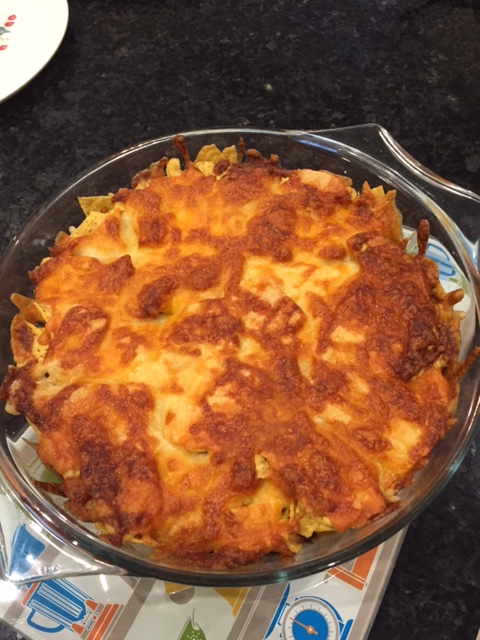 I saw a video clip showing this delicious recipe for a dish similar to Lasagne but using no pasta. As I live in a house with both a coeliac and a gluten intolerant, this really caught my eye. It's simple and quick to make and after working out measurements, temperatures and timings, it's now become a firm favourite in our house. What I love about this dish is that I can make it a vegetarian option so easily!
I use the largest of the trio of Pyrex dishes. This makes enough for 4 hungry people. A salad or sweet potato wedges are perfect side dishes too. You can keep this plain and just use mince and I've listed the optional ingredients that can be added.
Ingredients:
400g lean mince
One pack of chopped mushrooms (optional)
Half a tub of sundried tomatoes (optional)
Small sweet peppers, chopped (optional)
200g pack of Doritos (preferably the Cool or Lightly Salted ones)
200g pack of Cheddar Cheese, grated
100g pack of Mozzarella, grated
Half a tub each of Sundried Tomato Pesto and Bruschetta mix
Half a tin of tomato puree
Corn Tortillas (you can use flour ones if you don't need gluten or wheat free option)
Method:
Preheat oven to 170C (fan) and use the largest of the trio of Pyrex dishes or any oven proof dish of similar size (21/22cm)
Brown the mince and drain off any liquid. It's important to keep the mince mix as dry as you can and not have extra sauce. If you're using mushrooms or peppers, you can add them to the pan after you have removed the excess liquid and let them cook lightly.
Once your meat and veg are cooked, remove from heat and mix in the sundried tomato pesto and bruschetta mixes to your personal taste. Also, mix in the tomato puree. These mixes will flavour the meat and vegetables but not add liquid. Chop up the sundried tomatoes and add if using. Season to taste if needed.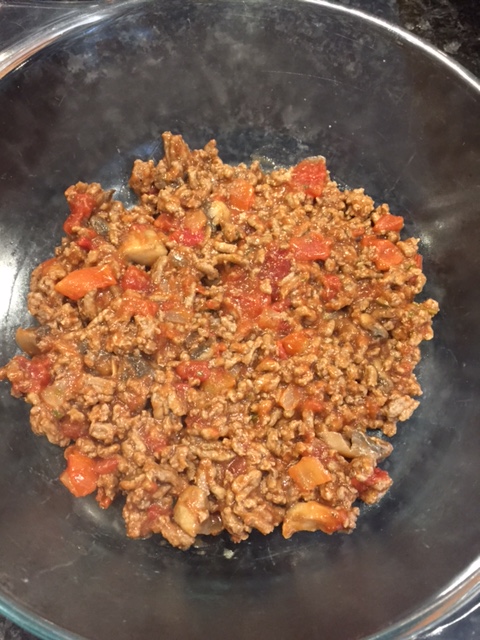 Mince and tomato mixture in base of dish
4. Put half the meat and vegetable mix into the bottom of the dish.
5. Cover the meat and vegetable mixture with the Doritos. Don't overload here.
6. Then cover the Doritos with the grated cheeses.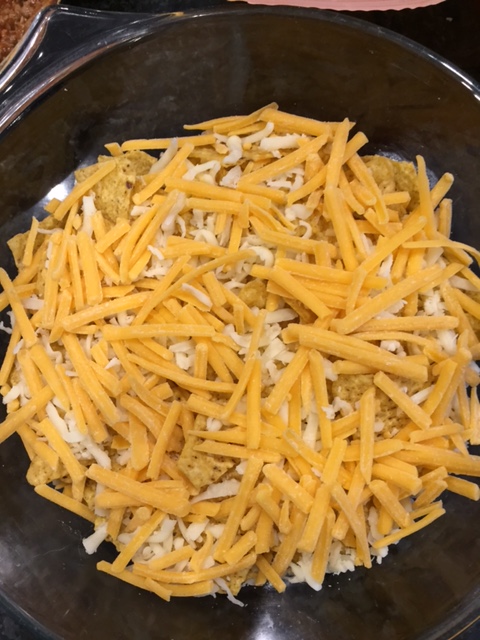 The first layer complete.
7. Cover this with one Corn Tortilla Wrap and press down well.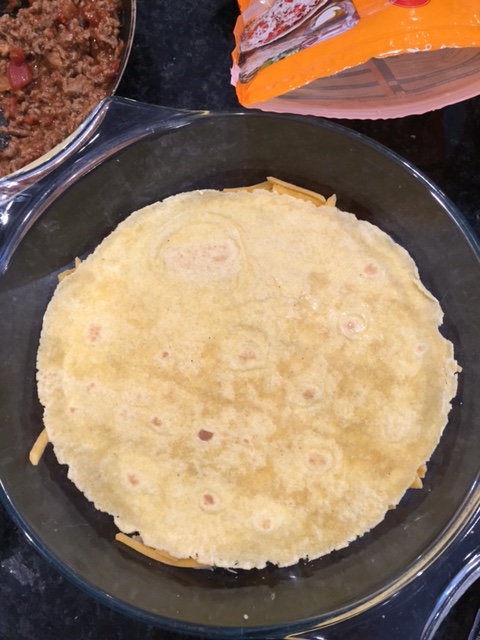 The Tortilla Wrap covering the first layer.
8. Then repeat once again with the mince mixture, Doritos and grated cheese. The completed layers mix should reach the top of the ovenproof dish.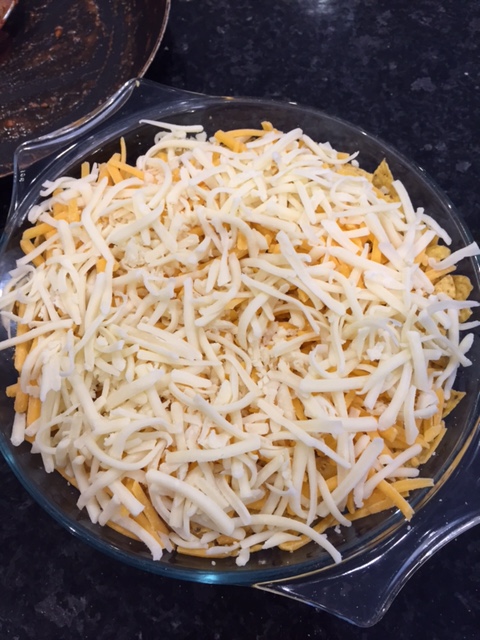 Ready for the oven, topped with Mozzarella
9. Place in the preheated oven for 25 minutes. Remove and slice to serve.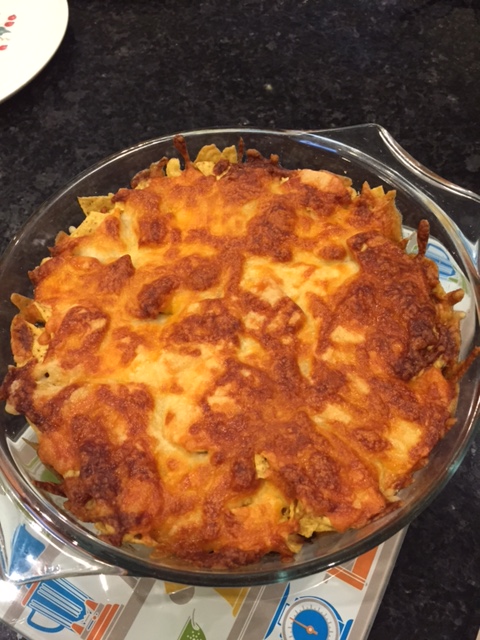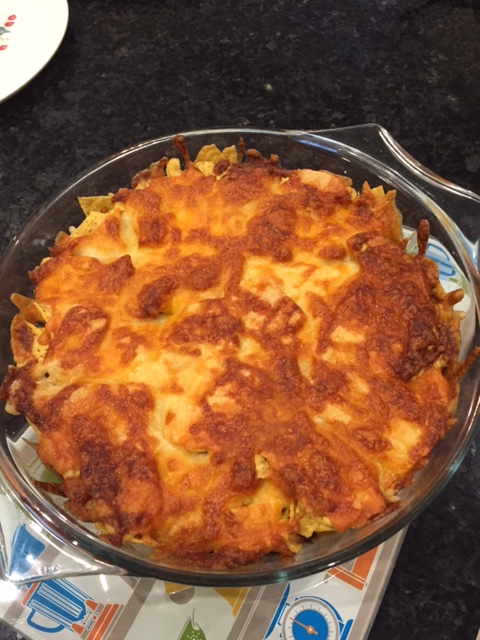 Out of the oven and ready to serve!
If you like your food spicy, then make your mince mixture into a chilli version and make as above. Add kidney beans for extra goodness!
A slice of yumminess: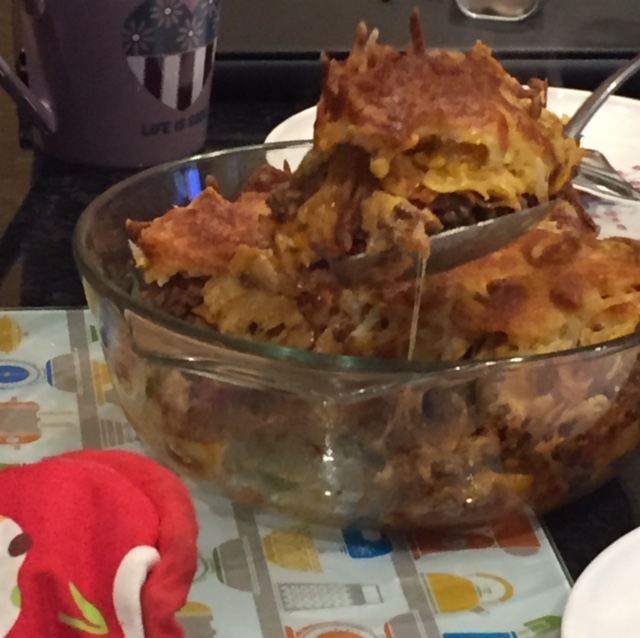 Bake with love!
Soraya x