You will be everyone's favourite when you make these fudgy, like a brownie, chocolatey cookies. They can be eaten straight from the oven for a pure heavenly experience or you can pop them, still on their tray, into the fridge to stop them from cooking further – this way, they keep their fudgy, squashy centres.
This recipe will make between 24/28 large cookies.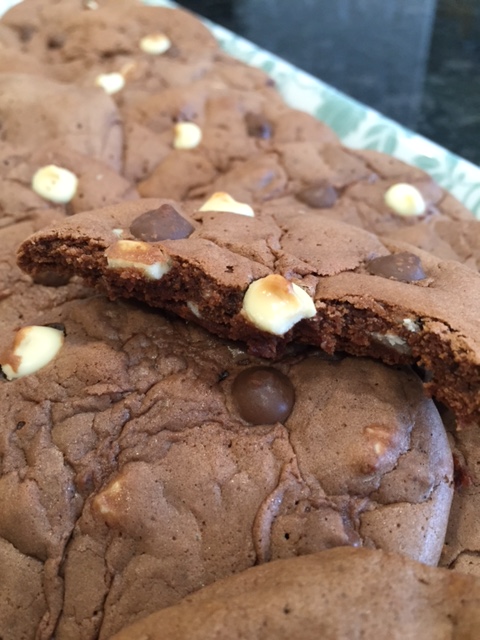 You use three different types of chocolate to give these cookies their great flavour but do make sure you use the type with the correct % of cocoa solids for perfect results.
Ingredients:
100g Bournville chocolate
150g dark chocolate, at least 70% cocoa
75g unsalted butter
180g caster sugar (I used 150g & it worked fine)
3 large eggs, whisked
1 tsp vanilla extract (I used vanilla bean paste)
125g plain flour, sifted
1/4 tsp sea salt
75g white chocolate, at least 25% cocoa, cut into chunks
50g milk chocolate, cut into chunks
Method:
Put the Bournville and 100g of the dark chocolate into a bowl with the butter and melt over a pan of simmering water. Leave aside to cool while you prepare the other ingredients.
Preheat oven to 190C and line two baking trays with non stick paper.
Now is the time to measure out the sugar, flour, whisk the eggs and cut the other chocolate into chunks. Once done, the chocolate mix will be cooled.
Using a mixer on high speed, beat the cooled chocolate mixture with the sugar for at least 2 minutes. Add the eggs and beat again on high for another 3 minutes. It's important to do this as getting lots of air into the mixture will give your finished cookies the brownie crust. Mix on high speed for the time listed above to get a perfect result!
Beat in the vanilla and then gently fold in the flour and salt. I use a large metal spoon. Fold in the white chocolate chunks and the rest of the other chocolate chunks. Do this gently so you don't knock out the air you've worked hard to get in.
Leave the mixture for about 5/10 minutes in a cool place (not the fridge) so it firms up a bit.
Using 2 tablespoons, place generous dollops of the mixture on the prepared trays and space them about 3cm apart as they spread a little. Put a few chunks of milk and white chocolate on top of each dollop.
Bake for approx. 10 minutes until the surface looks dry and flaky. Leave them to firm up for a few minutes and then transfer them to a plate. You can eat them straightaway now. If you're not eating them immediately, you can put the baking tray into the fridge at this stage to stop them cooking further and leave them for about 30 minutes. This will keep them squidgy 🙂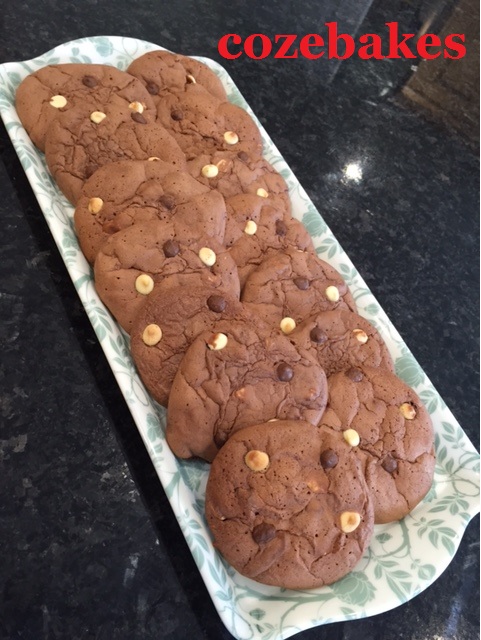 Bake with love as always
Soraya x