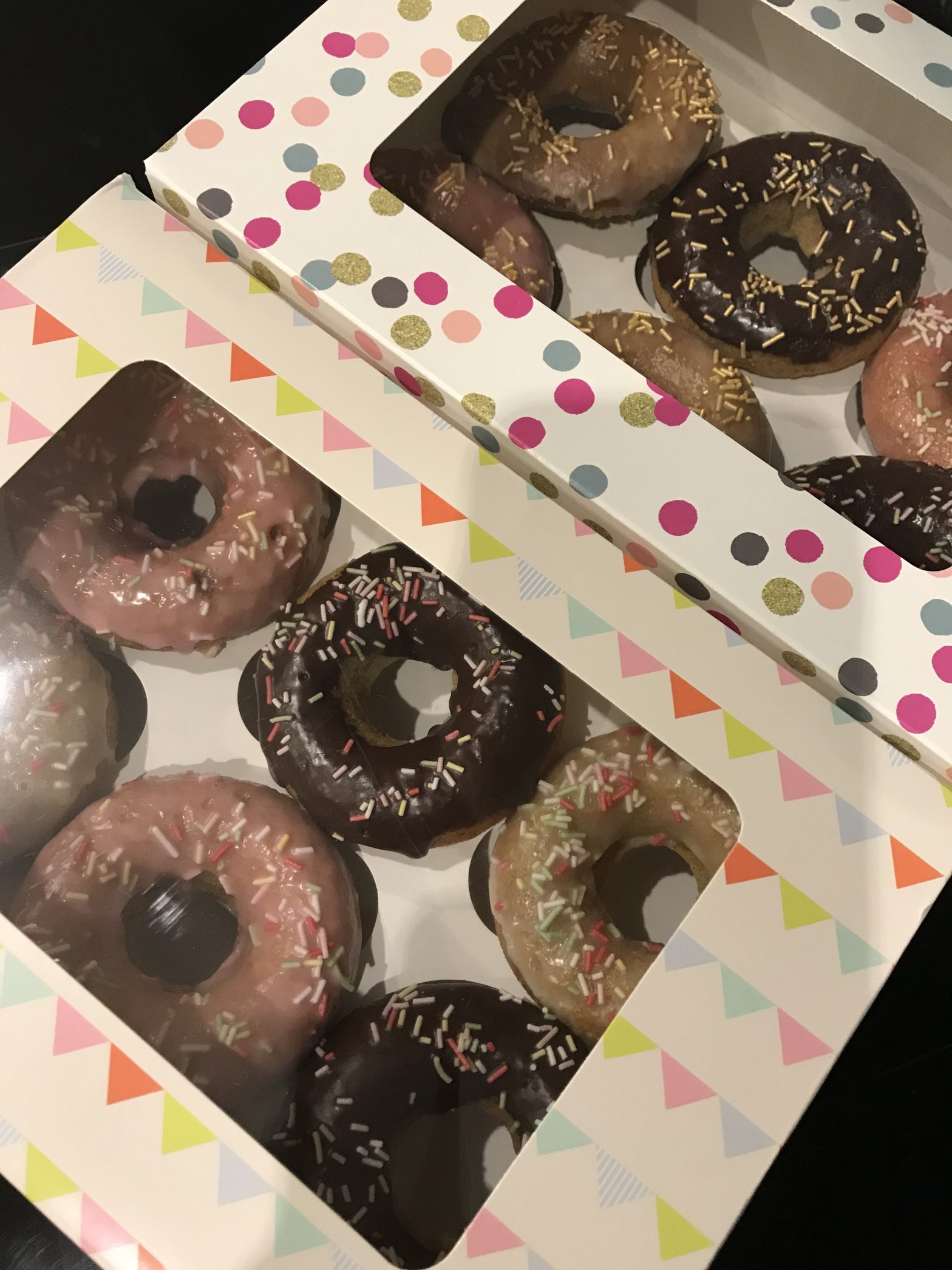 These baked doughnuts are a great alternative to the original fried ones which albeit are pretty delicious, they are heavy on the calories and fat! I used fat free natural yoghurt to make these. To decorate, I made a chocolate glaze and only covered the top of each doughnut with this but if they were for a party or special occasion, you can put most of the doughnut into the glaze mix to almost completely cover them and then dip into a bowl of your chosen sprinkles to finish off.
If you have kids, they will love decorating these!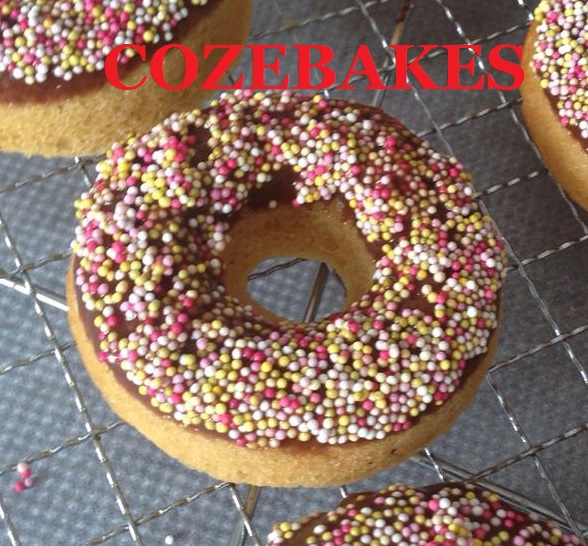 You will need a doughnut tin to get the exact shape and I got mine online but you could make them in a muffin tin if you were stuck but will need to bake them a little longer than the time stated below.
You should get 8/9 doughnuts from this recipe:
Ingredients:
125g plain flour
1 tsp baking powder
1/4 tsp ground nutmeg
1/4 tsp bicarbonate of soda
1 large egg
65g light brown sugar
60ml milk
60g Greek yoghurt (you can use sour cream or plain yoghurt)
30g unsalted butter, melted
1 and 1/2 tsp vanilla extract
Method:
Preheat oven to 180C and spray the tin with non stick spray. If you don't have the spray, melt a little butter and brush all over the tins to grease well.
Whisk the flour, baking powder, bicarbonate soda and nutmeg together in a bowl and set aside.
Whisk the egg, brown sugar, milk and yoghurt together until smooth. Add the vanilla extract and melted butter and whisk till it's fully combined.
Pour the wet ingredients into the dry ones and stir until just combined. Don't overmix or it will result in tough doughnuts. The batter will be quite thick and that's ok.
Spoon the batter into each doughnut ring but it's easier to pop the batter into a zip lock style plastic bag, snip a small corner off and pipe into each cup. Fill about half way to three quarters. You can see from the picture below the batter in the tin but these were filled a bit too much so a little less than this and it will be perfect.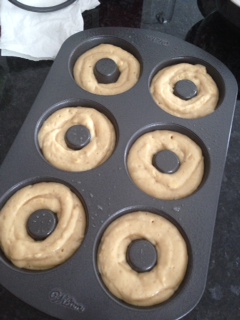 Don't fill quite as much as this for perfect results!
Bake for 9/10 mins or until lightly browned. Remove from the pan and bake the rest of the batter. Allow them to cool before frosting.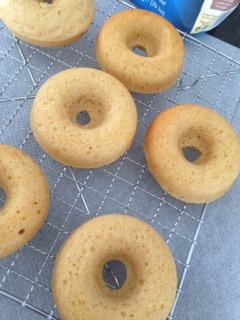 You can see what happens when you overfill the tin. The doughnut hole is reduced in size so better to under fill for great results.
I mentioned a chocolate glaze above and here's the recipe for it.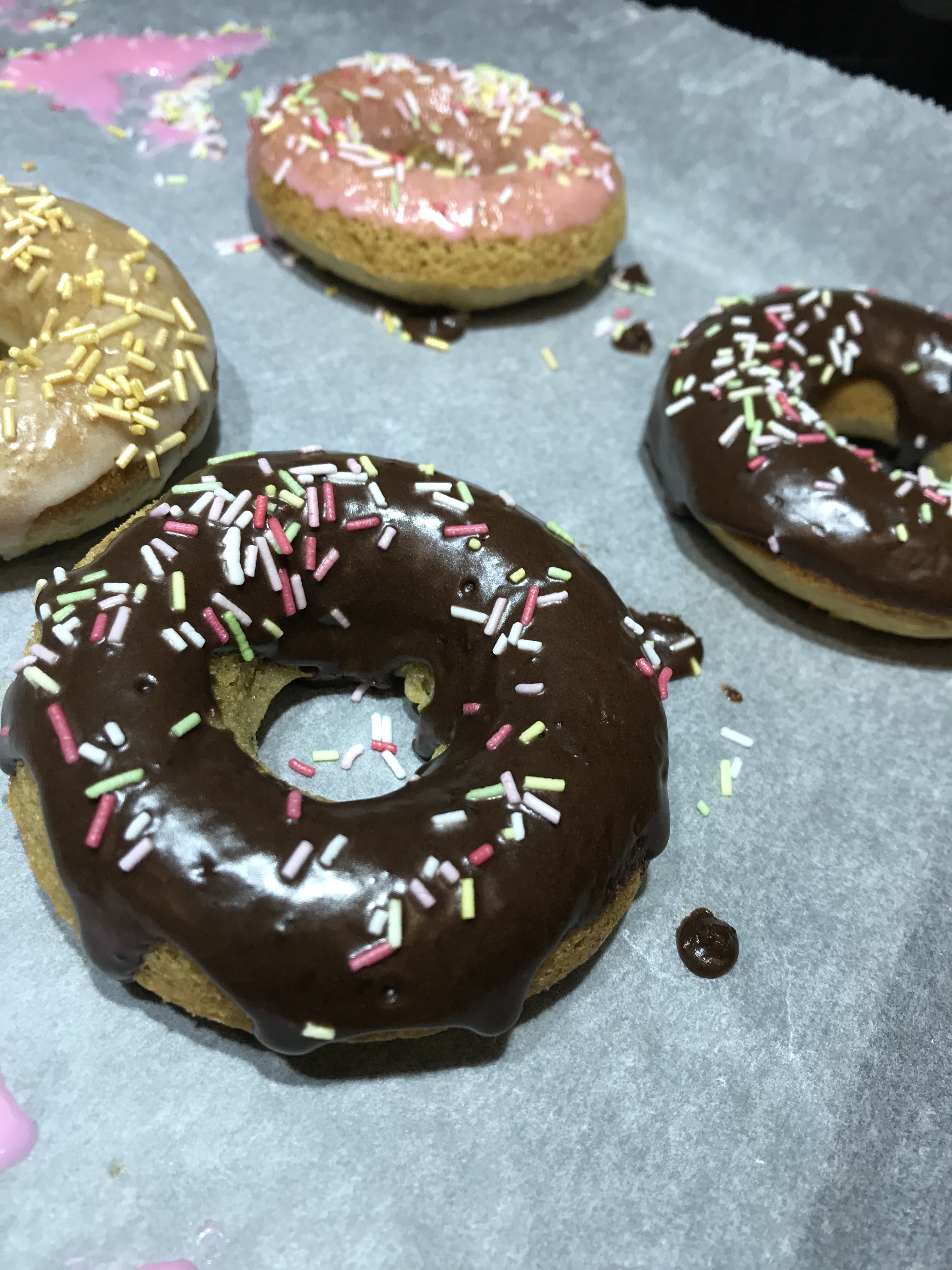 To make the chocolate glaze: Put 90g chocolate chips, 30g unsalted butter, 2 tsp golden syrup, 2 tsp water into a medium sized microwave safe bowl and melt for 20 seconds at a time. Stir each time until it's completely melted and smooth. This results in a lovely shine perfect to top off your doughnuts. Remember to place some parchment under the wire rack to catch the chocolate while they set.
I also use a Maple Syrup Glaze which is just soooo good!. It's 175g icing sugar mixed with 2 tbsp. milk, 4 tbsp. Maple Syrup and 1 tsp vanilla extract. You may need to add a little more icing sugar to get a thicker result so it coats the doughnut fully.
Of course you can make normal icing with icing sugar and water. If you have gel dye colours, add a teeny bit for lots of fun iced doughnuts. Perfect for parties.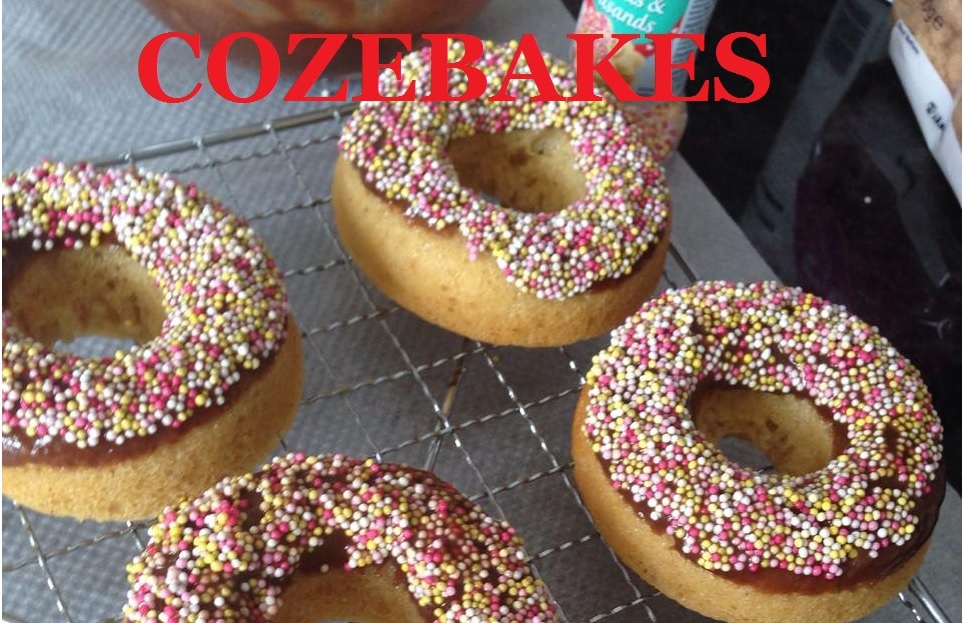 A little tip is that you can freeze these doughnuts, once completely cooled and un-iced for up to 2 months! When you need them, just take out of the freezer for 24 hours and ice them when you are ready.
Bake with love!
Soraya x