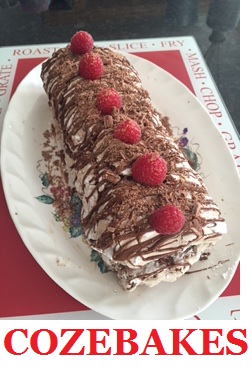 A great recipe to make beforehand and depending on the filling, can be frozen and let defrost when needed. I made a buttercream filling and kept it in the fridge overnight but it would be perfect with cream and the addition of your favourite berry swirled through. If you choose cream, then it would need to be eaten on the same day.
It's relatively simple so don't be afraid of the rolling. No meringue roulade is ever perfect or free of cracks so go ahead and roll away for your own special version of this classic dessert. The bonus of course is that there's no flour used so it's a perfect gluten free recipe.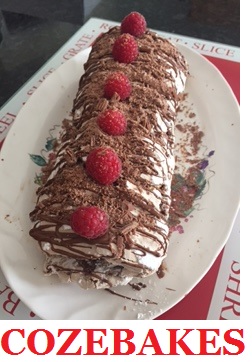 The first step always to prepare when using egg whites is to wash out your bowl with boiling water and dry so you remove any traces of grease. It will help to produce the perfect whisked egg whites.
Grease and line a 36cm x 26cm baking tray with non-stick paper. Make sure to use good, non stick parchment for this. Preheat your oven to 130C
Ingredients:
5 egg whites, large
2 tsp cornflour
225g caster sugar
2 tbsp. cocoa powder
For the filling, you can use fresh cream and raspberries but this will need to be eaten on the same day.
Alternatively, if you want to make up buttercream and flavour either with vanilla or cocoa, then you can wrap it up and freeze or leave it overnight in the fridge.
Method:
Whisk the egg whites with the cornflour until the mixture becomes foamy.
While the whisk is still going, add the caster sugar, one tablespoon at a time until it's all been added and the mixture has become thick and glossy.
Whisk in the cocoa powder until it's all combined.
Transfer your mixture to the prepared tin and level it out making sure to push into the corners of the tin so you get a good level result.
Bake in the oven for an hour. The top should have a crust but underneath should be marshmallowy (is that a word?) so you can roll it.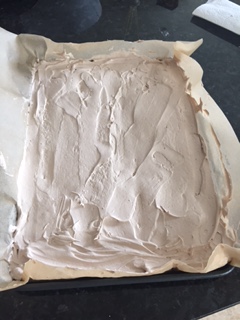 Remove from the oven and leave it to cool completely in the tin.
Once it's totally cooled, lay out a sheed of baking paper and dust it with icing sugar. I tend to sift it on so there won't be any lumps. Carefully turn out the meringue onto the parchment and gently peel away the paper.
Make a little indent about 1.5cm in on the short end of the meringue and flip this over to start the roulade roll.
Take a hold of the end of the baking paper that the roulade is placed on and use it to roll up the roulade gently coaxing and rolling as you go till you get to the end.
Once rolled, wrap the roulade in the baking paper in it's log shape and chill in the fridge for an hour. If you are using fresh cream, unwrap when ready to serve, sprinkle with cocoa powder or more icing sugar and decorate with broken Flake pieces and fruit of your choice.
If you have used buttercream, the roulade can stay in the fridge overnight or can be frozen for another day. When ready to serve, take it out and defrost it and garnish as you like.
I melted some chocolate and drizzled back and forth across the roulade and decorated with fresh raspberries. I also crushed 2 Flakes and used them on top of the buttercream before rolling and over the finished roulade.
Impress your guests with this lovely recipe and bake with love
Soraya x