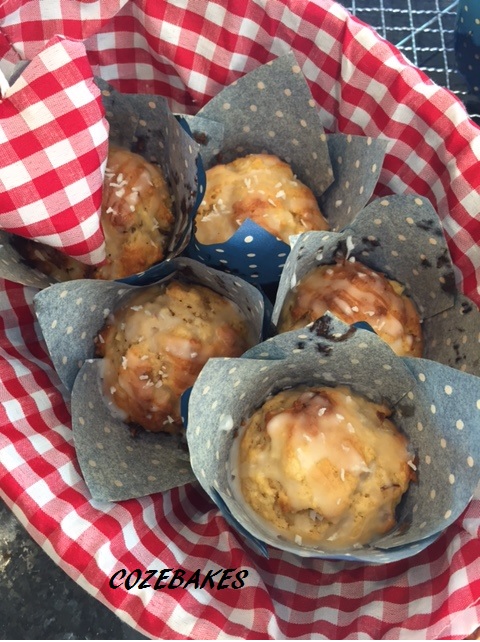 Definitely one of my most favourite flavour combinations, I am always drawn to anything that combines apples and cinnamon. Throw in pecans and I'm hooked. A mixture of apple, pecans and coconuts give these cinnamon spiced muffins a fabulous texture and flavour. They are light and the little bite of tart apple is just perfect!
I spotted this delicious recipe in a U.S. magazine and had to make it as soon as I got home. Literally from start time to eating time, took 1 hour and 20 mins and that included getting ingredients out, bowls and cooling time. I had all the ingredients at home and what I didn't have, I substituted and it all worked out very well.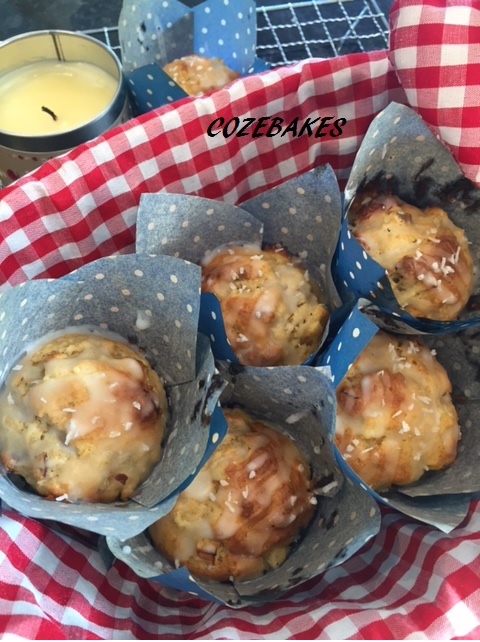 I made the mistake of using my tulip muffin cases but the mixture doesn't make enough for these and you're better using standard muffin cases or you can grease your muffin tin. As it's originally an American recipe, the ingredients are given in cup measurements. I've given these and the appropriate metric conversions in brackets. Use one or the other but don't mix them.
Please note the converted gram amounts are approximate
Preheat oven to 200C / 400F and place 11 cases in a muffin tin.
Ingredients:
1/4 cup butter, softened (57g)
1/3 cup caster sugar (43g)
2 tbsp. brown sugar
1 egg (I used a large egg)
1/2 cup milk (118 ml)
1 + 1/2 cups plain flour (192g)
2 tsp baking powder
1/2 tsp salt
1/2 tsp ground cinnamon (I had none so used Allspice)
1 medium cooking apple, peeled and finely chopped
1/2 cup chopped pecans (you can toast these if you like) (40g)
1/4 cup flaked coconut (I used desiccated coconut) (20g)
For the Glaze:
1 cup icing sugar (120g)
1 – 2 tbsp. unsweetened apple juice (I used the juice from half a lemon)
Method:
In a large bowl, cream the butter and both sugars until light and fluffy. Don't be in a hurry with this. It's important to give this at least 3/4 minutes so your muffins turn out light and fluffy.
Beat in the egg.
Stir in the milk with a wooden spoon.
In another bowl, combine the flour, baking powder, salt and cinnamon so it's well dispersed. Add to the liquid mixture until just moistened. This will take about 6/7 turns at the most.
Fold in the chopped apple, pecans and coconut (you only need to have about 4/5 turns so as not to create a dense muffin)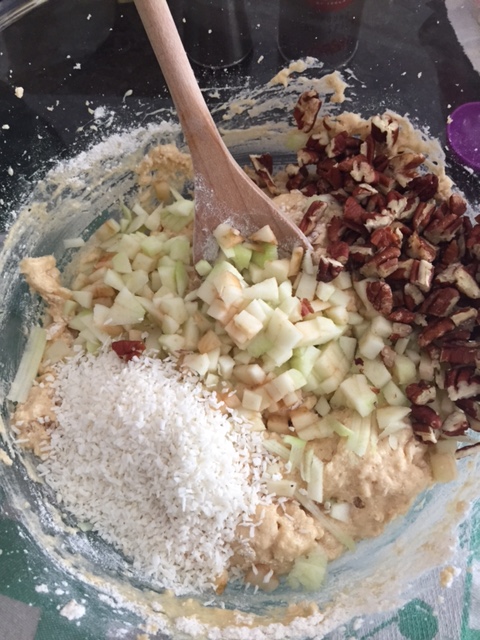 Using an ice cream scoop, fill each muffin case about 3/4 full.
Bake for 15 – 20 minutes or until a toothpick near the center comes out clean. Mine took 17 minutes.
Cool for 5 minutes in the tin before removing to a wire rack to cool.
Combine the two glaze ingredients until smooth and drizzle over the warm muffins.
You can sprinkle some extra desiccated coconut over the top if you like.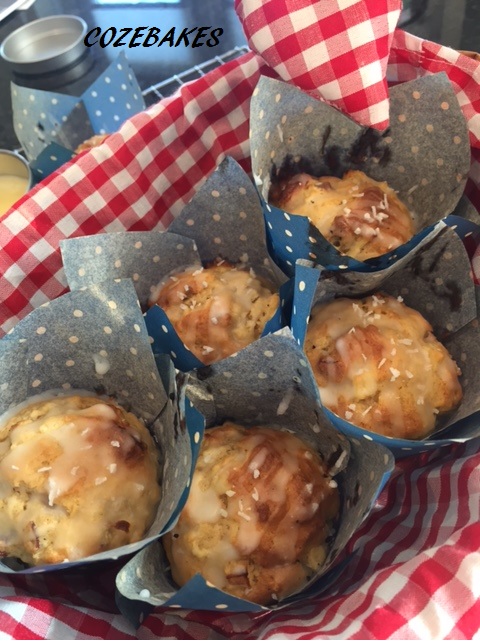 Baked with lots of love!
Soraya x