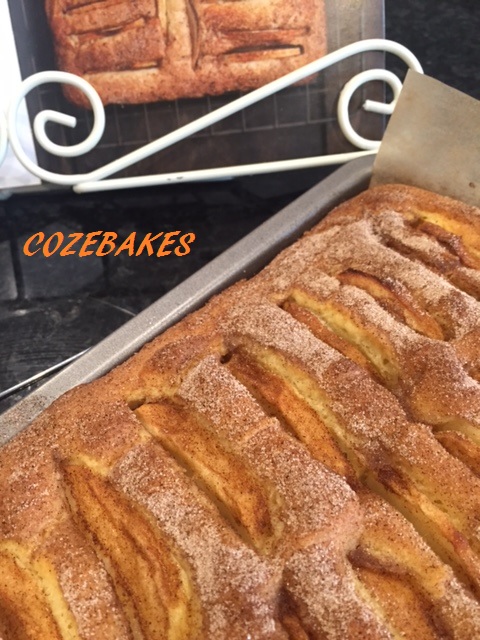 I could wax lyrical about this amazingly comforting and delicious Cinnamon Apple Cake but it does all the talking for itself. Considering it's a gluten free recipe, the lightness and moistness of the cake is such a welcome surprise.
I reduced the original sugar quantity as ground almonds are quite sweet and the totally delicious cinnamon sugar topping is heavenly and doesn't need extra sweetness to fight with it.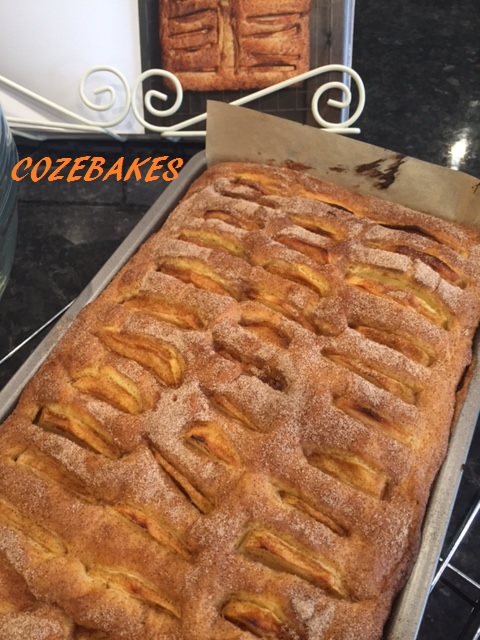 Read on for a real comfort food experience …
Traybakes are just so efficient and easy. I love them and this Cinnamon Apple Cake is top of my favourite list. You should have most of the ingredients already in your kitchen.
Grease and line a 20cm x 30cm tray and preheat oven to 200C / 180C for fan / Gas 6
Ingredients:
150g soft butter
150g sugar
3 eggs
1 tsp vanilla bean paste
200g gluten free self raising flour
1 tsp xanthan gum
1 tsp gluten free baking powder
2 tbsp. cold water
50g ground almonds
2 medium sized cooking apples, peeled and cut into thin wedges
For the topping: 2 tbsp. caster sugar and 1 tsp ground cinnamon
Method:
Beat the butter and sugar together until light and fluffy. Don't shortcut this stage. It's vital for a light sponge so spend at least 2/3 minutes beating the butter and sugar on a high speed.
Add the eggs, one at a time and beat between each addition.
Then add in the vanilla bean paste, gf flour, xanthan gum, gf baking powder, water and ground almonds. Fold in gently – I use a large metal spoon to try and keep as much air in as possible.
You get quite a thick batter once everything is mixed in. Spoon into the prepared tray and spread out evenly with the back of a spoon.
Press the apple wedges into the cake batter. Mix together the sugar and cinnamon and sprinkle all over the top of the cake.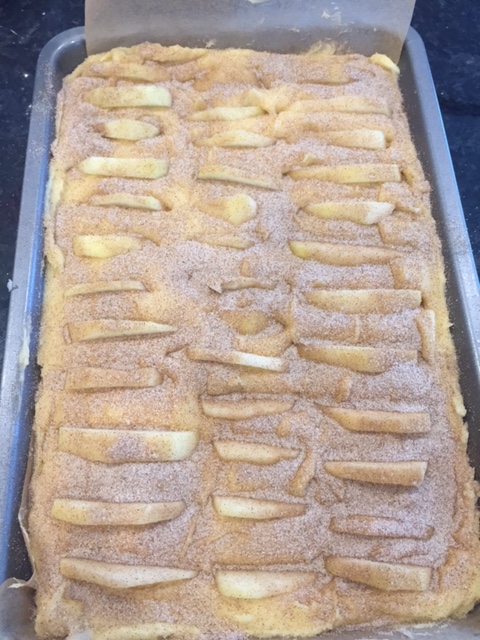 Ready for the oven. I left overhang of parchment at both ends for easy lifting once cooled.
Bake for 30 mins until it's golden brown and a cake tester comes out clean.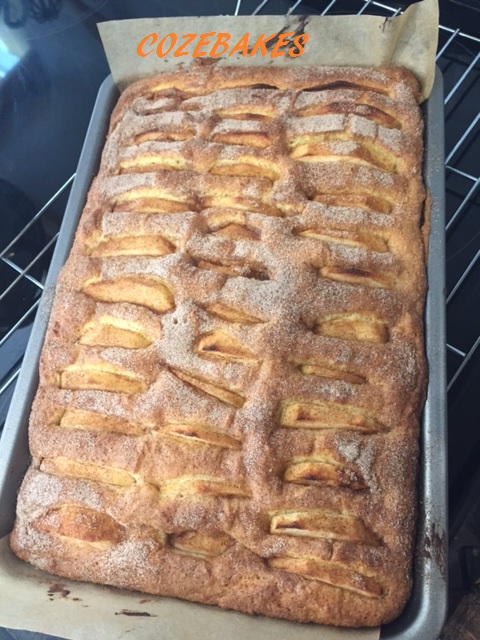 Leave to cool in the tin and then cut into slices.
Then the only real decision you have to make is … custard or cream! 🙂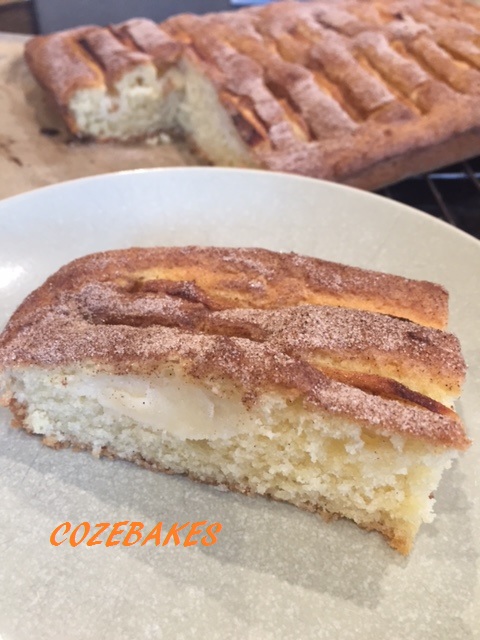 Baked with lots of love
Soraya x