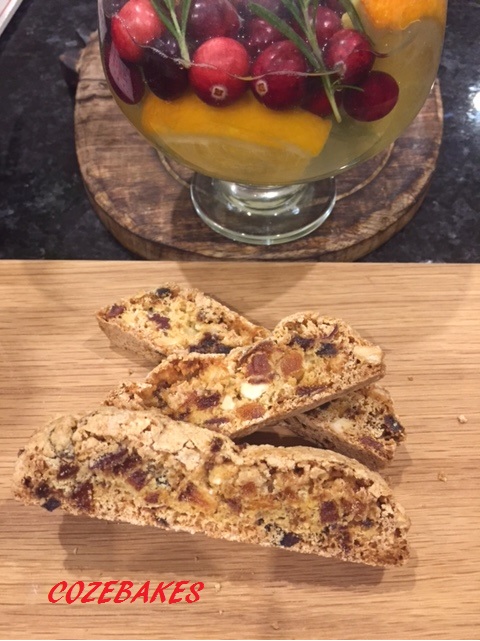 Biscotti are different from other biscuits in that they are baked twice so they dry out and are very crispy. Don't let this put you off making them though as it's a simple process just with one extra step.
Traditionally they are dipped into dessert wine but are equally delicious dipped into a cup of coffee.  Once made, they will keep for a couple of months if you store them in an airtight container. Nice! They make ideal gifts to give as they look so lovely in a cellophane bag tied with festive ribbon.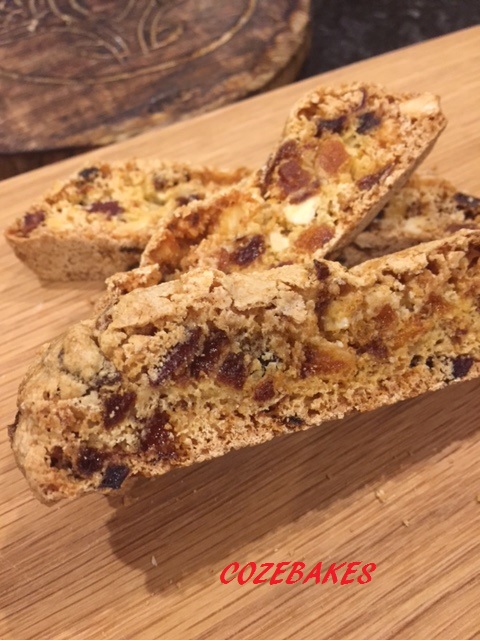 The wonderful thing about Biscotti is you can add in or take away whatever ingredients you want yourself. Personally, I feel they only need a small amount of sugar as using lots of dried fruit adds a lovely sweet taste to the finished biscuit but that's up to you. This recipe should make approx. 25/30 biscuits.
Ingredients:
250g plain flour
250g demarara or light muscovado sugar (I only used 170)
1/2 tbsp. baking powder
3 large eggs, lightly beaten
100g dried apricots, chopped**
50g sultanas
50g pitted dates, chopped
50g dried cranberries
50g whole blanched almonds, chopped**
50g whole pistachios, chopped**
Zest of 1 lemon (you can also use orange zest)
Method:
Preheat oven to 180C / 160C Fan / Gas 4
Mix the flour, sugar and baking powder in a large bowl.
Beat the eggs together in a small bowl. Add these bit by bit to the flour mixture using a wooden spoon to incorporate them. You may not need all the egg so don't add it all in. Keep a bit at the bottom of the small bowl.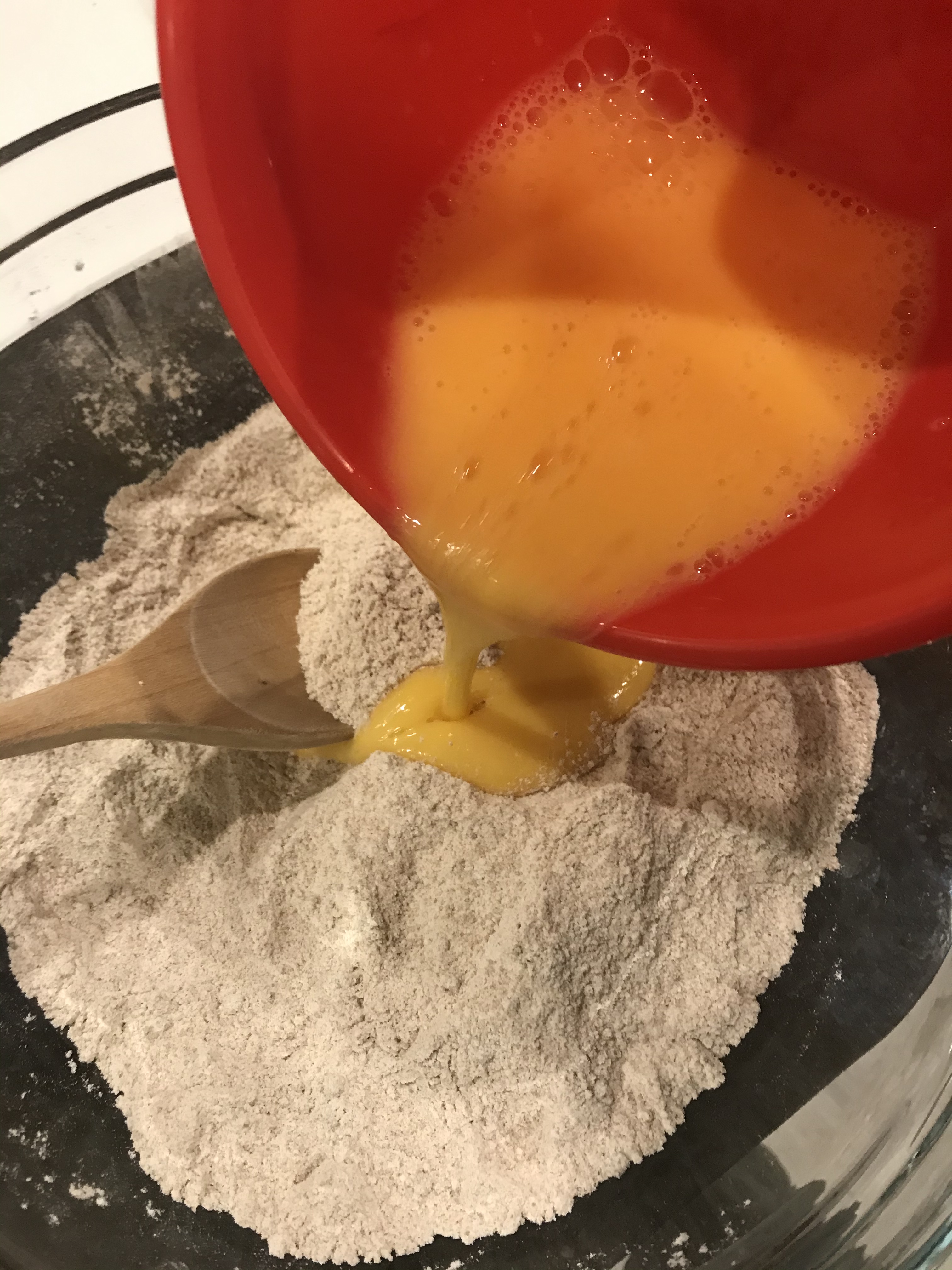 The dough will look very dry at first and then becomes soft quite quickly which is why it's important not to add all the egg at the above stage.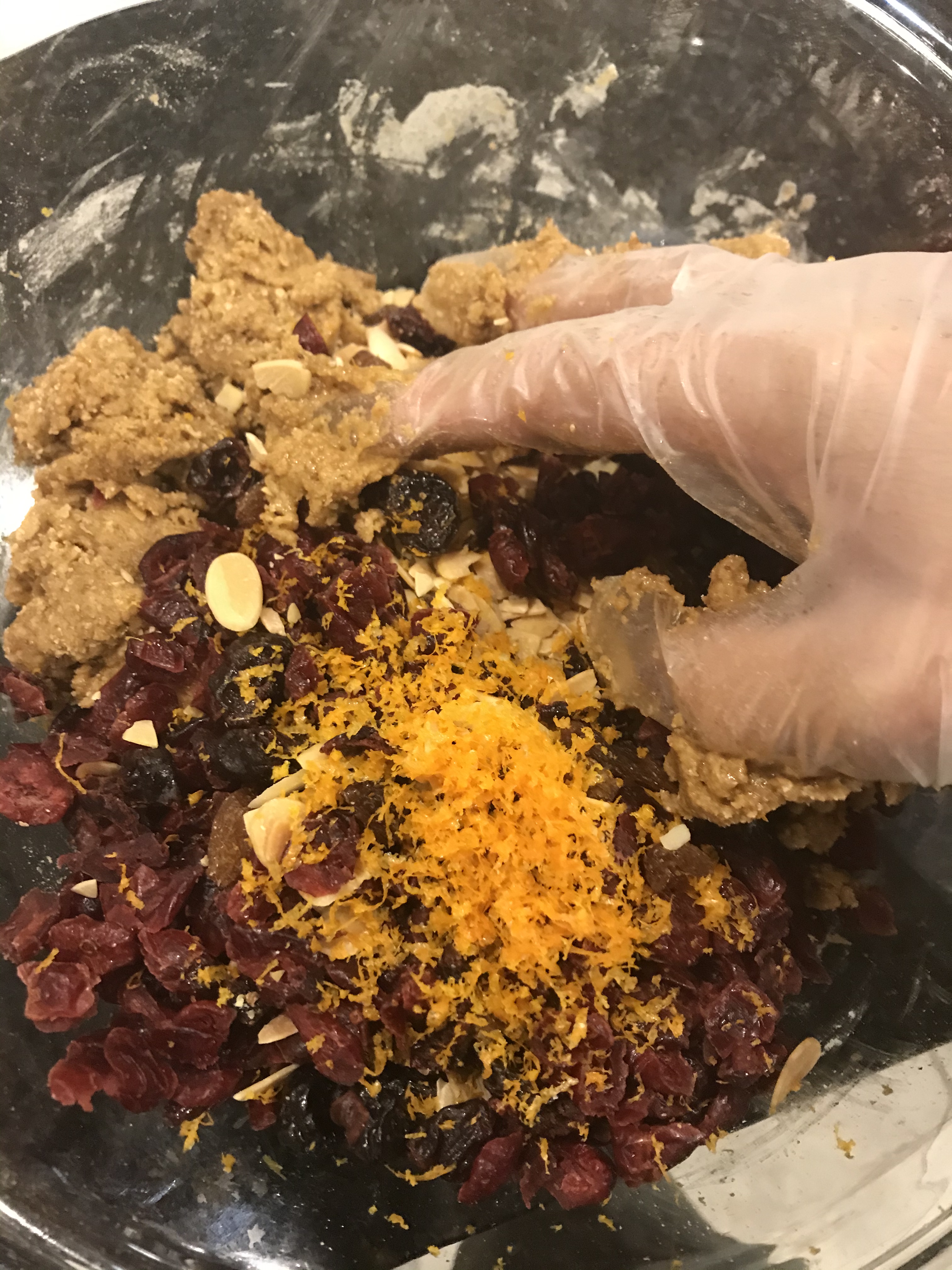 Add in your chosen fruit, nuts and lemon zest and knead these into the mixture.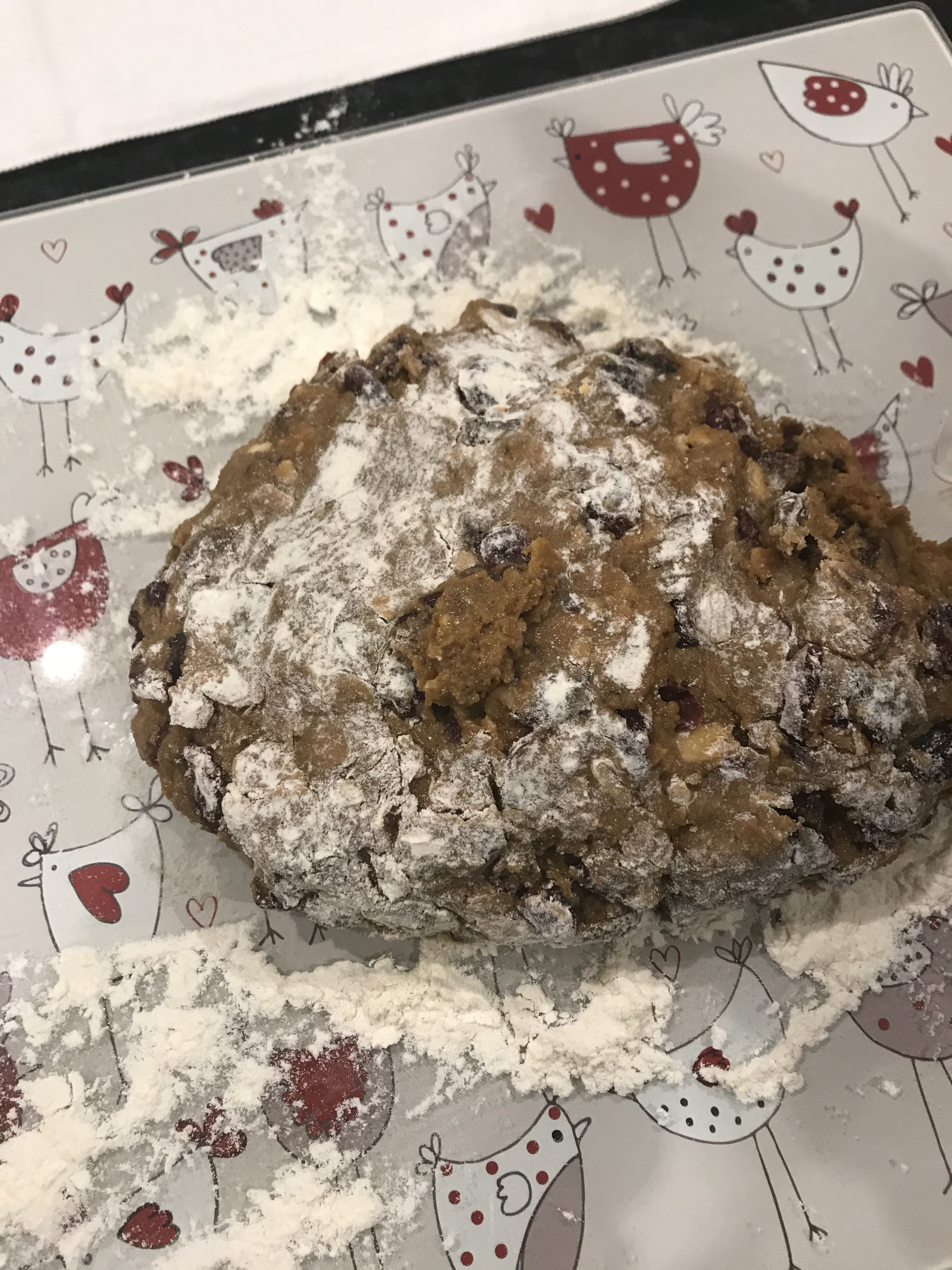 Flour your work surface well and place the dough out. Divide this into 3 and roll into a sausage shape about 3 to 4 cm in diameter. Place on a baking tray lined with parchment and leave some space for spreading. Very lightly flatten each roll with your hand.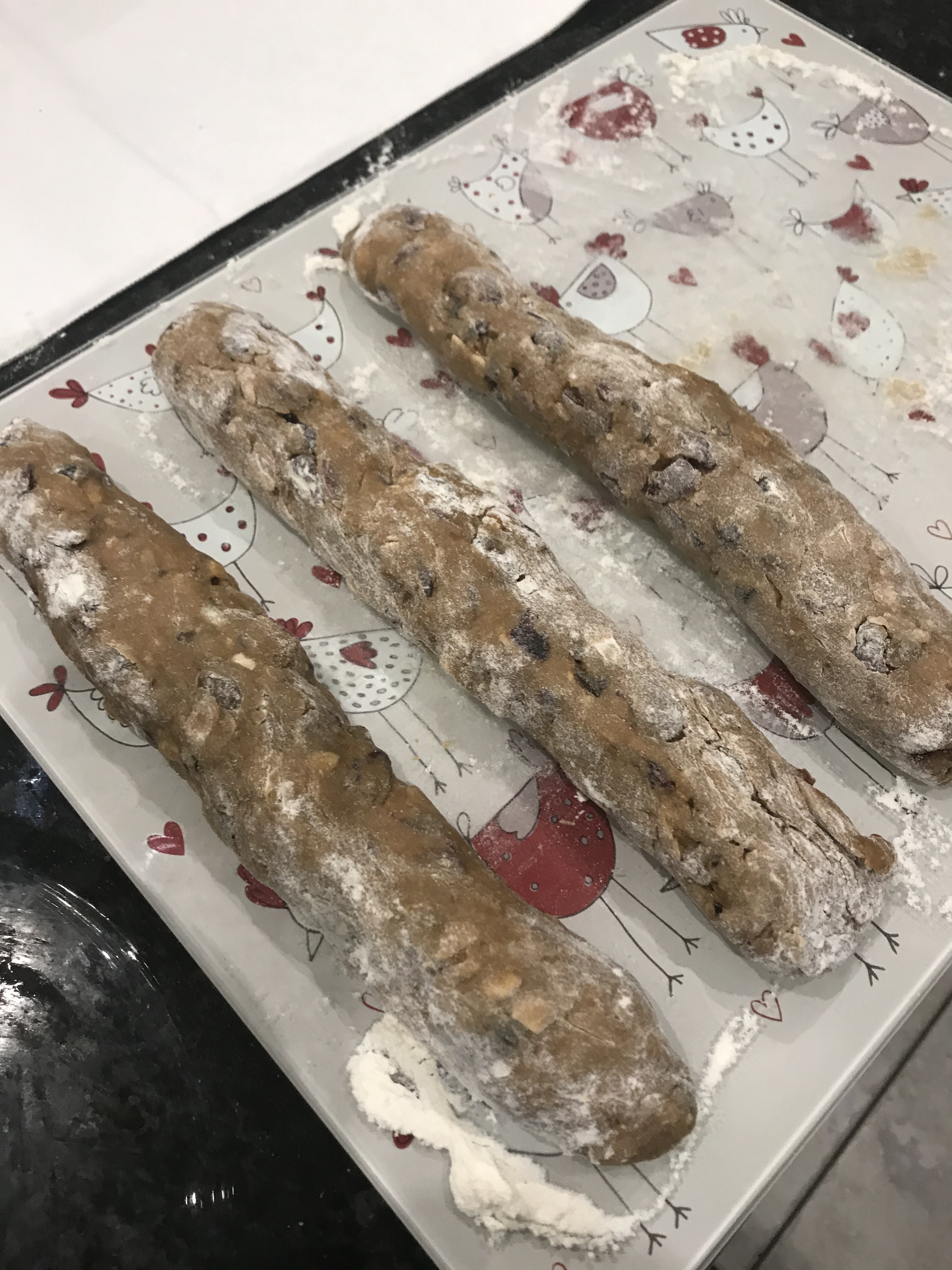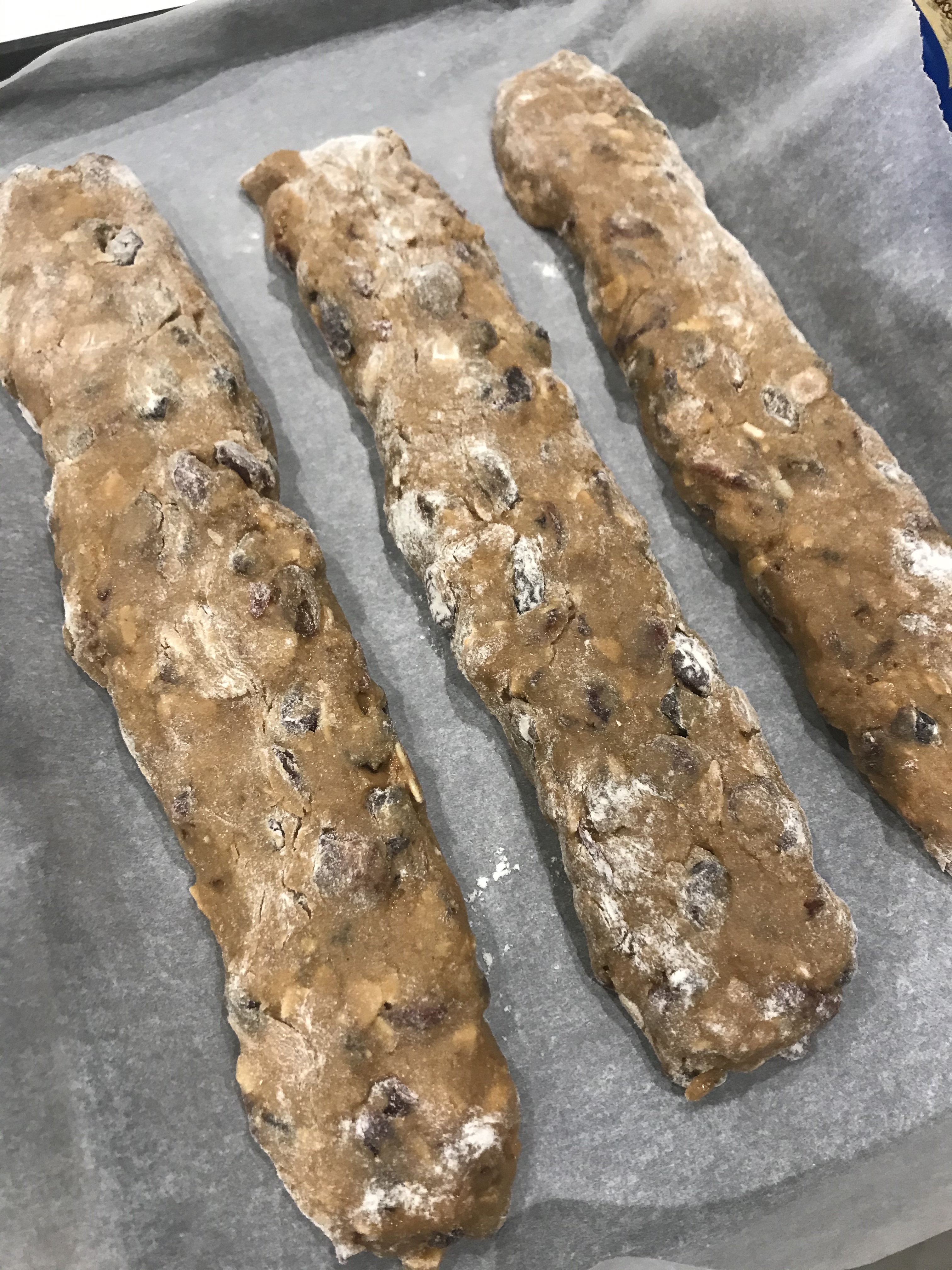 Bake until golden brown, which takes between 25/30 minutes. Remove from the oven and leave for 10 mins to cool and firm up. Don't be tempted to cut it now. The dough does spread a bit when baking which is what you want so don't be alarmed at the shape it comes out 🙂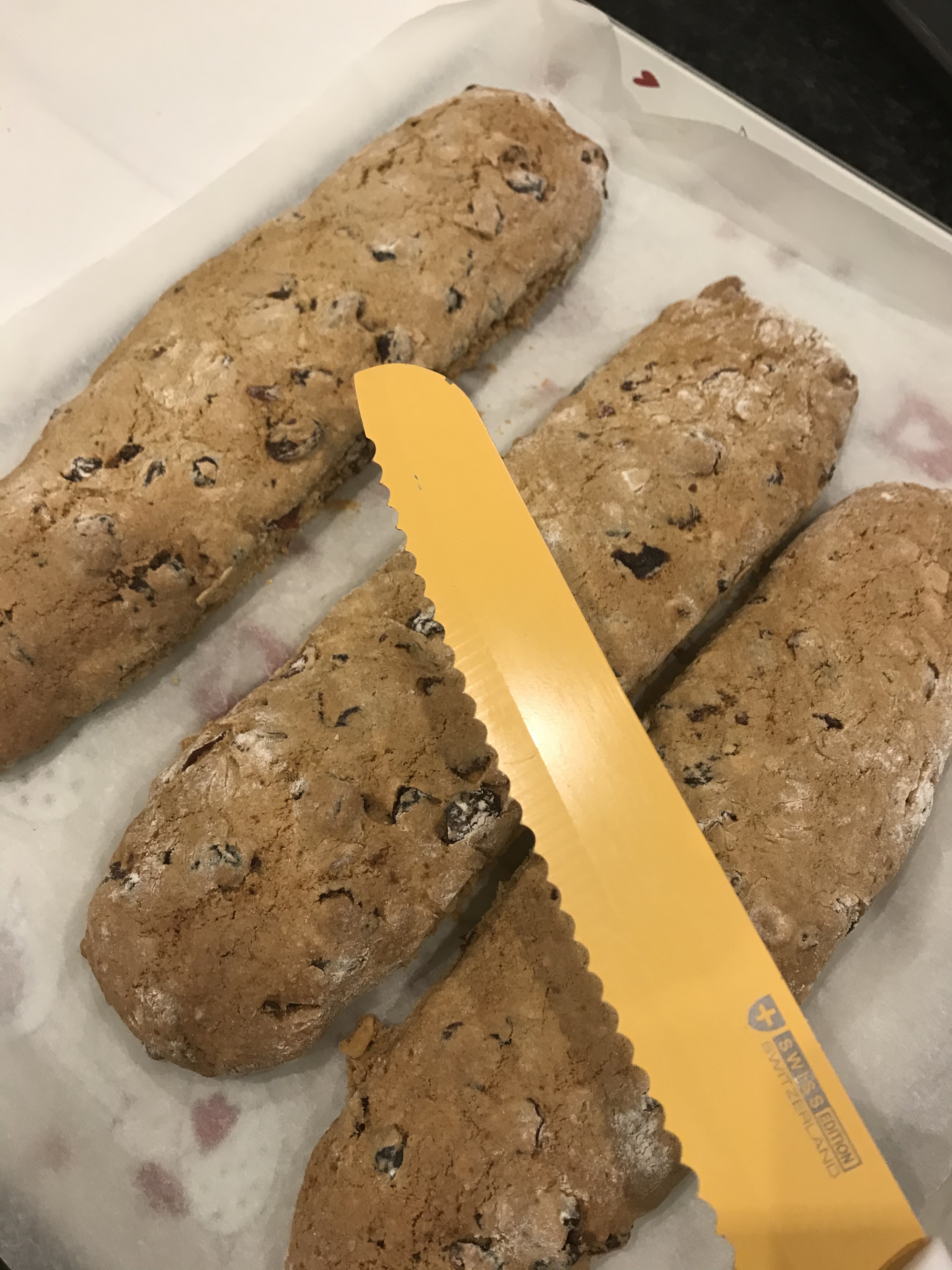 Reduce the oven to 140C / 120C Fan / Gas 1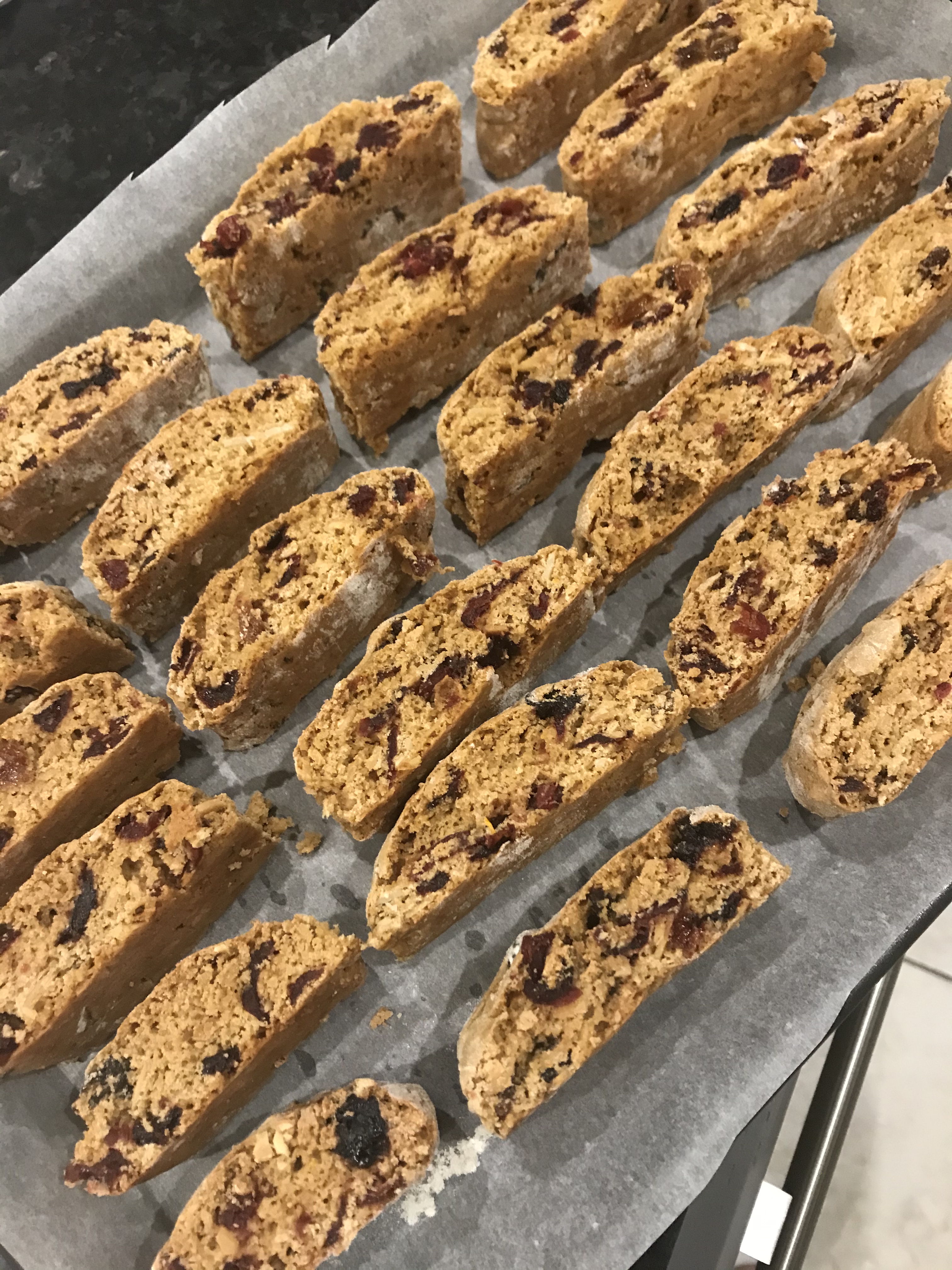 Gently remove the baked biscotti from the tray and place on a chopping board. Using a large serrated knife, cut the biscotti into approx. 5mm slices and lay them side by side on the baking tray. Return them to the oven for a further 10 minutes, turn them over and bake again for another 10 minutes until they turn pale golden in colour. Don't let them get dark!
Remove and cool on wire racks and then store in an airtight container. The biscotti go hard when cold.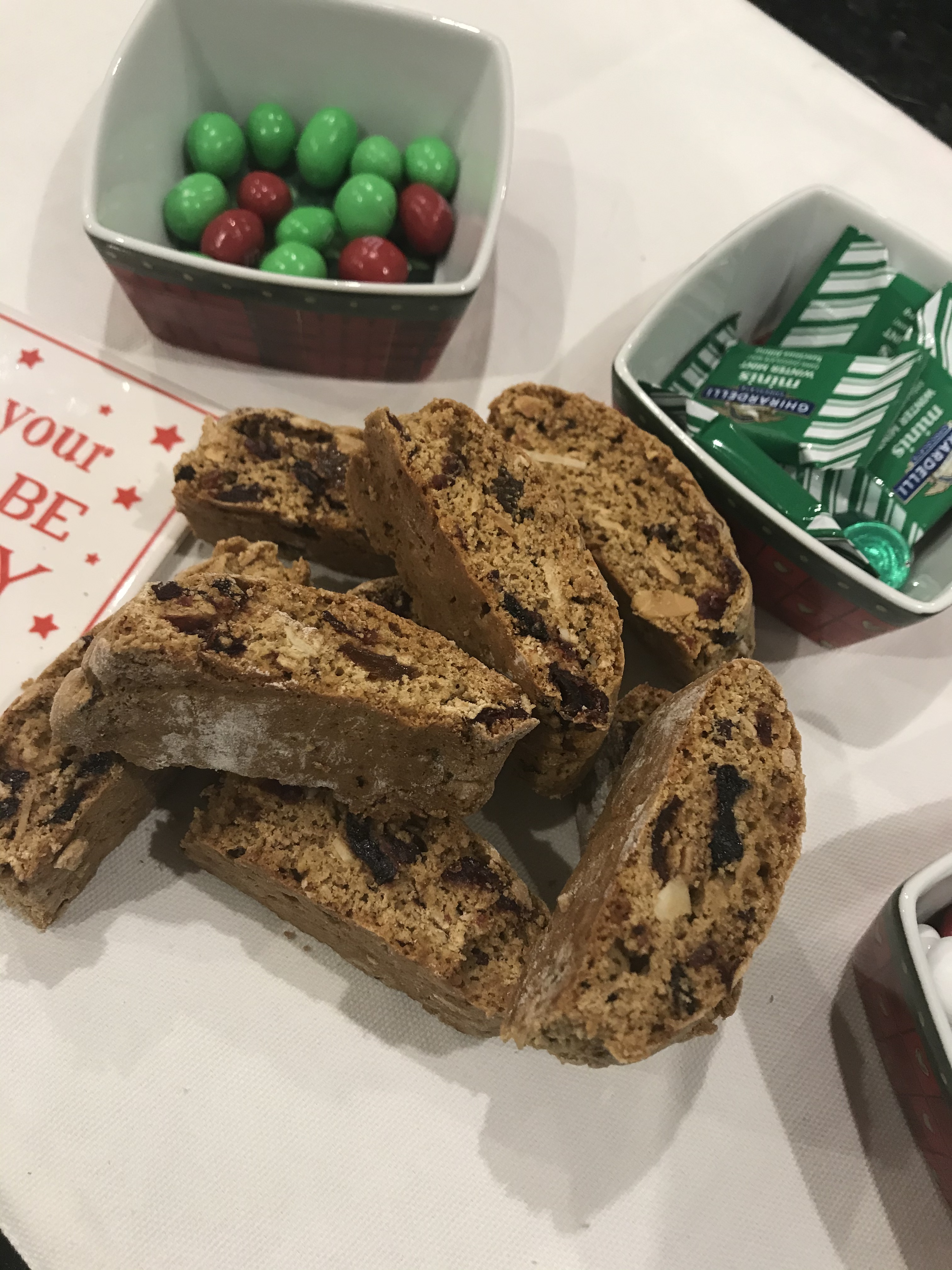 I love mine with cranberries and pistachios but up to you to add or take away from the ingredients with ** above.  Remember if you remove one of the dried fruits, add or increase another to have equal weight.
** Optional
Not just for Christmas! Using different dried fruits, these Biscotti biscuits will be lovely crushed over ice cream in the summer 🙂
Bake with love as ever
Soraya x