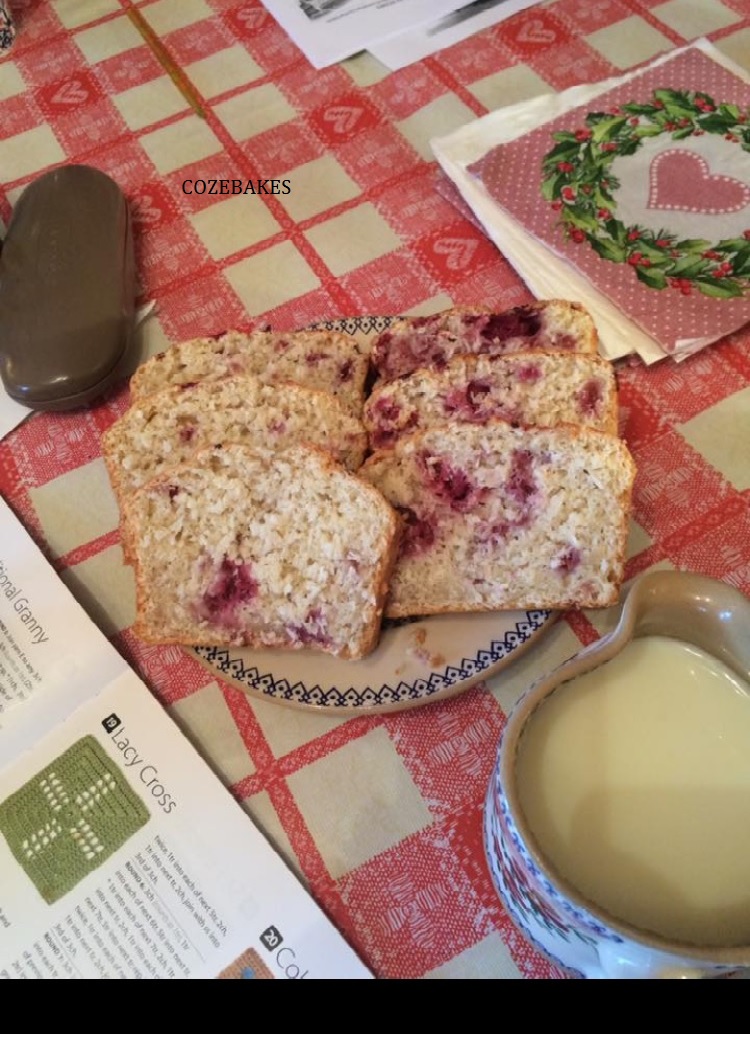 I've had this recipe in my virtual back pocket for a while now just waiting for the right time to make it. Everything about it just smacks of nostalgia, tea time, quaint vintage vibes and I didn't want it to go to waste.
So when I joined a new group of lovely crochet loving ladies, I knew immediately what to bring along and it was perfect! The recipe yields a 2lb loaf size and it's quite dense hence the loaf in the title and not cake. It calls for frozen raspberries which I always have in the freezer and I think the next one will be made using the bag of frozen mixed berries I have. It needs nothing more than a light dusting of icing sugar and that's really only for a bit of extra flourish and why not!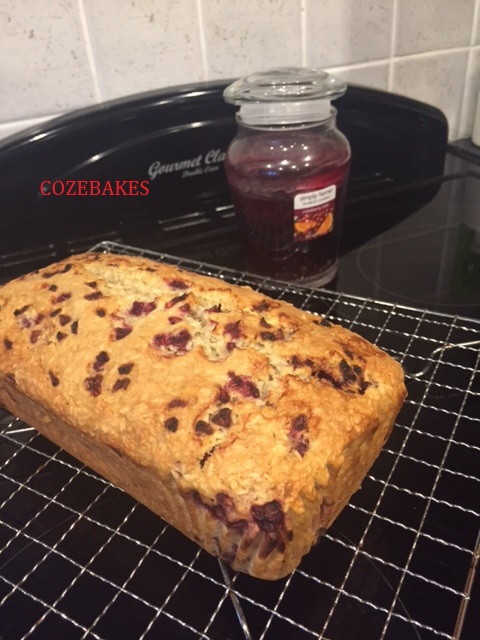 Now when I say this recipe is easy, I really mean it. You literally needs 30 mins of soaking and a metal spoon to mix. That's it. Really that's all it takes. As there's no butter called for, it's a dairy free recipe which is an added bonus and I used a mixture of half almond milk and half coconut milk just so I wouldn't overpower the entire taste with coconut. Seemed to work out well.
So you can line the base and sides of a 2lb loaf tin or just use a pre cut liner and preheat the oven to 170C or 160C for fan.
The original recipe was given in cup measurements so I've adapted it to grams except for the liquid which I left as it was given.
Ingredients:
160g desiccated coconut
1 1/2 cups coconut milk or combination of almond and coconut
180g caster sugar (less if you want)
1 egg slightly beaten
1 tsp vanilla extract
215g self raising flour
100g frozen raspberries
Method:
Combine the desiccated coconut and the coconut/almond milk in a large bowl and cover. Leave to stand for 30 mins while you prepare the other ingredients as it literally takes 5 mins after this stage!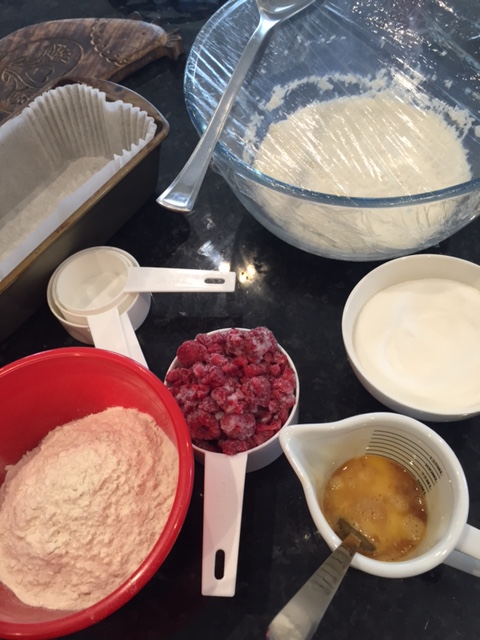 After 30 minutes, use a large metal spoon to stir in the sugar, the beaten egg and vanilla extract and combine them well.
Sift in the flour and gently stir until it's all well mixed together then finally fold in the raspberries.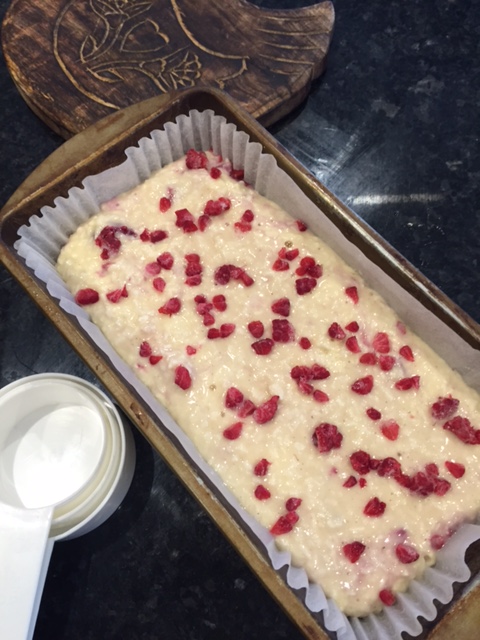 Spoon the mixture into the tin and bake for 1 hour and 10 mins. Check with a skewer and if it comes out clean, it's ready. Otherwise leave in for another 5 mins. Cool the loaf in the tin for a good 15 mins and then place on a wire rack to cool completely. Don't be tempted to cut it before it's totally cooled or it will fall apart.
You can dust with icing sugar to serve if you like. It toasts beautifully too!
Bake with love
Soraya x