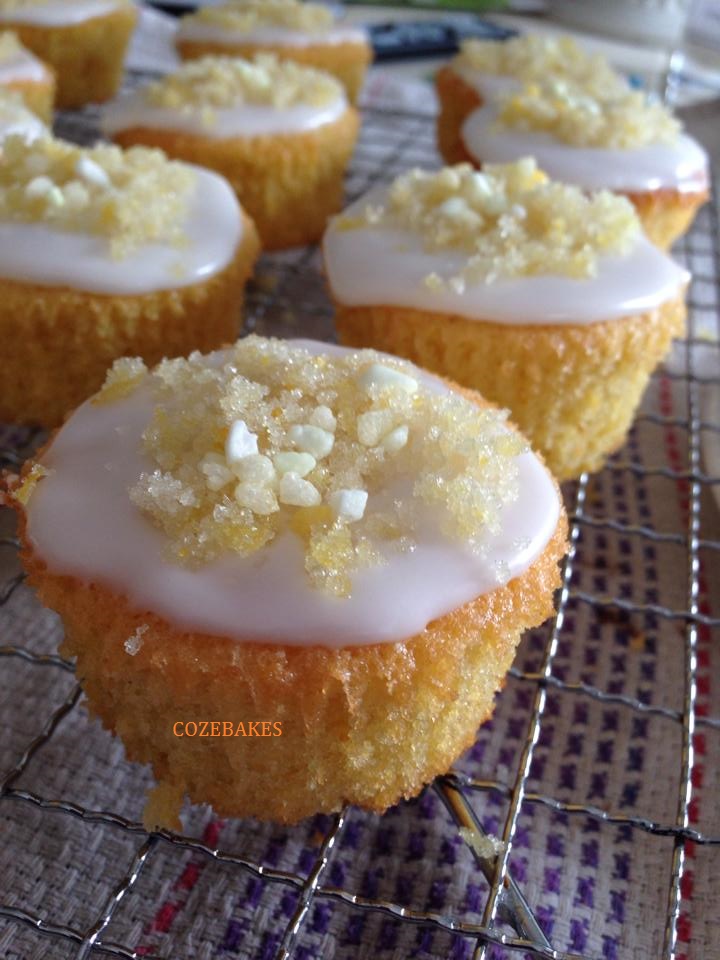 I found this recipe in a magazine and as our house is full of lemon fans, I knew they would go down a big hit! These are fairy cakes, not muffins so remember to use the smaller paper cases.
They are very cute and very delicious and would look just as good at a children's party as they would for an elegant afternoon tea. You can make the cakes ahead of time and store in an airtight container until you are ready to ice them.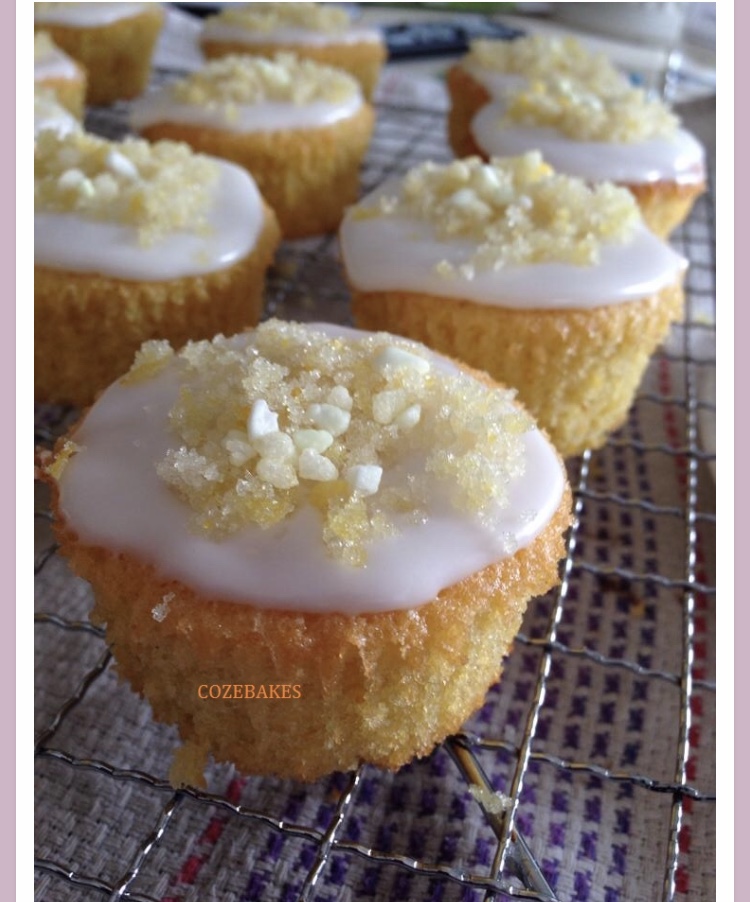 The main reason I don't make these regularly is because I would eat them all and I'm not joking either. They really are so light, so lovely … and very dainty!
Make the Lemon Sugar Topping first as you need to leave it sit for an hour.
Lemon Sugar Topping:
100g golden caster sugar
Zest of 1 lemon
In a food processor, whizz together 50g of the sugar and most of the lemon zest. I used the blender attachment belonging to my hand blender and it worked fine. Mix in the other 50g of the sugar and tip this on a lined baking tray. Leave to dry for an hour.
Lemon Cakes:
Heat oven to 180C / 160C Fan / Gas Mark 4
125g golden caster sugar
125g unsalted butter at room temperature
Zest of 2 lemons plus 4 tbsp of lemon juice
2 Eggs
125g self raising flour
Method:
Beat together the sugar, butter and lemon zest until light and fluffy. I used a stand mixer to get it nice and light. Let it whisk away for at least 3 minutes.
Add 1 egg at a time with a spoon of the flour to prevent the mix from curdling.
Mix in the remaining flour and 2 tbsp of the lemon juice.
Line a bun tin with 12 fairy cake cases and divide the mixture between them. I find using a small ice cream scoop works well for an even spread.
Bake for 18-20 minutes until the cakes are risen and light golden in colour.
Cool them on a wire rack.
Lemon Icing:
185g Icing Sugar
2 tbsp Lemon Juice
Mix the icing sugar and lemon juice together until smooth. I had to add a little more lemon juice to get the right consistency.
Once the cakes are completely cool, sit them on a wire rack with some baking parchment or tin foil under to catch any excess from the icing.
Ice the tops of the cakes using a flat spatula.
Sprinkle the Lemon Sugar on top of each cake and then finish with the remaining zest. Leave to set.
If you prefer not to use the lemon zest on top, Dr. Oetker have a lovely Lemon Meringue cake decorating topping which would work well.
Alternatively, if you are making these for an adult occasion, you could use edible pansies or primula to decorate each one. The purple looks really great against the bright lemon.
Bake with love
Soraya x