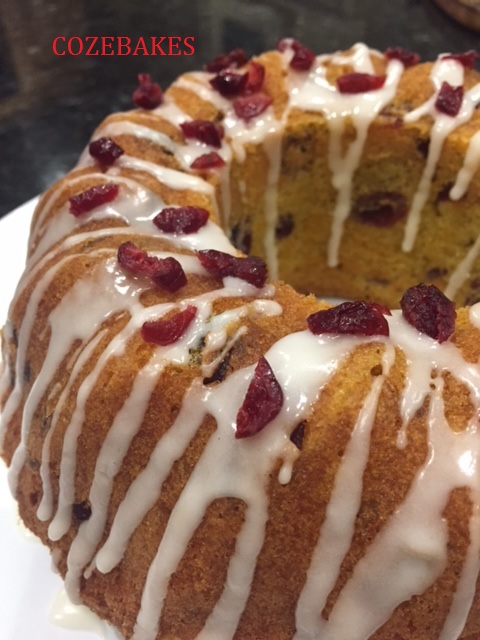 I've made this cake in a bundt tin as every now and then, I just love to use mine. I love the pretty shape that lifts any cake to another level and always makes them look so special.
I've used dried cranberries here and to get the full flavour and soften them a bit, I soaked the cranberries for a couple of hours in 2 tablespoons of fresh orange juice.
It's not a complicated recipe and definitely worth making. Step by step pictures included to help too.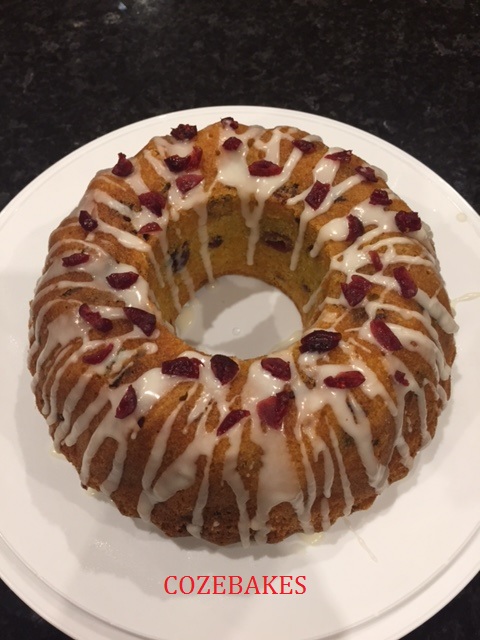 If you don't have a bundt tin, you can make this recipe in a 2lb loaf tin or an 8″ cake tin. Just don't overfill so you may have some mix left over and if you do, just pop it into a miniature tin or a muffin case and bake for shorter time.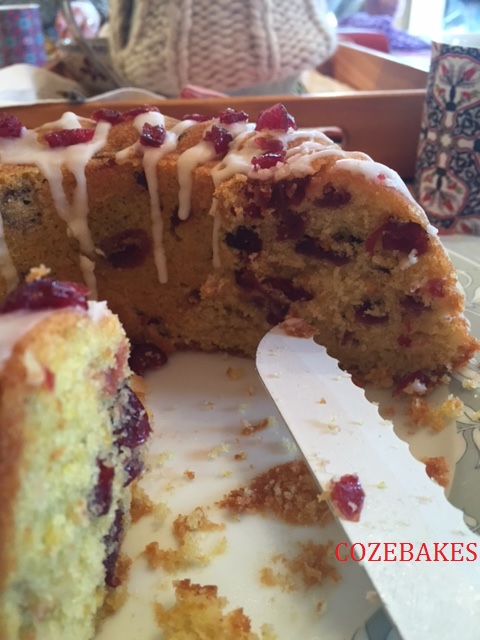 Ingredients:
175g butter, softened
175g self raising flour
3 eggs (I used large)
150g caster sugar
175g dried cranberries
2 tablespoons of orange juice
Zest of 2 oranges (normal size or 1 large orange zested)
Method:
Soak the dried cranberries in the orange juice for a couple of hours before starting.
Preheat oven to 160C, 325F or Gas 3
Grease the bundt tin or tin of your choice really well. If you're using a bundt tin, get into every crevice and then flour so there's no risk of sticking.
Cream together the butter and sugar until it's light, pale and fluffy.
Add the eggs one at a time and beat well after each addition.
Gently fold in the the flour and orange zest. If there's any liquid left from the soaked cranberries, strain and then also add the cranberries to the batter.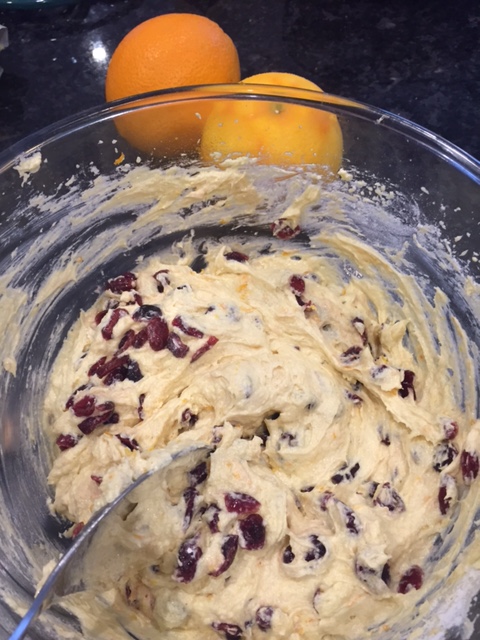 Mix gently preferably with a large metal spoon.
Transfer the batter to the prepared tin so it comes about 2/3 of the way up the tin. Don't be tempted to overload or it won't be pretty!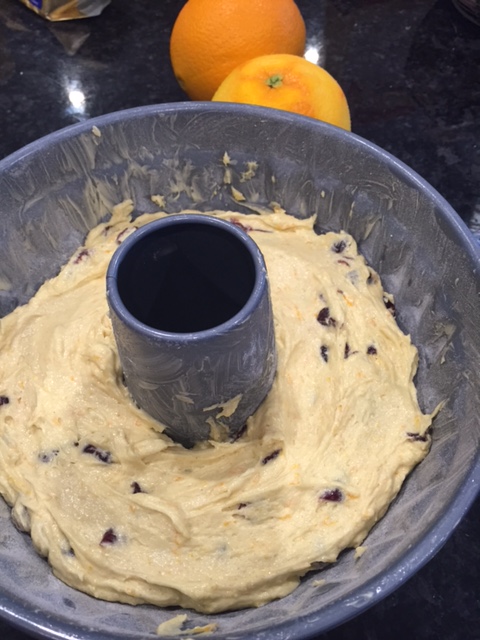 Bake in the preheated oven for 35 minutes and check with a skewer in the centre to see if it's ready. It should be a lovely golden brown colour. If it's not cooked through, add another 5 minutes and check again.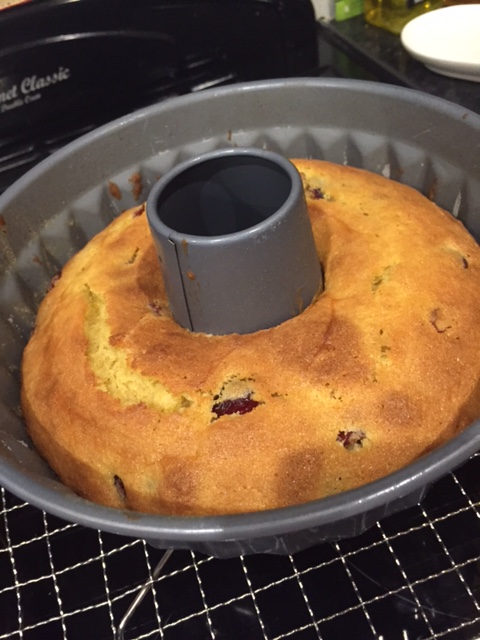 Don't be tempted at all to remove from the tin for at least 10 minutes but I tend to leave it for a little longer just to be sure. Place the wire rack over the top of the tin and invert to gently remove the cake from the tin. Leave to cool completely on the wire rack.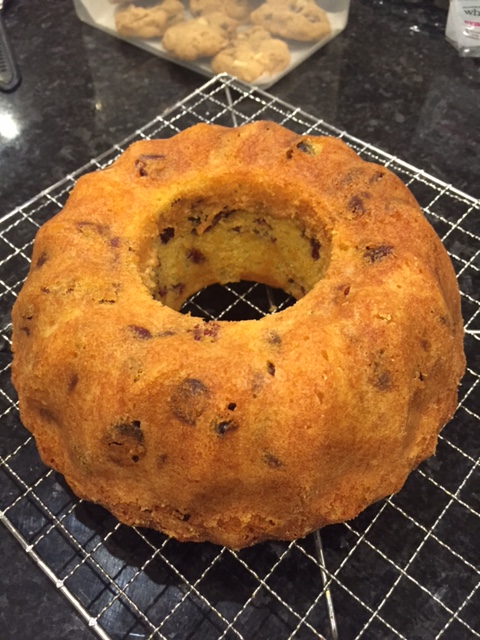 You can dribble a lovely Orange Glaze over the cake once it's completely cool by mixing sifted icing sugar with the reserved orange juice from soaking the cranberries and add more juice if needed to get a runny glaze.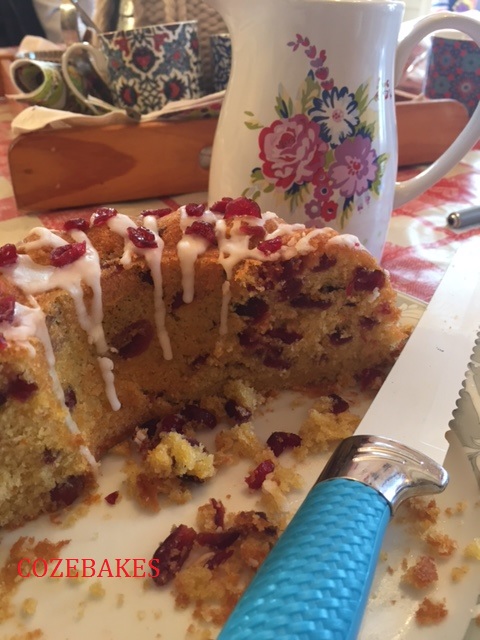 Bake with lots of love
Soraya x