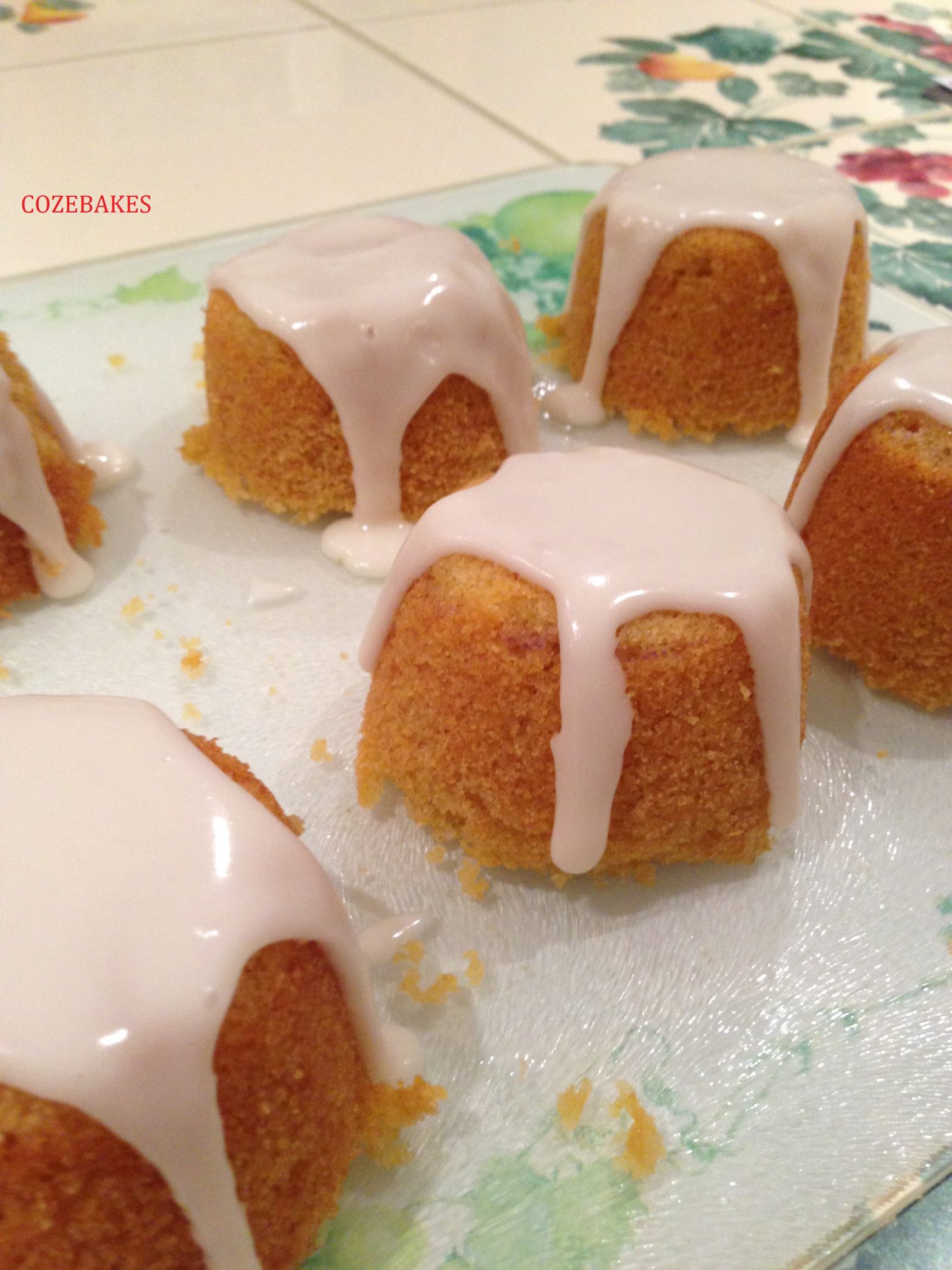 A very delicious gluten and wheat free recipe full of gorgeous lemon flavor and topped with a fabulous lemon icing. These Iced Lemon Polenta Cakes look so dainty and lovely. Topped with an edible viola each, you will have a perfect Afternoon Tea treat for you and your guests.
They do have a more crunchy texture due to the polenta and some people find this different but it's a good different 🙂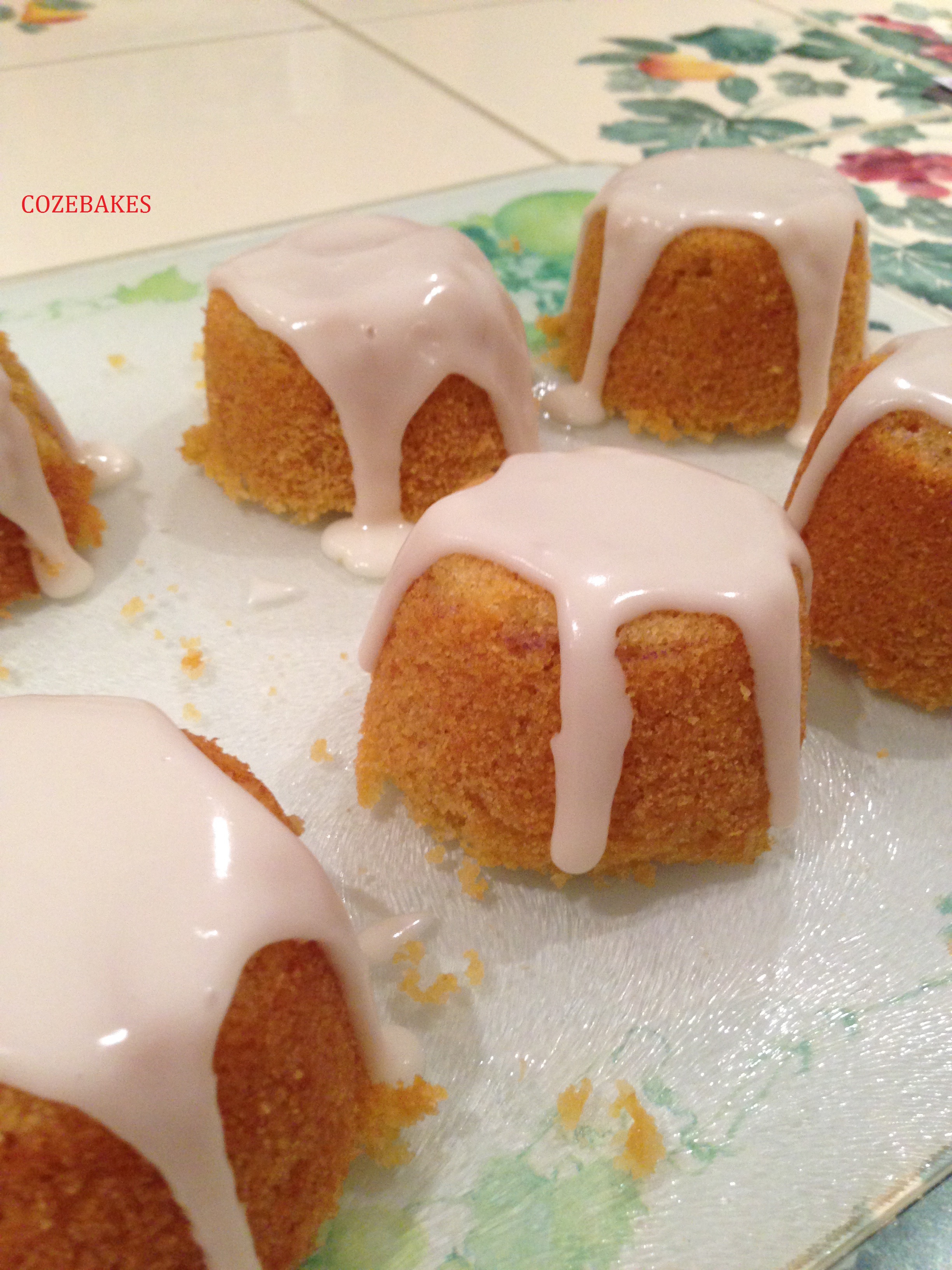 You will need 6 mini pudding bowls – 170ml (6fl oz). Butter each one and line the base with a small circle of baking parchment. You can get these in lots of places and they are worth getting to split different types of recipes for something unusual to impress your guests. If you are making these for something special, I've added a few presentation ideas at the end of the recipe.
Heat the oven to 160C Fan.
Ingredients:
200g butter
230g golden caster sugar (plain caster will do)
3 large eggs
200g ground almonds
100g polenta
1 tsp baking powder
3 lemons, grated & zested
Lemon Icing:
1 lemon, juiced
250g icing sugar
Method:
Beat the butter and 200g of the sugar together in a large mixing bowl until light & fluffy. Add the eggs, one at a time and beat well after each addition. If the mixture begins to curdle, just add a small amount of ground almonds.
Add in the remaining ground almonds and beat well. Stir in the polenta and baking powder. Add the grated zest and freshly squeezed juice of half a lemon and stir again.
Divide the batter evenly between the prepared pudding moulds and put them on a baking sheet. I used a small ice cream scoop to get the same amount in each one. Fill them about two-thirds and give them a good bang down to settle and flatten them out. Don't be tempted to over fill. These were overfilled a bit so when you're making them, just put less than this in each mould.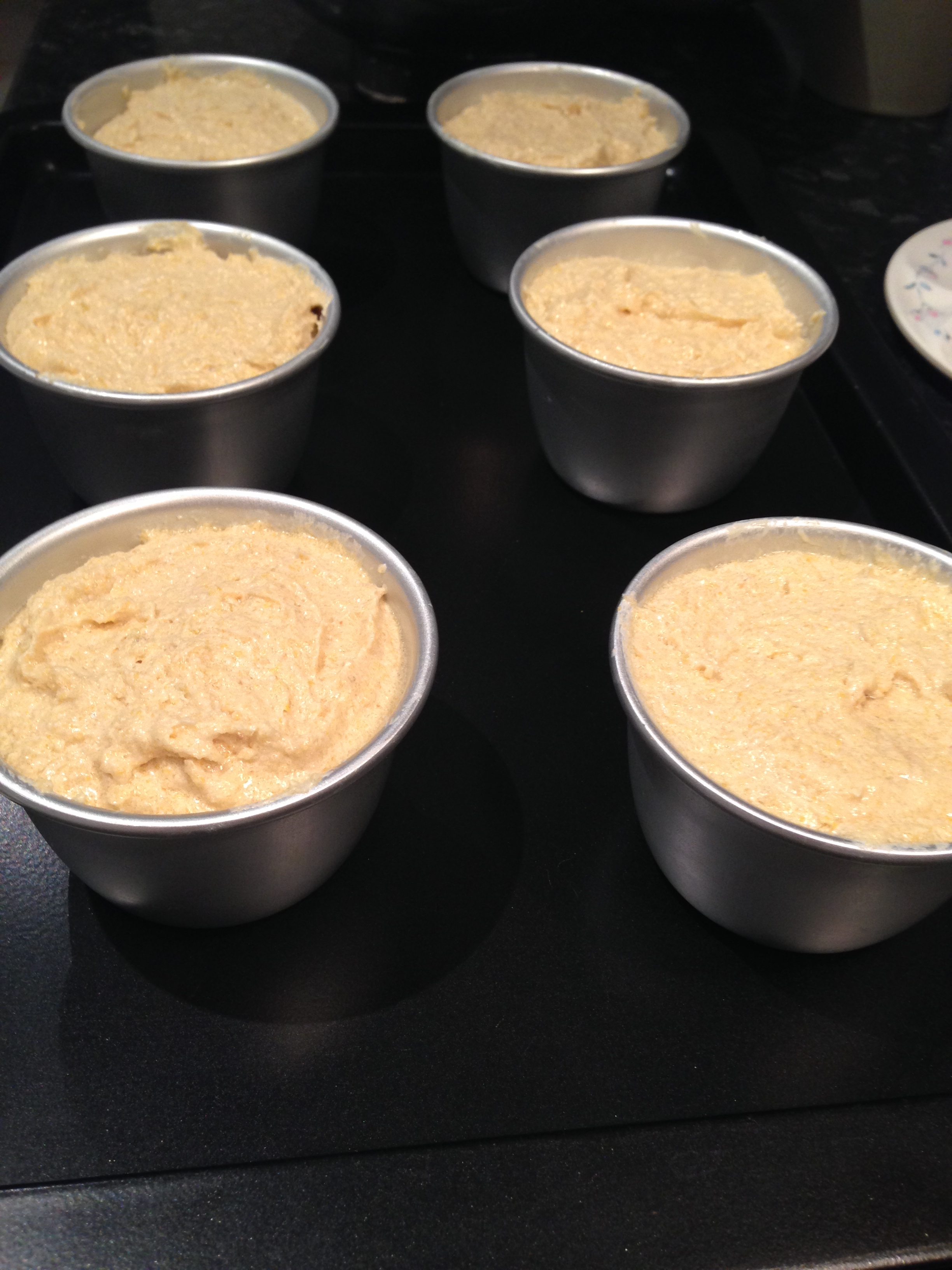 Place in the oven for 20/30 mins or until a skewer comes out clean. If they're not cooked through, pop them back in for 5 mins and check again. While they are baking, make a lemon syrup. Put the juice of the remaining lemons in a saucepan with the remaining 30g of sugar and heat gently. Stir to combine until the sugar is completely dissolved then remove. Don't let it boil.
Once the cakes are baked, remove them and prick all over with a skewer. Pour the lemon syrup over each cake and let it soak through – about 1 tablespoon per cake. Let them cool in the moulds for 15 minutes before turning them out on a wire rack to cool completely. I gave them a little shake and they slipped right out.
As you can see they have a lip as mine were filled too high. This is easily sliced off once they are cool.
To make the lemon icing, add just enough lemon juice to the icing sugar to make a spoonable icing. When they are ready to serve, spoon the lemon icing on top of each cake so it drips down the side.
Pretty as a picture! Top with a purple or yellow edible viola flower, the very fine zest of lemon or a whole raspberry for dainty and delicious bakes!
Bake with love
Soraya x