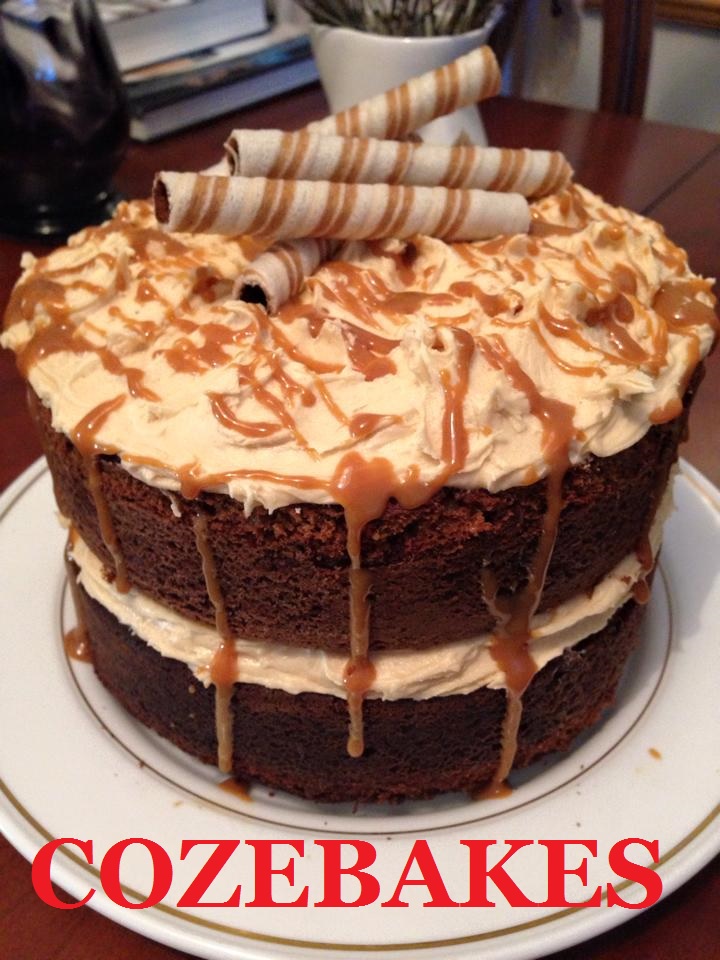 Totally delicious and a real show stopper! This is how you impress your guests! This is a fantastic recipe which is perfect for a party or a celebration cake. It's a twist on Sticky Toffee Pudding in cake form and it keeps really well, wrapped in tin foil (out of the fridge) for several days.
See the bottom of the page for alternative serving suggestions and a tip or two that might help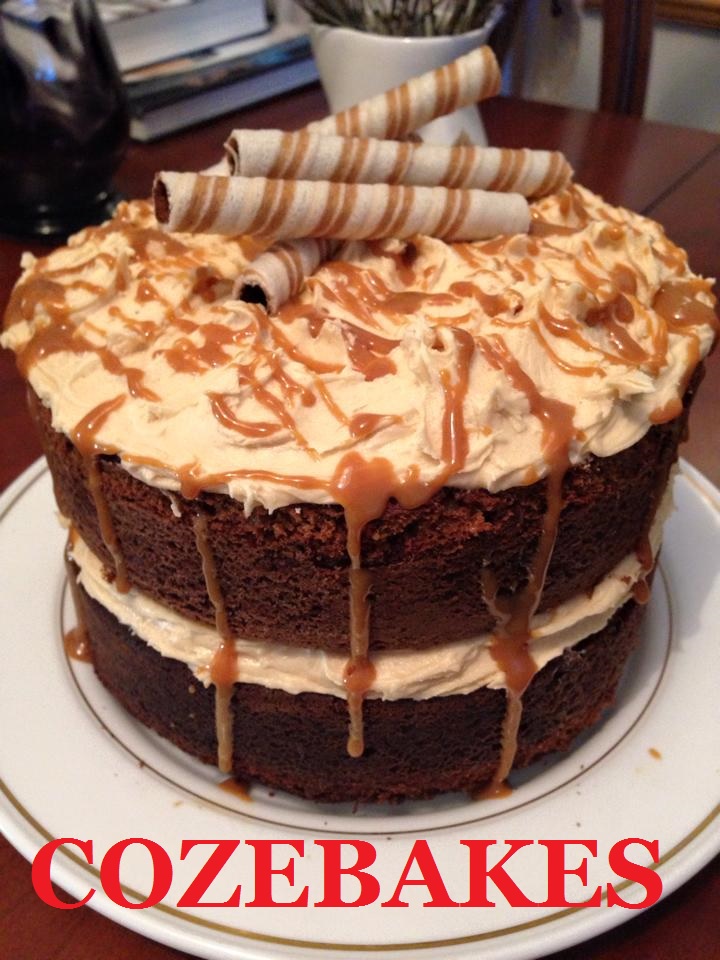 .
Ingredients
375g

pitted

dates

250 ml

water

2 tsp

bicarbonate of soda

4

large eggs

250g

muscovado sugar

2 tbsp

golden syrup

200g

unsalted butter, melted

2tsp

vanilla extract

350g

self-raising flour

pinch of salt
FOR THE ICING

200g

unsalted butter

400g

icing sugar

4 tbsp

dulce de leche (I use Nestlé Carnation Caramel)

2 tbsp

semi-skimmed milk (you may not need this much)
FOR THE TOPPING

4 tbsp

dulce de leche (I use Nestlé Carnation Caramel)

handful of fudge pieces, roughly chopped or similar decorations to the picture. They are chocolate twirls by Askey (the people who make ice cream cones and can be bought in most supermarkets)
Method:
1 Preheat the oven to 180°C (350°F/Gas 4). Line two 18-cm round cake tins with non-stick baking paper or lightly oil and dust with flour.
2 Put the dates in a pan, cover with the water and bring to the boil. Add the bicarbonate of soda, remove from the heat and stir well. Transfer the contents of the pan to a food processor and whizz until smooth. You can use a hand held blender too.
3 Use an electric hand-held whisk to whisk together the eggs, sugar and golden syrup until pale and fluffy. Give this stage a good few minutes. Whisk in the melted butter and then gently mix in the vanilla and puréed dates. Don't worry if you don't like dates. You don't taste them.
4 Use a large metal spoon to fold in the flour and salt. Spoon half of the mixture into each tin*, level and place in the preheated oven for about 30 minutes**. Check whether the cake is done by inserting a skewer or sharp knife into the centre; it should come out clean. Leave to cool in their tins.
5 Make the icing by beating together the butter, icing sugar and caramel. Add the milk a little at a time until you have a creamy consistency***
6 Generously sandwich the cakes together with the icing and spread a thick layer on top. Drizzle with the caramel for the topping**** and sprinkle with fudge chunks before serving.
TIP: To really impress your guests, once cakes have cooled fully, cut each one in half so you get 4 layers. Then spread each layer with the caramel buttercream and top off as below.
* I weigh each tin to get equal results
** Mine took almost 40 minutes so check regularly
*** I used about a tablespoon and half (this makes a pretty good quantity of buttercream icing)
**** To get the caramel pouring consistency, just give it a good whisk and it will soften up
Bake with love
Soraya x