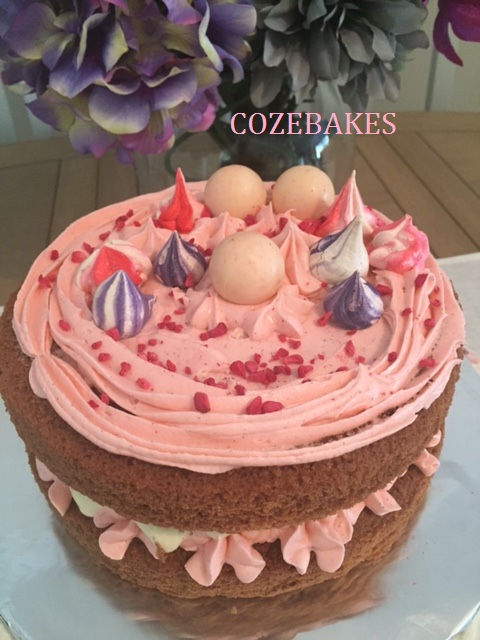 This is a lovely light sponge cake and can be made in the "all in one" method. Personally, I still like to give the butter and sugar a separate beating first but with this great Mary Berry recipe, you can add the rest of the ingredients and just mix really well. A hand mixer is fine too.
As I was going to be adding buttercream in the middle and the top, I felt this light chocolate cake was a better choice than a rich, dark one. Instead of all buttercream filling, I used my cream cheese filling in the centre to combat the sweet buttercream around the edges and on the top. It worked really well too.
I made some rippled meringue kisses so used those to decorate plus a few Lindt Strawberry filled chocolates and finished with freeze dried raspberries.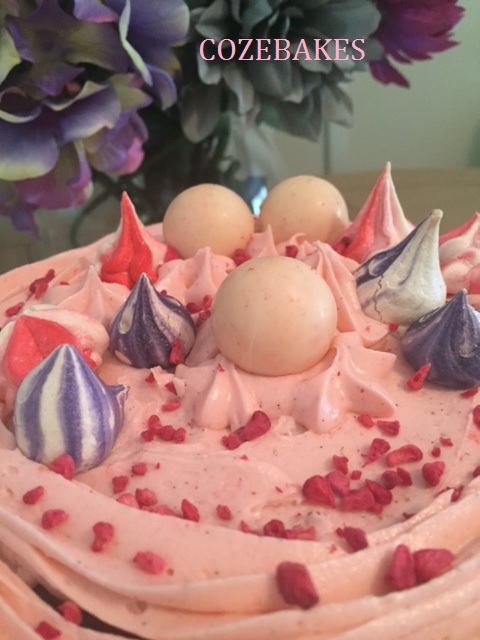 Before you start, get your tins ready as a sponge batter prefers not to be left hanging around once it's ready. The quicker in the tin and in the oven, the better. Grease two 8″/20cm sandwich tins and line the base with parchment.
Preheat oven to 180C / 160C Fan / Gas 4
Ingredients:
2 tbsp. cocoa powder
3 tbsp. boiling water
225g softened butter
225g caster sugar
4 large eggs
225g self raising flour
2 level tsp baking powder
Method:
Blend the cocoa powder and boiling water to make a watery paste and leave aside just to cool a little bit.
Now, decide which method you prefer: you can measure all the other ingredients and place them in a large bowl, add the cocoa mixture and mix really, really well until everything is completely blended.
You can also beat the butter and sugar together first for a couple of minutes and then you can add the rest of the ingredients and again, mix really well for several minutes until everything is totally combined.
Divide the mixture between the two baking tins. Use an ice cream scoop if you want to try and get it evenly spread. A tip to help is once you have divided the batter, weigh each of the tins with the batter in them, to make sure there isn't a big difference between them. This way you won't get one cake bigger than the other.
Bake in the oven for about 25 minutes until they are well risen and the top springs back when pressed lightly. I baked them at 160C for 28 minutes and that worked for me.
Leave them to cool in the tins for a good 5 minutes and then gently turn them out on a wire rack, peel off the parchment and leave them to cool completely.
The original buttercream proportions will give you enough for a nice (but not generous) filling in the middle and again on top but it won't be indulgent or plentiful so I would recommend you double this recipe if you want the cake for an occasion and then you will have enough for a nice, bountiful bit in the middle and also to pipe some extra decorations on the top too after spreading over the top of the cake. I'll give the ingredients for an optional cream cheese filling below.
For the Buttercream: (double for a celebration cake)
50g softened butter
175g sifted icing sugar
1 tbsp. milk
Again you can use the all in one method here, but I find that if you follow the instructions below, you get a really lovely whipped buttercream filling that also pipes perfectly.
Cream the butter first until it's really soft and well whipped. Then add half of the sifted icing sugar and mix again. Finally add the rest of the sifted icing sugar and the tablespoon of milk and mix really well for a couple of minutes. You can add colouring here (gel colouring) and a teaspoon of vanilla extract and mix again. You can keep the buttercream covered at room temperature until you need it.
Cream Cheese Frosting: (optional filling)
55g butter, softened
180g full fat cream cheese (eg: Philadelphia)
85g icing sugar, sifted
I love this recipe because it's not too sweet but gives just the right blend (in my humble opinion) of sweet and slightly tart that doesn't take away from the cake.
Whisk the butter well first and then add the cream cheese and mix again until it's thoroughly combined. Then add the sifted icing sugar and mix again until it's all blended together. If you feel it's not holding enough, then whisk for another few minutes. Remember to keep this in the fridge until you need it.
When the cakes are fully cooled, decorate the way you like. Use different chocolates, meringue kisses, grated chocolate, freeze dried raspberries or strawberries …. you get the idea  😉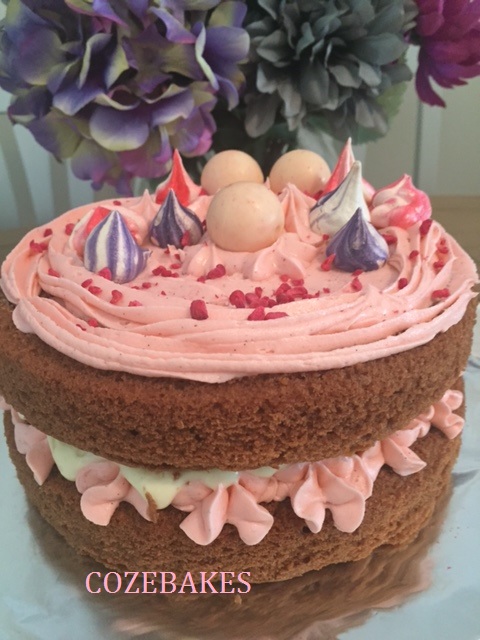 Baked with lots of love
Soraya x