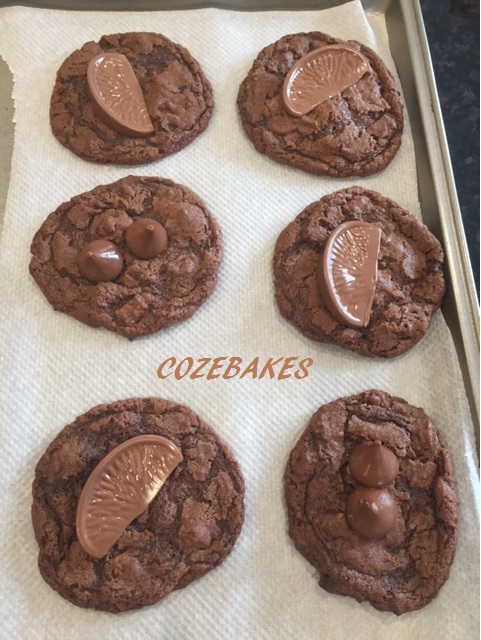 There's a lovely baker called Jane who adores anything that has the combination of chocolate and orange and she regularly uses Terry's Chocolate Orange to create wonderful recipes! I find Jane's Patisserie a great source for those recipes that tend to create lasting memories and her Chocolate Orange Cookies are certainly one of those!
They are a wonderful combination of crispy edge and soft, chewy centre and are seriously, seriously good! I bought a second box so I could place a wedge on top of each cookie but that's up to you. They do add something very special to the finished product though ….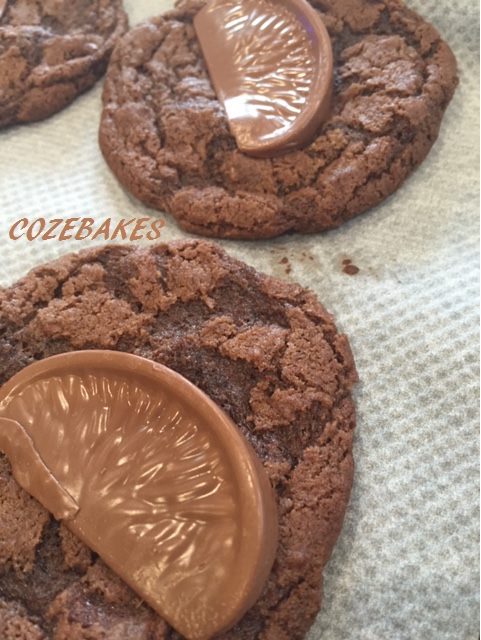 You should get about 12 – 15 medium sized cookies from this recipe but how big you go is your prerogative 😉
Ingredients:
125g butter
100g granulated sugar
100g light brown sugar
1 egg, beaten
1 tsp vanilla extract
25g cocoa powder
175g self raising flour
1/2 tsp bicarbonate of soda
1/2 tsp baking powder
1/2 tsp salt
Zest of 1/2 a medium orange or 1 tsp Orange Extract
250g Terry's Chocolate Orange – chopped into pieces (Plus an extra one if you want a wedge on top!)
Method:
Preheat your oven to 190C/ 180C Fan/ 375F and line two baking trays with parchment paper
Mix together the butter and sugars until light and fluffy and thoroughly combined – I find an electric mixer works well for this.
Add the vanilla extract and the beaten egg, and mix again briefly. Add the cocoa powder, flour, bicarbonate of soda, baking powder and salt and mix until a thick paste/cookie dough is formed.
Add the chopped chocolate orange pieces to the mixture with the orange zest or extract and fold through
Spoon the mixture on the the trays and make sure they have space between them so they stay separate! (I fit 6 on each tray to be safe) I also used a small ice cream scoop to make them as close in size as possible.
Bake in the oven for 10-12 minutes – if you want to put a wedge of chocolate orange on top of each cookie, then add it and bake in the oven for another 1 minute. Literally just one minute! Time it!!
Remove from the oven and allow to cool slightly before moving to a wire rack to cool. You could of course just eat them warm and just transport to heaven for a little while 🙂
If you don't have enough Chocolate Orange wedges, then add some milk chocolate on top if you want. I had Hershey Kisses so used them for a change.
Bake with love
Soraya x