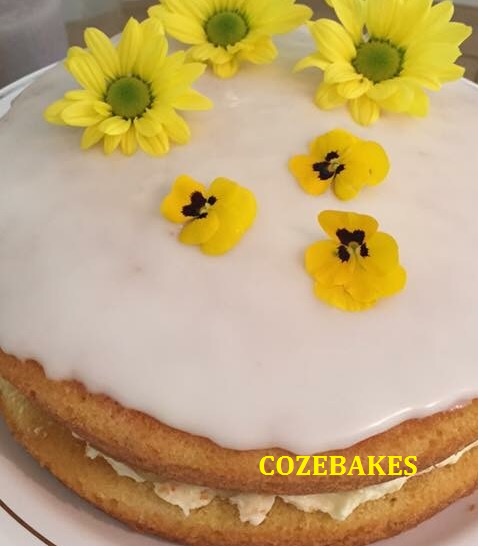 A delicious and light sponge cake with both an elderflower buttercream and lemon curd in the middle and topped with a simple lemon icing glaze. The secret to creating such a moist and Mmmmm response in every bite is the lemon and elderflower syrup which is drizzled over the cake while it's still warm and let soak through.
Originally this is a Stork recipe and I found I had to change some of the proportions of ingredients to get the taste I felt was perfect. It's a quick and simple recipe with the added bonus of only using a wooden spoon to make, even for the buttercream!
As I said, it's really handy that you only need to use a wooden spoon to make this recipe and that includes the buttercream. A little bit of elbow grease of course but that's no problem! You don't get a very high sponge cake rise with this recipe but it really is perfect for an Afternoon Tea with friends or family or on a Sunday after a lovely lunch.
I used edible flowers to decorate but you can use sprinkles, lemon zest or peel, chocolate curls, etc. – whatever you think would be nice will be perfect!
You will need two 20cm cake tins which are well greased and  then base lined.
Preheat oven to 180C / 160C Fan or Gas Mark 4
Ingredients:
For the cake:
175g self raising flour
½ level teaspoon baking powder
175g Stork tub
175g caster sugar
3 medium eggs (lightly beaten)
1 tablespoon elderflower cordial
Finely grated zest of 1 lemon
Method for Cake:
Sift the flour and baking powder into a large mixing bowl and stir well. Add the remainder of the cake ingredients and beat with a wooden spoon until smooth. As you're using the Stork tub, it won't be too difficult to beat it to a smooth batter. It took about 3/4 minutes max of vigorous mixing to get the result.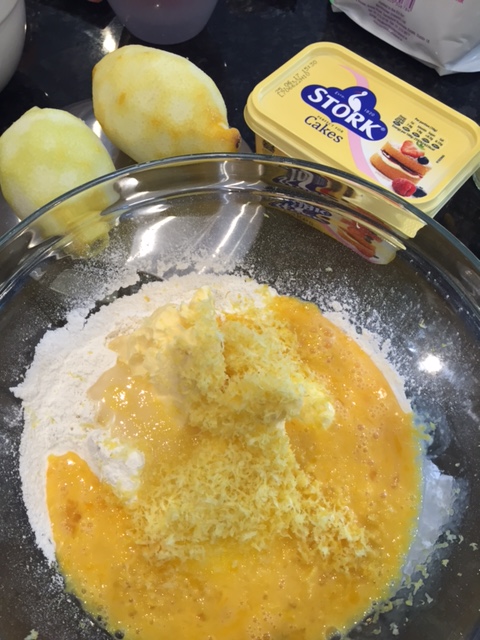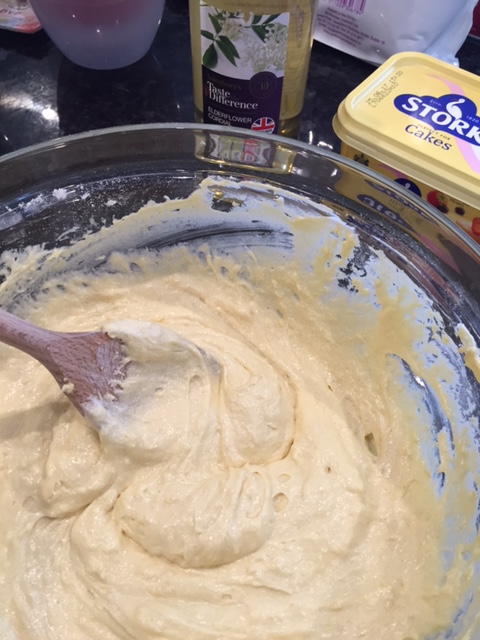 Spoon the batter into the two prepared baking tins and bake in the oven for 30 minutes. You will know they are ready as the sponge will shrink in a little from the sides and will bounce back when gently pressed.
Syrup Ingredients:
Juice of 1 lemon
1 tablespoon elderflower cordial
65g  caster sugar
While the sponges are baking, put the lemon juice, elderflower and sugar in a saucepan and heat gently until the sugar has dissolved.
Once baked, you can remove the sponges from the tins after about 5 mins unto a wire rack. I left mine in the tins for this part.
While the cake is warm, make a few deep holes with a skewer and drizzle the syrup over so that it soaks into the cake. Do it slowly and leave to soak in.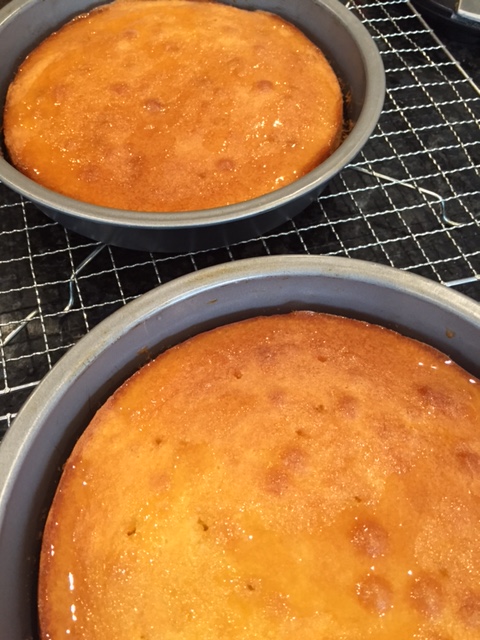 For the Buttercream filling:
115g icing sugar
40g Stork
1 teaspoons elderflower cordial
4 tablespoons lemon curd
Place the icing sugar, Stork and elderflower cordial in a bowl and with a wooden spoon, mix well until smooth. This takes about 2/3 minutes.  Spread the base cake half with the buttercream and then top with the lemon curd. Gently spread out. Place the top sponge over this and press gently down.
Top the cake with a lemon icing glaze by mixing 110g of icing sugar with enough lemon juice to give you a slightly runny consistency. Drizzle this over the top of the cake and let it run down the sides a bit. Decorate as desired.
Enjoy with friends and bake with love
Soraya x