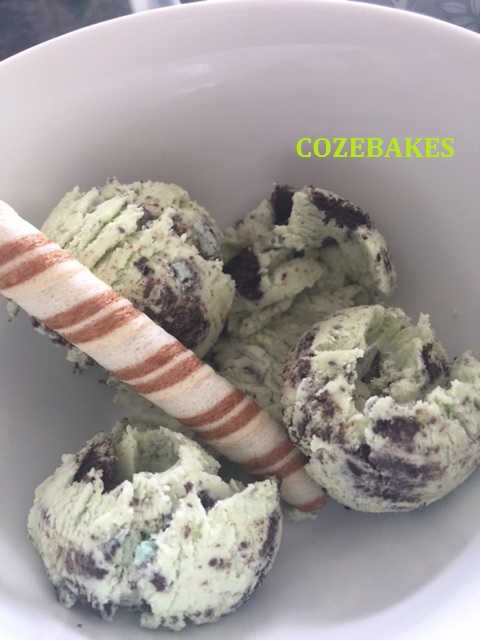 While doing my shopping, I spotted a real bargain. Packets of Oreo Mint Biscuits for only €1.00 and had to buy them. I figured I would work out some way to incorporate them into a recipe and as it's summer, I had a go at a no churn ice cream using the biscuits and of course adding chocolate chips, well you would have to … 😉
Make the day before you need it. I use a glass container which is longer than a standard 2lb loaf tin but a plastic or metal container would work well too.
I always line my container with cling film and leave a good amount of over hang to wrap tightly before freezing. This prevents your ice cream getting a frosty covering. I used a little bit of green gel colour to get a light mint shade but you can leave it out as the minty filling from the Oreos will show throughout also.
Regarding using mint extract, personally I would say not to. I find it very artificial tasting and I think you could very easily ruin the taste of the Oreo biscuits and chocolate chips. Just my opinion 🙂
Ingredients:
2 teaspoons vanilla extract
150ml condensed milk (approx. one 397g tin)
1/4 teaspoon salt
400ml double cream
150g Mint Oreo biscuits, roughly broken into pieces
50g dark chocolate chips
Method:
In a large bowl, whisk together the vanilla extract, condensed milk and salt. Just use a hand whisk for this.
In a medium bowl, beat the double cream with an electric mixer until stiff peaks form, takes about 3 minutes. With a rubber spatula, gently fold whipped cream into the condensed milk mixture and fold in the roughly chopped Mint Oreo biscuits and the chocolate chips.
Spoon into the prepared container and smooth out. Wrap well with cling film and make sure none of it is exposed. Place into freezer and leave for at least 8 hours but preferably overnight.
Take out of the freezer about 8/10 mins before serving. Scoop into cones, bowls, add strawberries or drizzle with chocolate sauce.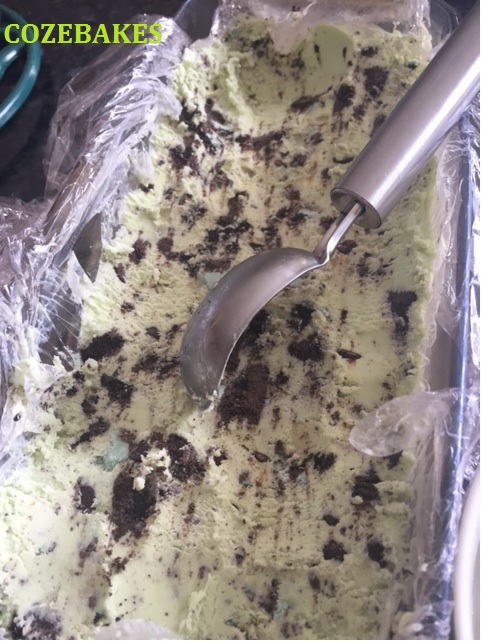 Very quick and easy to make! Made with love
Enjoy – Soraya x