Definitely one of my favourite ice creams so far, this delicious and very pretty no churn ice cream recipe looks so good. Adding kirsch to it just gives it a little kick but you can leave it out if it's for all ages.
You probably have most of the ingredients already in the house so why not have a go at making it? It will store in the freezer for a month but it won't last that long!! It's delicious scooped into cones or pop a few scoops into a bowl with some fresh raspberries and a drizzle of the left over raspberry sauce for a lovely dessert.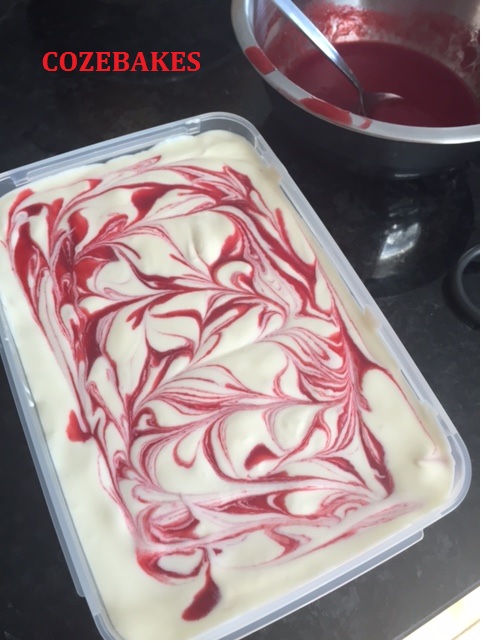 I used a plastic container to make the ice cream. It's perfect for the freezer with a sealed lid and great for scooping. I think I bought a pack of 3 in Dunnes Stores. The size is 19cm x 13cm so anything around that size will work but just be aware that it reaches right up to the top of the container.
There's a Raspberry sauce which you use to make the ripple throughout the ice cream and the original U.S. recipe calls for 50g of sugar but as there's enough sweetness already in the other ingredients, I left it out. If you want, you can add 2 tbsp. of honey to the raspberries or alternatively, use Agave Syrup.
Ingredients:
200g fresh or frozen raspberries
50g caster sugar (optional – see note above)
480ml double cream
1 can condensed milk (397g)
1 tsp vanilla extract (I used almond extract to work with the Kirsch, delish!)
1 tsp Kirsch liquour (can be omitted and an extra tsp of vanilla substituted)
Method:
In a saucepan, place the raspberries and sugar/syrup if using and heat till it boils. Simmer for 5 minutes, stirring occasionally until the mixture has broken down and thickened.
Remove from the heat and let cool for 5 minutes. Push the mixture through a sieve into a bowl until all the juice has been extracted. You can discard the seeds. Allow to cool completely in the bowl.
Whip the double cream until it forms stiff peaks.
In a separate bowl, whisk the condensed milk, vanilla extract and kirsch. Gently fold this into the whipped cream until it's well combined.
Pour half of this mixture into your chosen container and then dollop large spoonfuls of the raspberry sauce on top. Use a skewer or knife to swirl through.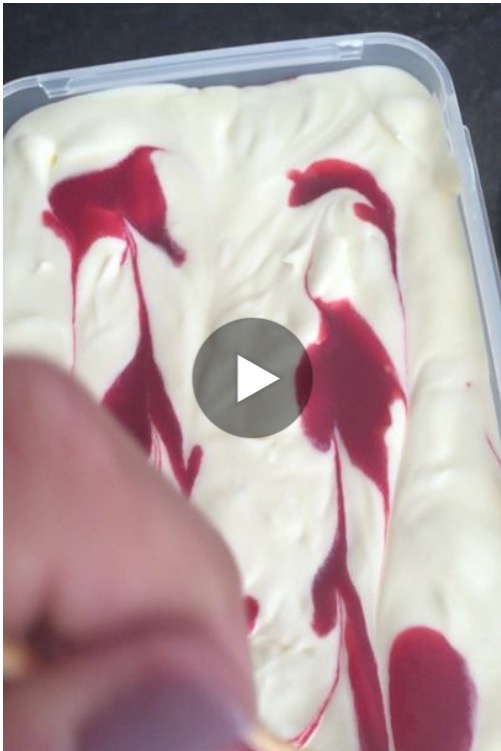 Pour the rest of the mixture in and again, dollop more of the raspberry sauce on top and swirl through. You can use as much as you want or keep some for meringues or to pour over the ice cream. The sauce will keep in the fridge for a week.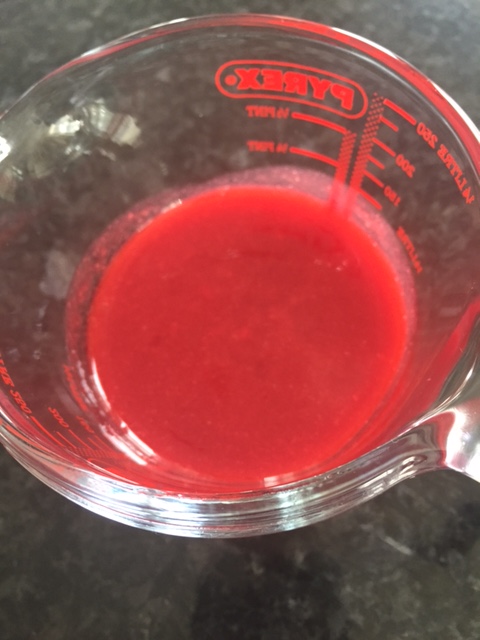 Cover the container and freeze for at least 6 hours or overnight.
Scoop into cones or serve in bowls with fresh raspberries and a drizzle of the raspberry sauce or some hot chocolate sauce
Enjoy!
Made with love
Soraya x