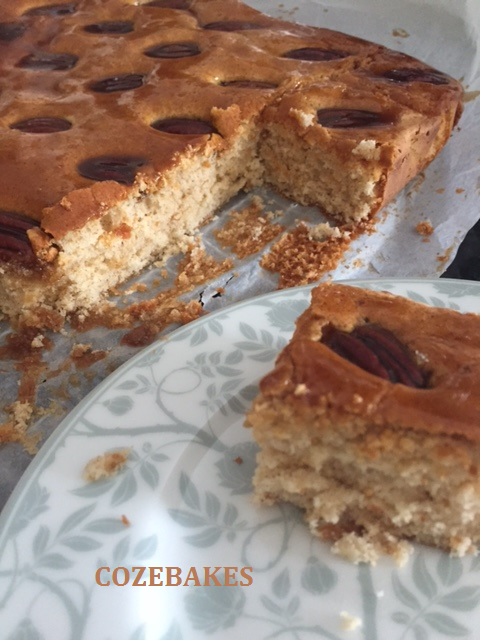 I love everything pecan and pecan pie is up there with the best of them. This blondies version just goes up a notch with the addition of white chocolate. It just gets better and better. Originally a recipe from Baking Heaven, it's a classic Pecan Pie flavour with delicious cinnamon and vanilla. The glaze to finish is a touch of genius so don't leave it out.
Traybakes are great! They feed a good number of people and you only have one tin to wash. Depending on how you cut these, you can get up to 24 bars.
Ingredients:
300g white chocolate
250g butter or low fat spread
5 large eggs
200g caster sugar
1 tsp vanilla extract or vanilla bean paste
Pinch of salt
200g plain flour
2tsp ground cinnamon
200g pecans
For the glaze:
1 tbsp. dark brown sugar
50g butter
2 tbsp. golden syrup
1 tsp vanilla extract or vanilla bean paste
1 tsp ground cinnamon
Method:
Preheat oven to 180C and grease and line a tin measuring approx. 35cm x 24cm. Best to use a deep tin. Mine was a little shorter by 1 or 2 cm but it worked out fine. I used a small roasting tin.
Melt the white chocolate and butter either in the microwave or in a bain marie. Let it cool slightly.
Beat the eggs and caster sugar together using an electric whisk until the mixture becomes thick and creamy and it's doubled in size.
Add the melted chocolate and butter and beat again. Add the vanilla and salt and give it another quick whisk.
Sift in the flour and ground cinnamon and fold in gently.
Pour into the prepared tin and sprinkle the top with the pecans. You can cut them in halves or leave them whole.
Bake for 25 – 30 mins until the top has a crust and it feels fairly firm when pressed gently. Leave to cool in the tin.
For the glaze, put the sugar, butter, golden syrup, vanilla and cinnamon in a small saucepan and simmer gently until the butter and sugar have melted. Take off the heat and leave to cool for a few minutes. It will thicken up.
Brush this glaze over the top of the cooled blondie using a pastry brush. Leave to cool completely in the tin. When ready, remove from the tin using the parchment to help lift it out and cut into squares.
You can store in an airtight container for up to 5 days!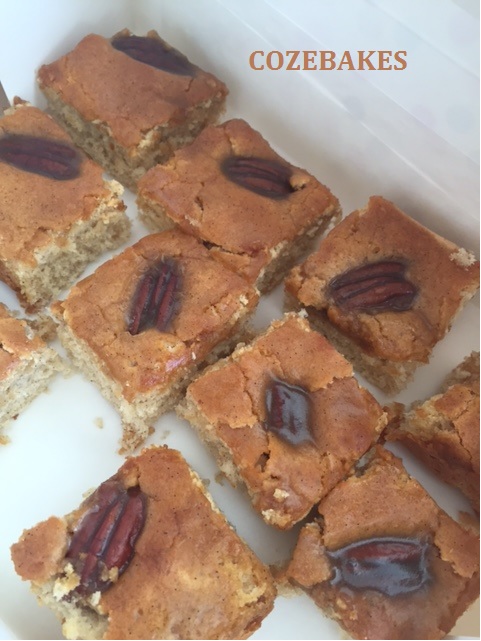 Enjoy and bake with love
Soraya x