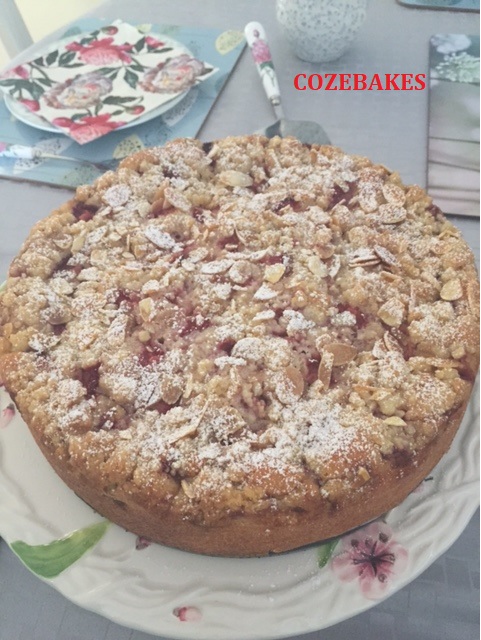 I was in the UK a while back and saw this recipe in a magazine so of course I took pictures and once I got home, gave it a go with sweet Irish strawberries. I picked up a punnet of King Strawberries which I hadn't seen before. Huge fellows and very sweet!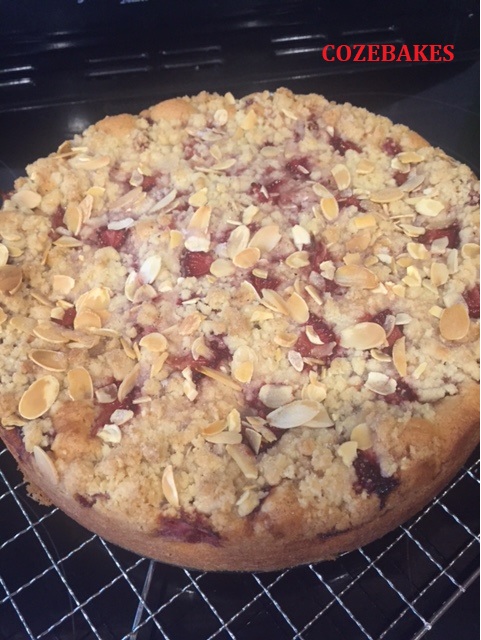 It's a big cake and will easily feed 12/14 people so it's perfect for a gathering and can be dressed up a bit to make it fancy, shmancy 🙂
I reduced the sugar as I do with most of my recipes and it worked out really well. It's a really delicious, full of comfort type of cake. The addition of an almond crumble topping works beautifully and I simply dusted the top with icing sugar before serving but if you want something a little special, serve warm with whipped cream and dollop a nice spoonful with each slice. Add some almond essence to the cream to tie in with the lovely toasted almonds on top.
Ingredients:
For the topping:
75g self raising flour
25g ground almonds
20g caster sugar (optional
60g butter, softened
For the sponge:
200g margarine (I used Stork)
120g caster sugar
140g self raising flour
75g ground almonds
3 medium sized eggs
1 tsp almond extract
350g / 400g fresh strawberries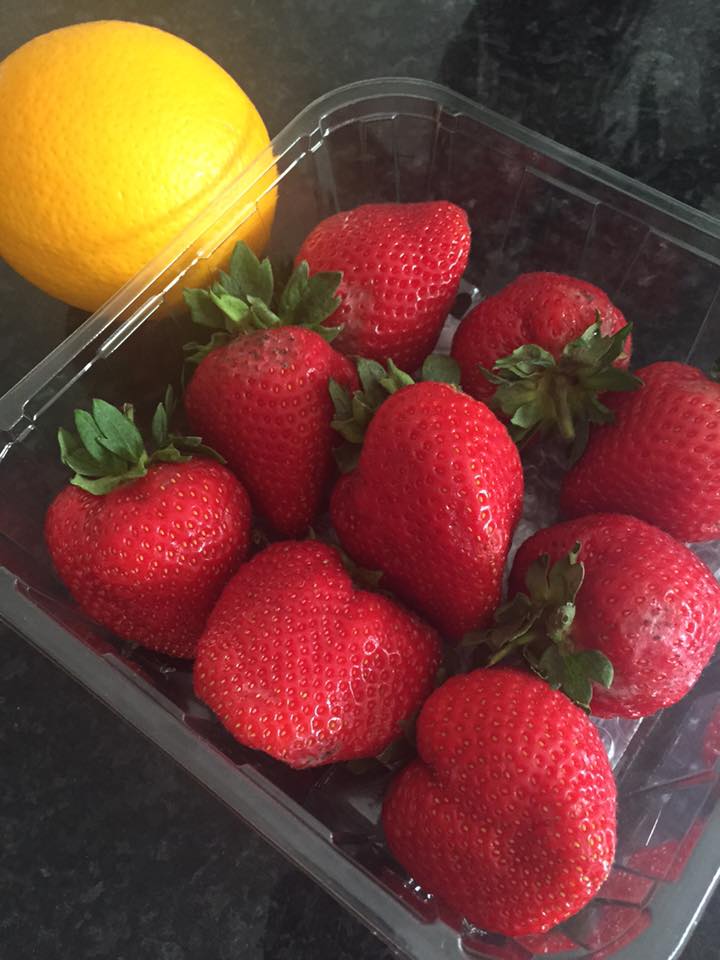 King Strawberries – the size of them!
To finish: 25g toasted, flaked almonds
Method:
Heat the oven to 160C/ 140C fan / gas mark 3.
Grease and line the base and sides of a deep 23cm round loose bottomed tin with baking parchment.
Make the crumble topping: place the flour, sugar and ground almonds into a bowl, add the butter and rub in with your fingertips until the mixture resembles breadcrumbs. Leave aside.
To make the sponge whisk the margarine and caster sugar in a large bowl until pale and creamy. Add the eggs and almond extract and beat, then add the flour and ground almonds and beat together until smooth.
Spoon the mixture into the prepared tin and level the top.
Slice the strawberries and arrange two thirds of them over the top of the sponge and give them a little push down.
Scatter the crumble mix evenly over the strawberries, dot the remaining strawberries over the top and sprinkle the flaked almonds.
Bake on the middle shelf of the oven for 50 minutes – 1 hour or until a skewer inserted comes out clean. If the top of the cake is browned and the inside is still uncooked, cover with foil until the cake is cooked through.
Place on a wire rack and leave for approx. 20 mins before attempting to remove from the tin.
The easiest way to do this is to place the tin on top of a can of beans or peas and then gently push down the sides of the tin so you are left with only the cake sitting on it's base on top of the can. Leave on a wire rack to cool..
When ready to serve, dust with icing sugar or serve with whipped cream and some extra strawberries.
Bake with love
Soraya x