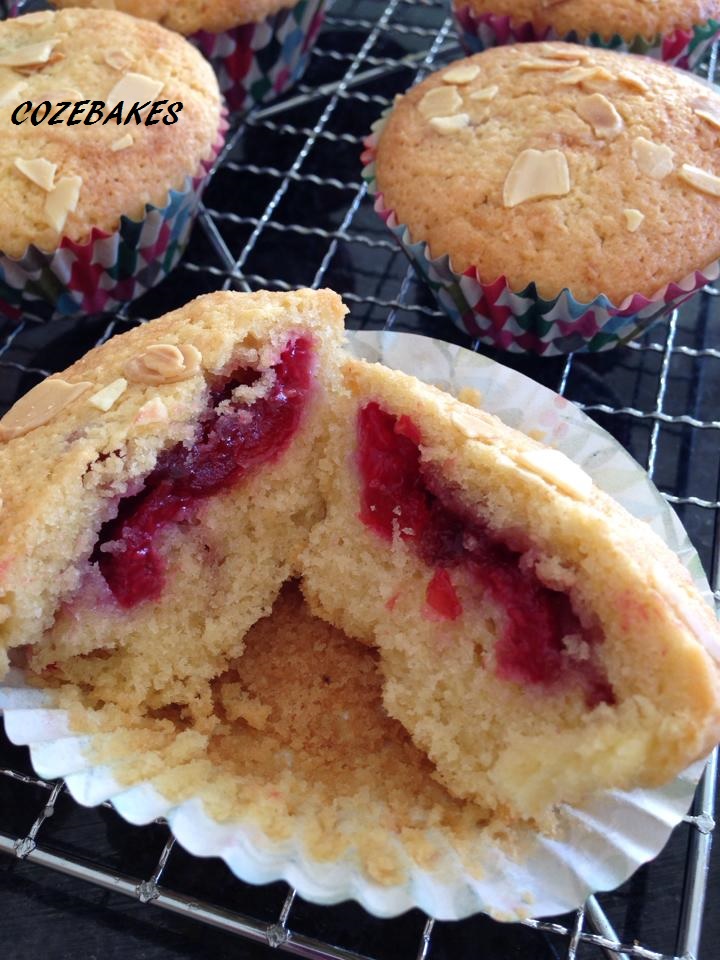 I'm a sucker for Bakewell Tart, the combination of almonds and cherries will win with me every time! This is such a quick and easy alternative to the original tart recipe which still retains all the lovely bakewell traditional flavours. The only problem …. they are way too tasty but I work around that by eating one only and putting them away till the next time 😉
The recipe makes a dozen fairy bun sizes but you can use muffin cases too but will probably only get about 8. I used a mix of glace cherries and fresh raspberries with raspberry jam for the centres but you can decide what you would like based on what you have and your personal taste. I would recommend you give the cherries a good wash before using them to prevent them sinking.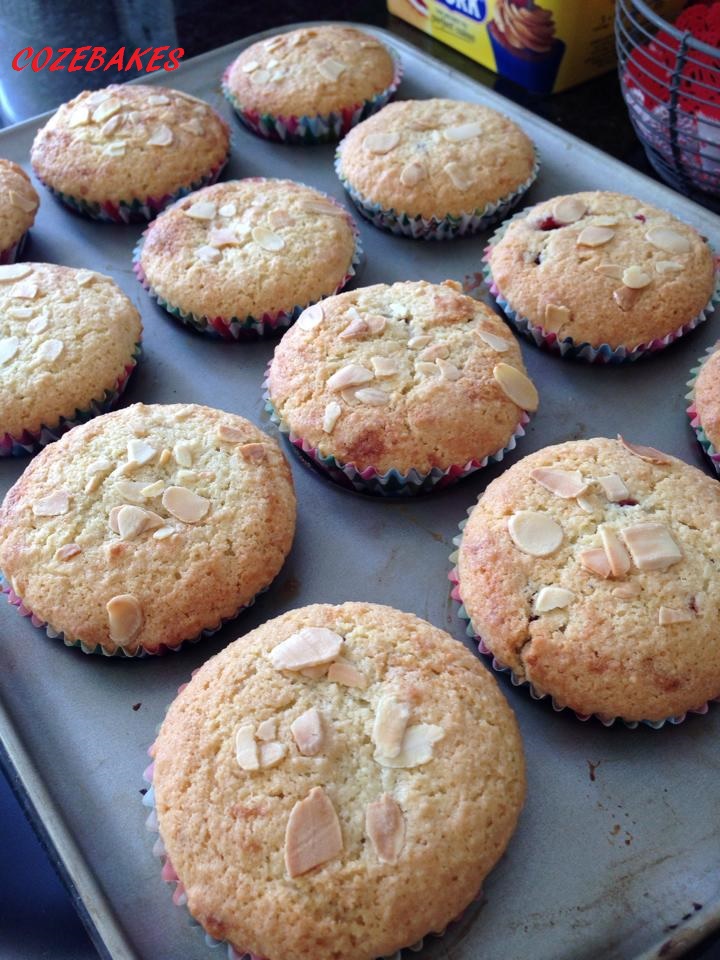 Line a 12 hole bun tray with paper cases of your choice. Preheat the oven to 180C (fan oven)
Ingredients:
150g softened butter
100g caster sugar
150g Self Raising Flour
150g Ground Almonds
2 Eggs (lightly beaten)
1 teaspoon of Vanilla or Almond essence (whatever you like best)
Raspberry jam (see above)
Fresh Raspberries and Glace Cherries
Flaked, Toasted Almonds to decorate
Method:
Cream the butter and sugar in a large bowl till they are light and fluffy. It will take at least 3/4 minutes with an electric beater. Add the lightly beaten egg bit by bit and mix well after each addition. Add the vanilla/almond essence and mix well.
Put the flour and ground almonds into the bowl and fold in with a large metal spoon till completely combined.
Place a good sized tablespoon of the batter into the bottom of each paper case. Then add the fruit of your choice, cherries and/or raspberries. Layer a teaspoon of raspberry jam on top and finish off with another tablespoon of the batter.
Sprinkle the tops with toasted almonds and place in the preheated oven for approx. 25 mins. They should be a light, golden colour.
Cool completely on a wire rack and then enjoy!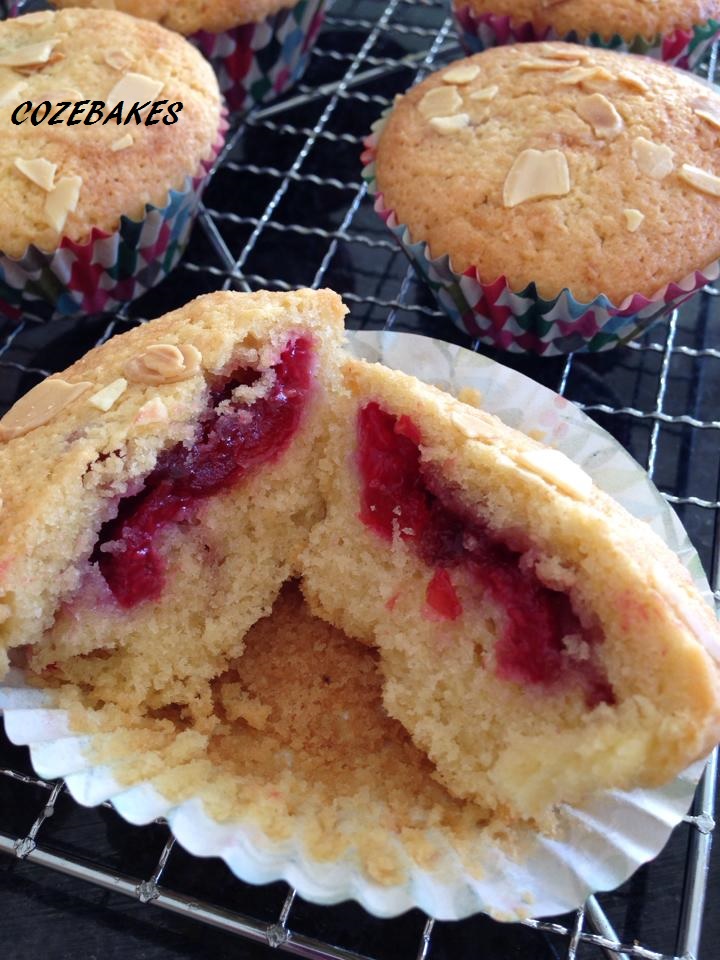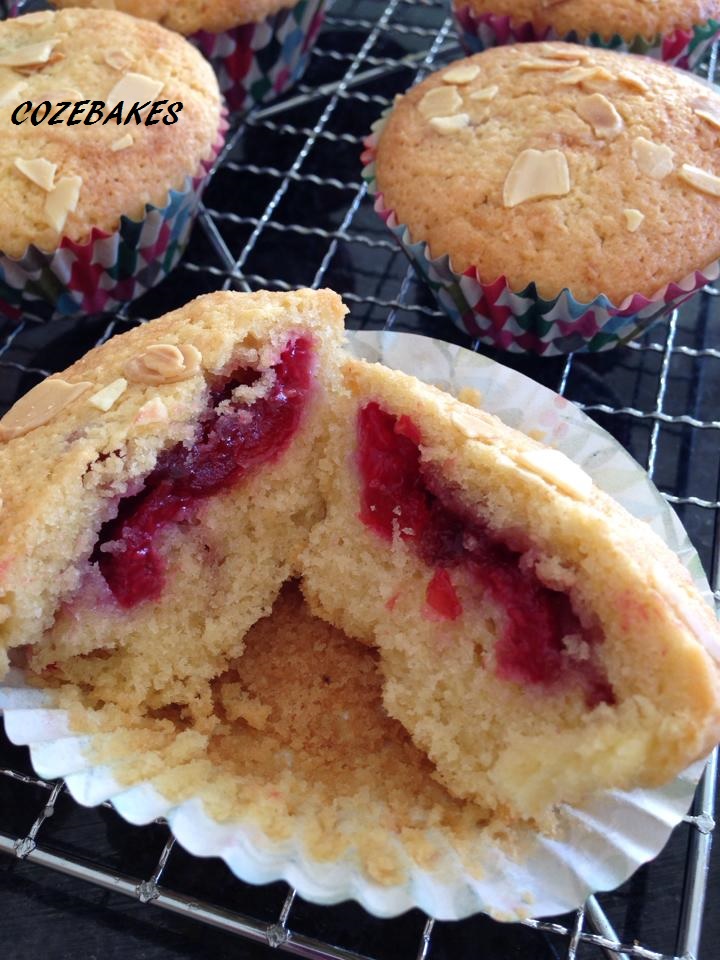 Bake with love
Soraya x